Rio de Janeiro
Updated:
Keep

At least 25 people died, among them a policeman, and another 5 were injured, two of them when they were mobilizing in the subway, during a police operation this Thursday against a gang of drug traffickers in a favela of Rio de Janeirolocal media reported.
Although the Civil Police of the Brazilian state of Rio de Janeiro has not given official figures and only confirms the death of one of its agents with a shot to the head, different local media, citing officials who participate in the operation, have indicated that at least 24 alleged drug traffickers died in the shooting.
Two other soldiers were also injured in the shooting.
Civil Police sources consulted by Efe said that the final balance of the operation will only be disclosed when the actions of its agents, who are still looking for gunmen who fled to regions of difficult access in the neighborhood, conclude.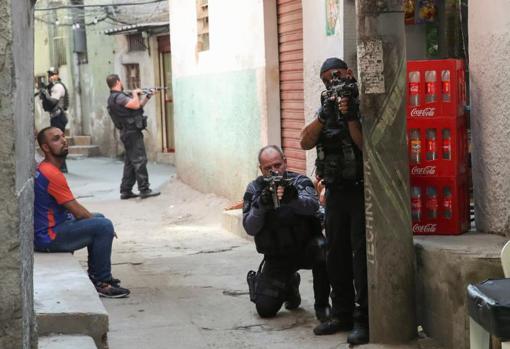 The intense armed confrontation took place from the early hours in the northern part of the city, in the favela of Jacarezinho, one of the most depressed and violent communities in the city, when about 200 police officers were sent to the neighborhood to repress a gang of drug traffickers.
According to the authorities, the drug trafficking gang that controls the area has been recruiting minors to carry out criminal actions. The faction is investigated for murders, robberies and kidnappings.
Shootings and explosions
Inhabitants of the favela pointed out that in addition to the shootings, explosions were heard in different parts of the community, forcing them to stay indoors.
Helicopters supported the actions of the soldiers from the air and some criminals managed to flee through the roofs of the houses.
Until the end of the morning, the state of health of the two civilians who were injured in the subway by a bullet that went through the window of one of the cars was unknown.
According to witnesses to the events, two men were hit with the same projectile, one of them in the arm and the other in the head.
The Jacarezinho favela is one of the bases of the Red Command (red command), the largest drug trafficking gang in Rio.
Clashes between rival drug gangs, as well as between them and militiamen (paramilitaries) and police, are common in several of the favelas of Rio de Janeiro, one of the cities most affected by drug trafficking in Brazil.
See them
comments

www.abc.es