Marbella
Updated:
Keep

The old town of Marbella seeks to attract a new customer profile, who wants to get away from the traditional concept of partying and long hours on the beach. A market still very little exploited in the city to reinforce its cultural and historical attractions. To that end, old buildings are being converted into boutique hotels.
An example of this is the Maison Ardois, from the Ciudadela Marbella group, which has just opened its doors. An old manor house that belonged to the Ardois family in the 19th century, and which, as historians Alejandro Pérez-Malums Landa and Víctor M. Heredia Flores affirm, "had interests in various mining operations in the mountains near Marbella". Of its original structure, the hydraulic floors with geometric motifs, produced in the Malaga factory of José Hidalgo Espíldora, the vaults between the beams or the brick vault under the staircase stand out.
The hotel has only nine rooms, in which every detail has been taken care of, as confirmed by the 500-thread count Egyptian cotton sheets, the Loewe amenities or a set of GHD hair irons and dryers.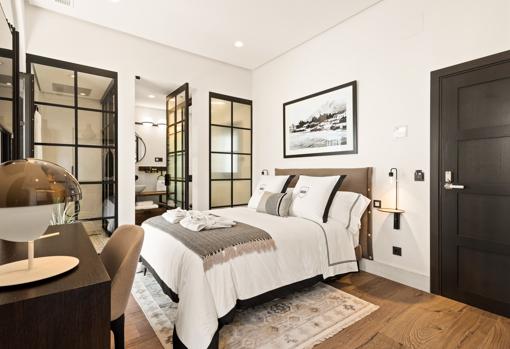 As for gastronomy, it has a restaurant, Thaissence, where Pablo Rebollo combines Thai and Peruvian cuisine with local products, as can be seen in the Lima flavor Marbella cause. Also on the menu are a mango salmorejo with cow's milk ice cream or a Thai croquette with peppers, coconut milk and a touch of red curry.
In parallel, also for October, the opening of a second establishment is planned in a historic palace located in the Plaza del Santo Cristo, in the northern part of the old town next to the hermitage of the same name. This old Andalusian house in the 19th century was owned by Juan Bautista Lesseps and later by the Marquis Manuel Gutiérrez de la Concha, politician and creator of the agricultural colony of San Pedro de Alcántara.
Regarding the interior of the building, it seems inspired by a Muslim funduq, distributed around a patio and galleries on quadrangular pillars and beams that support footings.
The ownership of these properties belonged to a Swiss investment fund and has recently been acquired by an individual investor. The management is carried out by the real estate group Rhone Property. With these openings they seek to recover "the authentic Marbella, the typical and traditional city that few know", according to Miguel Cerván, CEO of the group.
See them
comments

www.abc.es