Madrid
Updated:
save

"Save me" for a year he has had a section in which they talk about feminism and reproach his collaborators for macho behavior; and for this they have Geles Hornedo. This Thursday afternoon they were talking on Telecinco about the pyramid of sexist violence when one of their collaborators, Antonio Montero, interrupted the presenter Carlota Corredera. "Excuse me, if it is the woman who controls the man, is it also sexist violence?" Asked the photographer. "Oh, really, Antonio, no," she answered sharply. Montero said then that women control couples' mobile phones more than men, which angered Corredera.
-Me him.
-You refuse, but the reality is like that.
-I despair that we have been with [la sección] "M for Woman" and it seems that some of our colleagues preach by example; gender violence does not have male fatalities, can that enter your head?
–You are the one who says that gender violence is controlling your partner!
"When a woman controls her partner, that partner doesn't end up dead, okay?" Voucher? Or is it not worth it? Can't we understand?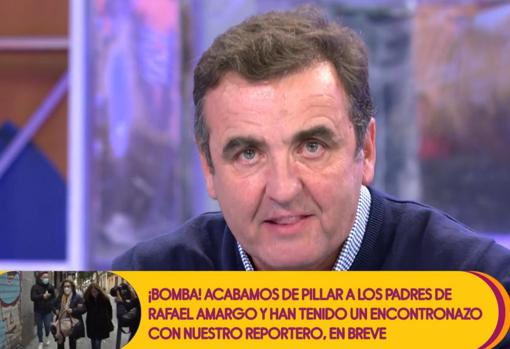 Carlota Corredera continued speaking without almost letting her fellow set members speak: «We help little, Montero, with messages such as that women control men more because in the end if society does not have empathy with battered women, we will continue with women who they do not denounce and end up dead.
María Patiño then intervened, who did not understand the defensive posture of her partner, since he does respect women. "You constantly accuse me of being a macho," Antonio Montero complained. The presenter even told him that, once at home, he saw the video of his speech to listen to himself and accused him of "denial".
He detached himself from any accusation and condemned gender violence: "Every time I hear that a man has mistreated a woman, I cry; I find it tragic for the woman and the man who does it. Internet users did not take long to ugly the behavior of the presenter of "Save me."
But what the hell is Carlota Corredera doing now with Geles, giving it a Feminist and getting like a beast with Montero? Why not do the same with the case of Carlota Prado? What a feminist pastel is this aunt … @salvameoficial

– NURIA 💜 (@ NuriaNorida30) December 3, 2020
Carlota Corredera has become a feminazi, she is the one who decides what machismo is and if you do not agree with her opinion, she becomes God's … like this afternoon with Montero, she has seen the duster quite a bit, but today has been crowned.
Moral lessons you give them at home

– La potota (@lavidaenpota) December 3, 2020
I feel fatal @CarlotaLlauger And I see that we are many. For his double standards, his hypocrisy, for that section … When Diego Matamoros said that his father @KikoMatamoros he kicked his mother while pregnant. For the harassment of @olvihormigos Disgust. Bad we go #carlota

– MeExpreso (@Vive_Carpe) December 3, 2020
La Carlota Corredera is a removable feminist. I didn't see her saying anything when Jorge humiliated Olvido or when Carlota was raped in GH Revolution. Go around false !!! # yoveosaveme

– Meg 🎅🏻🎄 (@diosameg) December 3, 2020
See them
comments



www.abc.es