Updated:
Keep

Claudia Osborne (32 years old) and Jose Entrecanales (30 years) have said 'yes, I want' this Saturday in Jerez de la Frontera (Cádiz), the bride's hometown, at a wedding that has brought together many well-known faces from the financial world and high society.
The Church of San Miguel de Jerez, has been the temple chosen by the eldest son of the executive president of Acciona, José Manuel Entrecanales and the youngest daughter of Bertín Osborne and Sandra Domecq, who died in 2004 after his fight against cancer, a very special place for the Osborne family since it was there that Bertín and Sandra as well as Alejandra and Eugenia, sisters of the bride, got married.
The bride arrived on the arm of her father and godfather, a Bertín Osborne who shone happiness. The bride wore a romantic dress with a straight cut and adorned with pearls. She covered the shoulders with a chiffon cape that became a long train.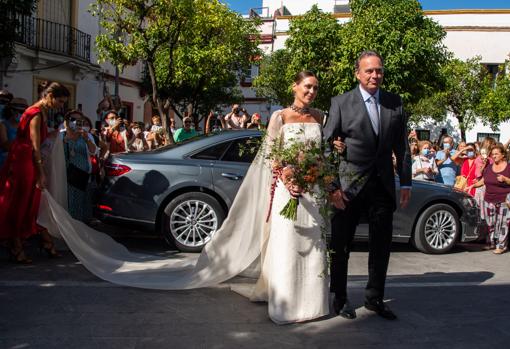 After the religious ceremony, the couple and their guests have moved to the family home owned by Claudia and her sisters Alejandra and Eugenia, which was the family home of their grandparents, the winemaker Beltrán Domecq González and Ana Cristina Williams and the same one where her two older sisters celebrated their marriage.
Hours before the link Claudia, who works as a coach and writer, although she studied law and has just presented her book 'The best of you', published on her Instagram profile a nice message dedicated to her mother: «Today it's my turn, mother. How I wish you were the one who was dressing me … how much I wish to see your face next to me at the altar … but, as you promised me, even if it is not possible for you to be physically, here you will be holding my hand from heaven, and so on. I will feel it. Always with me".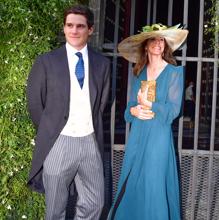 For his part, the boyfriend, José Entrecanales, 30, is the first-born of the four children that the executive president of Acciona, José Manuel Entrecanales, has with his wife María Carrión -José, Gonzalo, Clotilde and Gerardo-. Despite his youth, José has extensive training both in Spain and abroad. He studied a double degree in Law and Business Management and Administration at the Universidad Pontificia de Comillas in Madrid and completed his training at the Swedish Higher School of Economic and Business Sciences in Finland. He has worked as a financial analyst for Goldman Sachs in London where he obtained an MBA from Harvard Business School. Last April, he joined Acciona as director of strategy and corporate development in its Energy subsidiary.
See them
comments



www.abc.es