Updated:
save

For some Paralympic athletes it is difficult to see their disability with the naked eye. As with Óscar Higuera. But there it is, loss of strength in both legs due to an accident that left him without mobility in his left foot and another in 2016 that destroyed his right femur. Alfonso Cabello's is more evident: his left hand is a prosthesis. Or that of Sergio Ibáñez, with 78% less vision due to a birth problem in the optic nerve. And yet all these difficulties disappear in combat and on the track, capable and more than capable of all of outperform athletes without any disability.
No, total integration is not possible, because the differences exist and in no case can they be corrected. But this inclusion is possible, in which several federations such as cycling, judo, athletics or table tennis work. Examples that with the same opportunities and the same structure, the effort gives incredible results. The sprinter Adi Iglesias achieved two bronzes in the absolute sub 23 category in October. Sergio Ibanez He competed last weekend in the Spanish Championship of absolute judo. He lost in the quarterfinal round, but in the play-off he grabbed a bronze medal. "That Sergio wins judo matches against people without disabilities is a milestone, something historic, a crazy thing. I told him: you are 21 years old and you still don't know what you are doing", Explain Alfonso de Diego, judo technical director of the Spanish Federation of Sports for the Blind.
Judo happens to be one of the sports that requires the least adaptations. It is only necessary for the two combatants to start holding on and, in case they get released, for the referee to put them back together. Matching is not possible. What is possible, and it is what we try, is that the integration is complete: go to concentrations or compete without any problem. That they feel like one more, that they develop on the same path, "says De Diego.
For other sports it is somewhat more difficult, but not impossible. «In cycling there are categories that cannot be integrated, as with handbikes, but others can. It depends on the degree of disability. And the minor affectations can be included. Category C5, by Alfonso Cabello, for example, is easier: on the track, kilometer test or speed. It is a way of showing that there are certain degrees of disability that do not have to be a limitation to compete, "he says. Felix Garcia Casas, national adapted cycling coach. Not only to compete, but to beat rivals of all abilities: bronze in 2018, silver in 2019, another bronze in 2020 in the kilometer event and gold in team speed, with cyclists without disabilities. Óscar Higuera was seventh, Eduardo Santas, ninth. More milestones.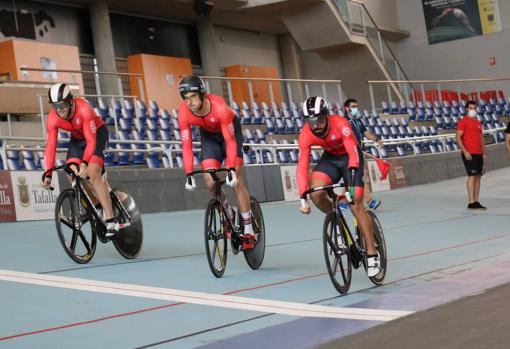 «Hair wouldn't clash at an absolute world championship, as there are already C5 cyclists from other countries. And, beware, that Cabello's disability weighs down: it is not the same to shoot with one hand as with a prosthesis. You don't have the same strength and you lose speed in the snatch. Or later to change the position of the prosthesis on the handlebar. There is the merit of Cabello. Because we value it in the Paralympic Games, and it is impressive, but in absolute tests the success is tremendous, "continues Casas.
They are cyclists for all purposes, without any other adjectives, as the federation has promoted. One more category. «Same technical program, training sessions, conventional structures or details like the same world champion Alejandro Valverde's jersey is also worn by Ricardo Ten. It is to make them feel like professional cyclists. Coaches do not have to specialize in disability, although experience helps. What they do have to understand is that it gives you the same satisfaction, "he says. Begoña Luis, technical director of the team Cofidis Paralympic Promises.
Overprotection
"The policy of the Federation is a coherent and safe inclusion. And it is not so much a question of money as of knowledge. Know what people and what disabilities you have and adapt yourself ", Luis analyzes, who recognizes as the main problem in finding more level athletes the overprotection that is sometimes instilled in children with disabilities. «But as soon as you see that your son enjoys riding his bike, the objections disappear. And it has many more possibilities: tandem, tricycle, not only to compete, but to enjoy or social integration. De Diego also says it: «The environment protects too much, and we always try to get them out of their comfort zone; at least one week a month away from home. That's when they mature. The pending issue for both: attracting more women.
"Competing with people without disabilities is not that they will have equal conditions, differences will always exist, but being in the same environment and stop seeing it as something strange it is what is beautiful and what is motivating, and what is educational for everyone », emphasizes García Casas.
See them
comments

www.abc.es