Toledo
Updated:
save

José Ángel Perona Navarro is 47 years old and earns 800 euros as controller of the ORA parking service in Tomelloso (Ciudad Real). For many years, he has collaborated with solidarity causes, donating small amounts of money for needy families in this La Mancha town of 37,000 inhabitants and for the Sahrawi people.
But this year, "seeing how badly people are going through the coronavirus," he says, he has decided to go further. He has advanced the 800 euros of his extraordinary Christmas pay, which he has not yet received, to pay for a menu that has been distributed this Thursday to 110 indigent people in his town.
The food has been cooked by El 5º Pecado, a Tomelloso cafeteria that has also been serving the most needy for years. In the bar they have risen early to have everything ready at noon. From a quarter past four in the morning, its owner, Pepe Pérez, and his assistant, Daniela, have prepared the 30 tortillas that they have then divided into portions, each accompanied by a portion of meat with tomato, a piece of fruit, bread, water and a carton of milk.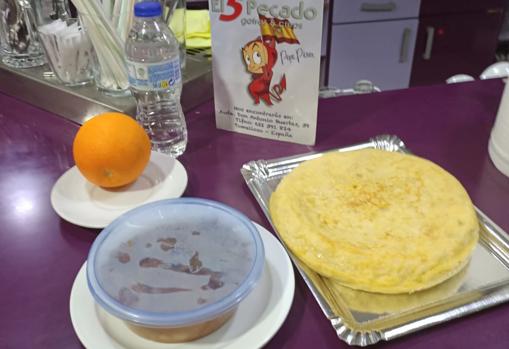 Red Cross volunteers then distributed the menu to the 11th people who had previously been given a voucher to exchange for food. José Ángel himself has also been in the cast.
"When I see people having a hard time, I feel bad," says this benefactor. "José Ángel has always collaborated with 40 or 50 euros, but this trip he said that he paid for it," says the owner of the cafeteria, where they have already distributed food to those most in need. Also the greengrocer Uncle Monene gave away the genre when he found out about the cause, to which a milk distributor has joined at the last minute.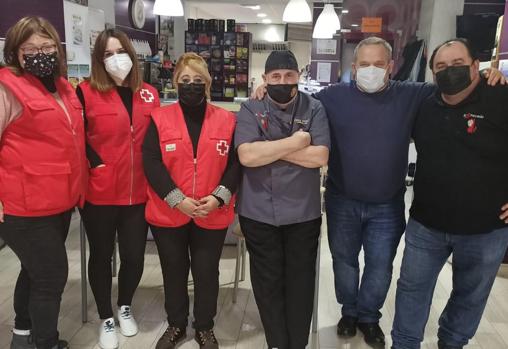 Married and the parents of two children – a 7-year-old boy and a 15-year-old teenager – José Ángel told his wife that, "if it seemed good to him," they would donate their Christmas bonus "for families who are having a hard time in the village". Immaculate gave him the green light immediately. "My wife is worse than me for solidarity causes," says José Ángel of her, a kindergarten teacher at the Doña Crisanta public school. Besides, we have killed two birds with one stone. Because we have also collaborated with the hotel industry and with a Tomelloso bar that always helps people in need, "he adds.
When knowing your donation, there have been people who have also offered money. "People do want to collaborate, but they don't know the way. When you tell them, they go overboard. But they lack the push ", says José Ángel. "Today 110 people take a plate of food, but what about tomorrow?"
He was unemployed in 2009 and, instead of looking for work, he volunteered for the Red Cross, where he spent six years. When you come to order food, you feel ashamed. Most people have to help him order, because it is not a tasteful dish, "he explains. "Gestures of solidarity like mine are smaller than we imagine," he says before saying goodbye.
See them
comments

www.abc.es