Bayona (Pontevedra)
Updated:
Keep

The fishing village of Bayonne gathered this Saturday the best in the world of sailing in the delivery of the Terras Gauda National Sailing Awards, which the Monte Real Club de Yates has awarded for 29 years to recognize the most outstanding of the nautical scene Spanish.
The Tokyo 2020 Olympics were the undisputed stars in the ceremony, with the attendance of five Olympians, including the winners of the Spanish sailing medals.
The tandem formed by the Catalan Jordi Xammar and the Galician Nico Rodríguez received the award for the best Olympic team for the second consecutive year after having achieved the bronze medal in class 470. The president of Monte Real, José Luis, presented the award. Alvarez; and the president of the Terras Gauda wineries, José María Fonseca Moretón.
The other Olympic medal achieved by the Spanish army, that of Joan Cardona, bronze in the Finn class, earned the Balearic sailor the recognition of the best Olympic athlete. And Támara Echegoyen and Paula Barceló, Olympic diploma in women's 49er, collected the award for the best women's team.
Also related to the Japanese Olympics was the Mariano Aguado Communication Award, which Helena de la Gándara received for her communication project of the Spanish Olympic sailing team.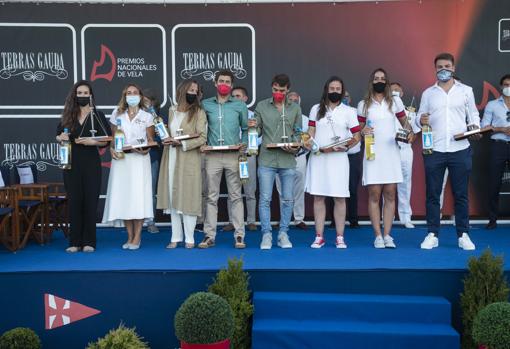 Catalan sailor Didac Costa, who was unable to attend the gala, was awarded the ocean sailor of the year award for his second solo round the world tour in the mythical Vendée Globe, considered by many to be the most extreme competition in the sport of sailing. The award was collected by its communication manager, Laura Secorum. And the marketing director of the Spain SailGP Team took from Baiona the award for the innovative team and project, awarded to the Spanish representatives of SailGP.
The winners received as a trophy a reproduction of the signal mast of the Monte Real Club de Yates, which bears the name of its former president Rafael Olmedo Limeses. In addition to the presidents of the organizing club and the sponsoring wineries, the commander director of the Naval Military School, Pedro Cardona; the mayor of Baiona, Carlos Gómez; the general secretary for Sports of the Xunta de Galicia, José Ramón Lete Lasa; the sports deputy of the Pontevedra Provincial Council, Gorka Gómez; and Pilar de Sas, in charge of delivering the award that pays tribute to her deceased husband, the television producer Mariano Aguado.
See them
comments

www.abc.es