Stella, the unicorn that will delight your baby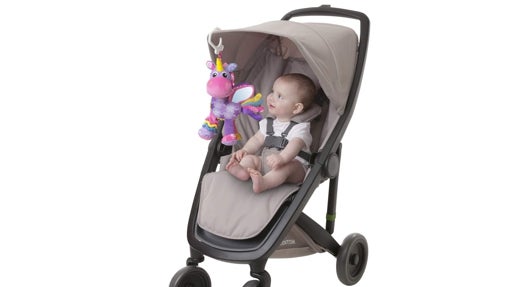 «With different touches, teethers, sounds in different parts with which the little one entertains himself using his senses; it's an all-in-one toy. "My girl hangs out with him in her arms for a long time." «Different textures, very soft and very colorful; I recommend it". These are just some opinions of parents about Stella Unicorn, Playgro's hanging toy. The toy has a clip for correct attachment and is ideal for the development of motor and sensory skills.
It is made of durable plastic and polyester and can be washed with a cloth. The legs rattle when they move and offers all kinds of distractions for your baby, with various materials to touch and grab, in addition to bright and varied colors.
Czemo, hanging toys to stimulate your senses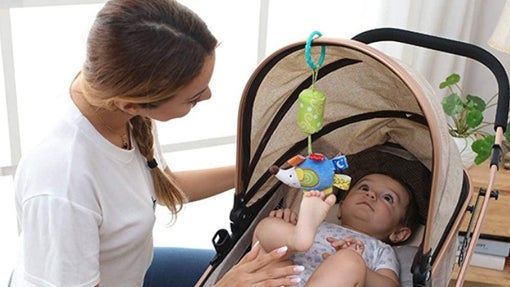 Czemo hanging toys are an ideal alternative for your baby to be relaxed and entertained in the car. Its grips are easy and adaptable to the bed, the crib or the chair. The rattles are made of plush and filled with cotton, giving them security and comfort to the touch. The toys incorporate wind chimes that emit a soft and pleasant sound during movement, activating the newborn's hearing capacity.
Besides, the variety of colors and shapes will stimulate your senses and help you enjoy the ride. Without a doubt, a perfect gift for babies to discover and enjoy, both at home and on the street.
Jojofuny, your toy for the spiral trolley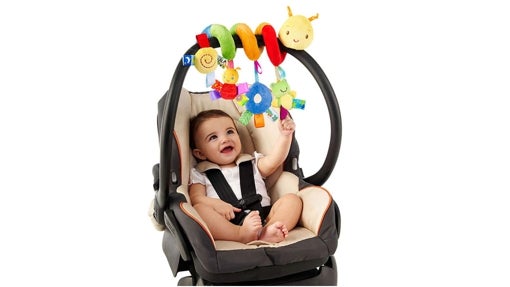 The Jojofuny toy will make your baby smile at all times. Its spiral shape allows you to place it in any location both on the cart and in the crib. So can vary the position of the toy easily so that your baby perceives it differently on each walk. Its bright colors and varied shapes will conquer the attention of your newborn, who will have different shapes and textures at his fingertips to play with at all times.
The spiral can be easily removed and placed on any surface, so you can play with it in your room. With Jojofuny your baby will develop his eyesight and his ability to explore new and eye-catching items.
An ideal rattle bow for the first months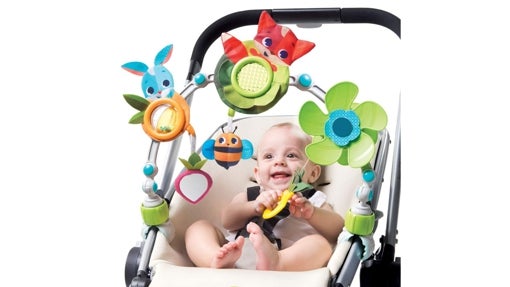 The Tiny Love Sunny Stroll rattle bow is the ideal option to awaken your newborn's senses in their first months of life. The toy is specially designed for strollers, with a adjustable clip that will allow you to place it quickly and easily. The arch is bent so that you can place it at the distance that your baby requires at all times.
In addition to rattles, it has a fan and a series of crunchy textures that, together with its fun characters, they will make your baby enjoy of every minute spent in the cart.
The steering wheel that turns every ride into an adventure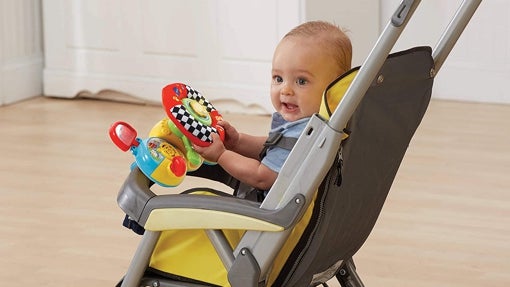 The VTech Tut Tut Bólidos ride steering wheel will turn every minute in the stroller into an exciting adventure for your baby. This toy offers a world of different possibilities for your newborn. From different textures or varied colors to four songs and twenty melodies that are activated according to the movement carried out. In addition to the steering wheel, your baby will be able to interact with a key to turn, a rear view mirror, a gear lever or a horn.
It includes a sitting or walking game mode, making it a toy adaptable to any situation, whether in the chair, the room or anywhere else. An inexhaustible source of fun and learning.

www.abc.es