Updated:
Keep

A few months ago, Ester Exposito paraded through the previous edition of the Venice Film Festival leaving everyone stunned with a spectacular white dress. An edition later, his appearance at the 'Biennale' has not gone unnoticed either thanks to three designs that have undoubtedly caused a sensation about the Red carpet.
The 78th Venice Film Festival it is being an ode to sparkles, feathers, sequins and the most exclusive jewels. This weekend, the young Spanish actress, who triumphs internationally, has been one of the exceptional guests and their styles have been totally at the height of one of the most talked about rugs of the season.
With a 'cut out' opening and in black and white, it was the last option chosen by the actress to attend the gala 'Celebration of Women in Cinema' that has been held on the occasion of the last edition of the Venice festival and in which he has coincided with Demi Moore. This last style, as well as the two previous ones that he has worn in Venice, are the work of the Spanish stylist Victor White. On this last occasion, an elegant design of a long white skirt with a pronounced opening in the leg with a black asymmetric top and a single strap of the signature. Monot, along with jewelry from Bulgari.
A dream Versace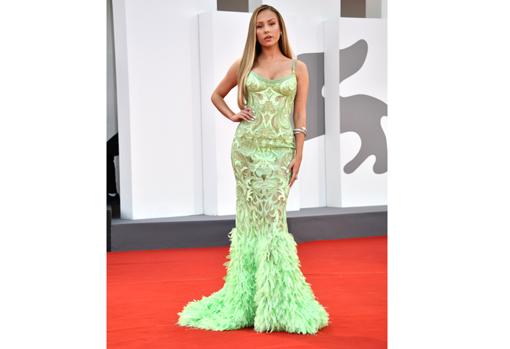 But undoubtedly her most commented look of these days of Ester Exposito has been a fabulous bespoke Versace design in green with feathers created exclusively for her by the Italian house.
The dress, long, with thin straps, completely fitted and with transparencies outlined the silhouette of the actress, ending with a spectacular tail of feathers. Along with the brilliant creation of Versace, Ester Exposito has worn three Bulgari jewelry: earrings, ring and bracelet, the latter a tribute to the mythical snake of the Italian house made of white gold and decorated with two diamonds.
Charlotte Tilbury's makeup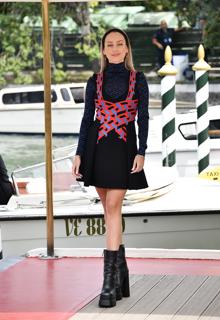 The actress's makeup is the work of Alex Saint for Charlotte Tilbury. "We have created a classic look in Ester, natural but defined and very glamorous, that highlights her natural beauty, with perfect skin and orange tones that highlight her eyes and lips and bring a lot of light and warmth to her face", describes the makeup artist.
Before stepping on the red carpet Ester Exposito posed on his arrival at the Festival with a totally different look also signed by Versace. A black mini dress with straps with a colorful print that has been combined with a fine sweater with long sleeves and a printed high neck. Black leather ankle boots with platform and heels added strength to the look. The hair removed from the face with a black ribbon also gave it a very flattering sixties air.
See them
comments



www.abc.es