Updated:
save

Some asphalt works in Tauste, a town in the province of Zaragoza, have revealed more than 400 new graves belonging to the Islamic necropolis of the municipality discovered in 2010, dated between the 8th and 11th centuries and one of the oldest in the Iberian Peninsula.
In the excavation on Obispo Conget avenue, in the center of town, 310 graves have been found so far, but "as they move downwards, new ones are found that are seen more. I can't tell you an exact number, but more than 400 for sure ", the archaeologist tells us Eva Gimenez, director of the excavation.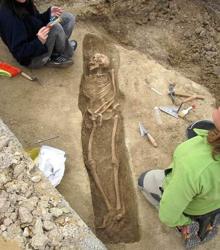 Obispo Conget Avenue has always been in transit, since it was paved in the 80s but previously it was a wheat area, that is, it has always been going over it. Thus there they have been found the negatives of the tombs, that is, "the grave and the individual buried within. What we are not seeing are the covers that these burials would have, which in typical Muslims usually carry a kind of little mountain of earth on top ".
To verify the extension of the necropolis, up to 27 surveys were carried out in July from end to end of the street, of which six came out positive, limiting the extension of the ancient site. Miriam Pina, in front of the Anthropological Observatory of the Islamic Necropolis of Tauste (OANIT) explains to us: «What the necropolis is is limited, but it would require a very important investment. The cultural association was limited, this work has come in the context of some works and Heritage knew that there was a necropolis and forced a previous excavation ».
And is that in 2010 the discovery of this maqbara was made, which reconsidered the Islamic presence in the town, until then considered anecdotal. Subsequently, always driven by the Patiaz cultural association, more tastings were carried out in 2012 and 2013, finding 40 burials in total. Even under the direction of the archaeologist Francisco Javier Gutierrez, he predicted that it was "a very extensive necropolis that it would reach 2 hectares and have at least 4,500 burials», Says Pina. This massive find confirms the anticipation of a still largely unexplored necropolis.
These new 400 tombs make the maqbara gain in size and volume. "We are talking about almost 500 burials in total with the tastings of years ago, this tells us that the Islamic presence in Tauste was much more important than was believed," explains Giménez. He is seconded by his fellow anthropologist: «When Alfonso arrived to conquer the city, it was thought that there had hardly been a Muslim presence in Tauste. When the necropolis was discovered we already said it seems that there were people, but now it is very clear that there was a stable and prolonged settlement. History is rewritten a bit in that regard. There was an important settlement ».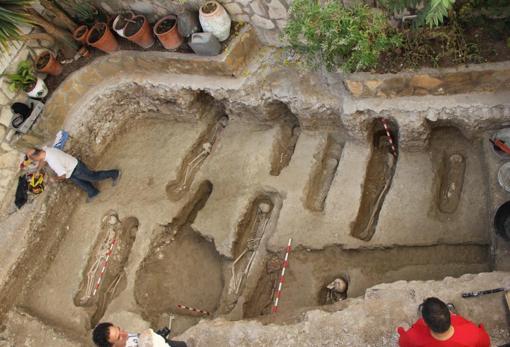 And he tells us that, due to a lack of budget, in recent years they have dedicated themselves to research. «A trepanation was discovered, we had open lines as through the imprints of the muscles in the bones, see what activities they carried out to infer what jobs they had, look for new pathologies … In the study of paleodiet it came out that there were a couple of poisonings by lead and it could be deduced that there was some type of activity related to ceramics or pottery. There are so many things. With 400 graves we now have a huge sample to work with», Says Pina, who explains to us that there is even an idea to make museums doing some recreation of the necropolis. "It really was a very important discovery that was falling into limbo," he adds.
See them
comments

www.abc.es