Updated:
Keep

Maybe I started too young in many things. Maybe. Of course, that has given me many advantages in life, a lot of advantage, over those who have lived with their eyes closed and their minds even more closed. Maybe I'm wrong and my way of looking at life is a bit bizarre. The regulars of my lyrics already know that I have always considered myself an 'outsider' of those who read up to the dictionary of the RAE from time to time that, hey, you have to read it to stay up-to-date on the craft of writing and speaking well. Or, at least, to try, to know that instead of with that anglicism I should define myself as an alternative when not out of place. Maybe I started watching movies from Luis Garcia-Berlanga. Or maybe not.
In one of those, dictionary of the Royal Academy of Language at the ready, I came across the term 'berlanguiano', understood by the RAE as belonging to the work of Luis García-Berlanga, but also as something that has characteristic features of his cinema. And the finding filled me with enthusiasm because I discovered that my way of seeing life already had its adjective.
These last few years are full of berlanguianas circumstances. I don't know if Don Luis would be very excited about everything we are experiencing, surely not, but perhaps he would have known how to sharpen it, with humor so yours, so Mediterranean, so ours, to many of the bizarre stories that we are seeing by the coronavirus and politics. And not necessarily in that order.
The Berlanga Year has just begun. The beginning is not how many think the ceremony of the Goya, with its well-deserved tribute to the great Valencian filmmaker, a ceremony that many of us believe should have been held in Valencia. The beginning of Berlanga's year was marked this week by the opening of a MUVIM exhibition that I dare call excellent. And it is no coincidence that this national celebration, dedicated to one of the most universal Spanish filmmakers, began in Valencia. It is not. It is almost an act of justice for and from the land where he was born. Also, a Valencian actress, my dear Rosana Pastor, is the commissioner of this year dedicated to García-Berlanga.
Walking with her through the exhibition halls, I realized that my inordinate love for Berlanga's cinema surfaced unstoppably during our conversation. Maybe it's not your cinema, yes, if not his way of seeing life which explains my way of doing it. And I think there are many of us, and we would be many more if his films were seen again, those of us who protect ourselves from reality with that coverage of corrosive mockery, critical grotesque and humor that characterized all of his work. I don't want to imagine a film about these times directed by Berlanga. Or maybe I even want to imagine it, if I close my eyes a little, I can even see it and name many of the characters that would star in it.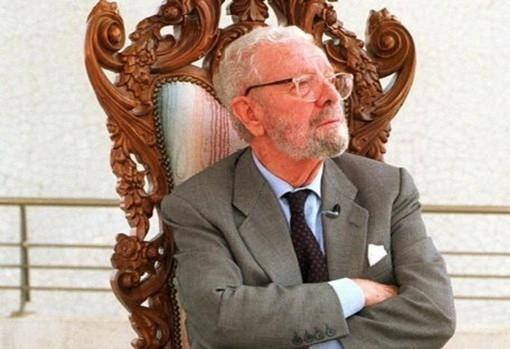 The fact is that between 'That happy couple' and 'Paris-Timbuktu' there is a whole universo berlanguiano which is condensed into 17 films that portray, with Berlanga's particular ironic gaze, Spanish society in the second half of the 20th century.
A Don Luis You had to know him to understand many of his things and many of the stories that he took to the movies. I highly recommend a visit to the TVE archives where we can see pages and pages of reports, documentaries, testimonies, interviews and films, to better understand his life and work, the work of a critical artist who faced the dictatorship but also He was critical of everything he did not like in the early years of the then young Spanish democracy.
What surprised me the most was his ability to pass censorship. It seems unthinkable that titles like 'Welcome Mr. Marshall' or 'El Verdugo' were screened in Spain at that time. That is not to mention 'Thursdays, miracle', 'Placido' or 'Natural size'. Later, after directing his shotgun and his national heritage, he was able, in a show of surreal coherence, sending 'Everyone to jail'. How big it was.
Maybe I am wrong, but after falling in love with the bittersweet cuteness of 'Calabuch', I have come to the conclusion that his masterpiece was 'La heifer', a movie that should be shown every week in schools to see if, of once, we assimilated the absurd Cainite reality that we Spaniards carry within us.
A fine, Luis Garcia-Berlanga stopped making films in 1999. It was the year of his last film, 'Paris-Timbuktu', a I sing to artistic freedom of a creator who sealed his legacy in a resounding and definitive way, more relevant than ever in these times of a brick-and-mortar debate on freedom of expression.
Now what Antonio Banderas presents the Goya gala that pays tribute to Berlanga, his statements of 2017 come to mind when he said that "Catalonia, sometimes, looks like a Berlanga film." The Malaga actor will allow me the audacity of correction, but I think that what happened in Spain almost always seems like a Berlanga movie.
Don Luis, wherever you are, happy teacher year.
See them
comments

www.abc.es