Barcelona
Updated:
save

After months of empty shops, closed bars, and tourists on the run, downtown Barcelona He urgently needed a moment of inflection to restore his vitality diluted by ten months of pandemic. East "miracle" It has been present throughout the Constitution and La Purísima bridge, which ends today, in the form of floods of buyers willing to queue up to an hour to complete their first Christmas purchases.
"I expected queues, but not so many, I try to buy online due to the pandemic, but I had to come to the center to change something that they brought me. It had been a long time since I came and I was amazed, I think there is a bit of unconsciousness of the people who have come here to hang out. I will make the change and I will go », he told Valeria dalchiele, while waiting, next to his daughter Sofia, your turn to enter a fashion store. Alongside them, hundreds of people were also patiently waiting their turn in the cold.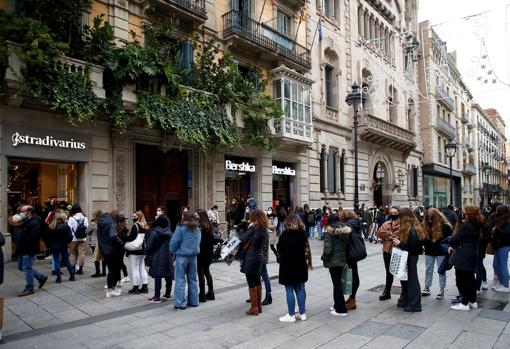 A few meters away, the handicraft fair that adjoins the delegation of the Bank of Spain was trying to fish for a client among the floods of buyers. «I have been two days and more I see people, but I expected even more. I hope that this weekend, and the next, everything goes to more. We take for granted that the sale will drop compared to other years, we all have uncertainty and there is no opportunity to round this year, but what I do not sell now, I will sell the next one online, "he explained with some enthusiasm Mariano, jeweler artist. It should be noted that the large agglomerations were formed in front of the large "low cost" fashion stores, which concentrated the bulk of the activity these days and left the smaller shops watching from their counters as many buyers passed by.
Rehire
"We know that this will be a Covid year, with fewer people and an economic crisis," he explained in turn María Planelles, from the traditional nougat that has been displaying his surname since 1850. «We have to accept this 2020 as it has come, a year to endure. Since the beginning of the pandemic we did not see so many people in the center and I like that, "he added – without stopping packing sweets – while highlighting that the historic center of Barcelona retains its ability to attract buyers despite the health crisis. His business, which has four stores in Ciutat Vella, will make an effort and will hire the same people this year as last Christmas.
The crowds that have gathered these last few days in Paseo de Gracia, La Rambla and Plaza de la Catedral They forced merchants to take all kinds of measures in order to comply with the capacity limitations applied in large areas. Thus, in some stores they chose to establish controls at the door while others divided their spaces to better control crowds. For its part, the emblematic Fira de Saint Lucia established a perimeter with access control, an unprecedented image that did not scare the families who continued one more year with the tradition of buying the tree and expanding their manger at this point at the foot of the Cathedral with the scent of fir and eucalyptus.
Lottery in La Rambla
"We have hope every year, but if 2020 touches so rare, better than better, let's see if it gives me a push and I retire," he explained Luis at the gates of another business that has made its particular "August" these days despite the crisis: the popular administration of Valdes lottery. At its door, located in the middle of the Rambla, a perennial queue of customers has consolidated these days, which has returned, for a few days, the usual heartbeat of an artery that the epidemic, the absence of tourists and the closure of theaters and terraces left shivering during the hardest months of the virus and that this bridge has momentarily reverted to its old normality.
See them
comments

www.abc.es