Madrid
Updated:
Keep

Madrid Food Fusion from Spain has hosted two exceptional speakers on the stage of the auditorium: Joan and Jordi Roca. They are because for years they have spoken the language that this congress has decided to give voice to under a large umbrella defined as circular gastronomy. The central axis of this summit, which started today, and which is called to change the way we eat this world. Reducing the impact of this necessary and hedonistic act led to The Celler de Can Roca to actively work for sustainability for more than a decade. In 2016, this restaurant – which has already surpassed the 'best in the world' label – was named a 'goodwill ambassador' by the UN to achieve the sustainable development goals set by this international body.
Their willingness to change things meant that, in 2017, they even underwent an internal audit to assess the degree of sustainability From his job. In it they evaluated from waste management to supply, through the energy efficiency of their cooked. An occupation that has not only been limited from inside doors, but has also led to those acts in which its closest collaborators are involved: producers, transporters or suppliers.
From that great speaker of initiatives that this space has become, they have decided to help these small producers by generating a non-profit circular economy. «360 degrees / 365 days. Circular economy, but every day ", explained Joan Roca about the title of his presentation, in which they have exposed all the fields in which they are thoroughly employed to improve: logistics, with efficient transport; air conditioning; lighting, asking the company that the electricity supplied to them be of renewable origin; reuse the water used to the maximum; generating education programs to be more sustainable.
All this with an eye to material resources, but also to humans, who are the most important capital of this restaurant with three Michelin stars. That is why they have decided, in the context of the obligations imposed by the pandemic, advance schedules to improve the quality of life of your employees. "Take advantage of the moment because it is working," said Joan Roca, inviting his colleagues to advance dinner shifts. They have put it at 19 hours.
Jackets made from recycled plastic
Their commitment has led them to minimize the use of plastics. The promoters of the sous vide cookingThey have even given up using vacuum bags. "We cook at a low temperature but without using plastic," he explained. "The few vacuum bags that are still used are converted into reusable bags and even aprons." In fact, his latest innovation in this field has to do with clothing.
'RopaRecicla' –in its sustainable line of work, 'RocaRecicla'- is the project with which all the employees of Celler de Can Roca dress, recycling all those materials with which a work garment can be made. "It is about minimizing the impact of our activity. To end up dressing ourselves with what we wear », explained Jordi Roca. "Why not make our own jackets?" Josep Roca asked himself at the beginning of this project. Jackets, aprons, t-shirts …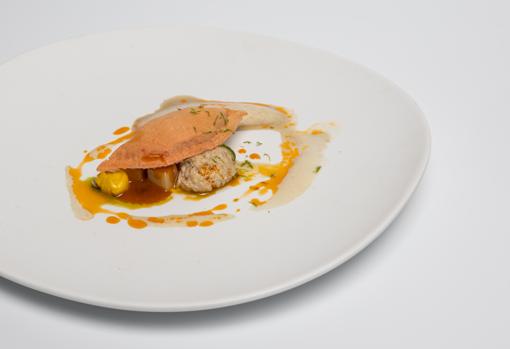 Pepper leaves and potato skins
The "restless, nonconformist and creative" gaze of the three Roca brothers has also led them to explore new uses for despised parts of food. For example, the leaves of the bush of the peppers that they grow themselves, which they ferment, roast and mince to make a particular tea. With it they elaborate a kind of «tea ceremony»About the pepper: this drink is accompanied by a freeze-dried padrón pepper, emptied and filled with some Manzanilla olive pearls that simulate their own seeds. It is followed by a cod brandade accompanied by pickled pepper flowers and primientos juice that serves as a sauce. The same product explored in all its possibilities. Even in a pepper leaf ice cream – pepper tea really – that is served between those same tempura fried leaves as a 'cut of ice cream'.
The skin of the potato has been another of the discards that have led to the development of a whole line of work. Specifically, they have extracted a protein from potato water capable of assembling a stable foam with all its flavor that makes it possible to make a spectacular potato souffle. And inside goes a 'suquet' of blue crab –An invasive species in the Ebro Delta– with which they contribute to solving a real problem for this fragile ecosystem. The meat of this blue crab is also used in other preparations such as a crab salad with a 'chily crab', a cold consommé and a shell made with glutinous rice and very crunchy crab broth that is accompanied with an oil from the crustacean itself.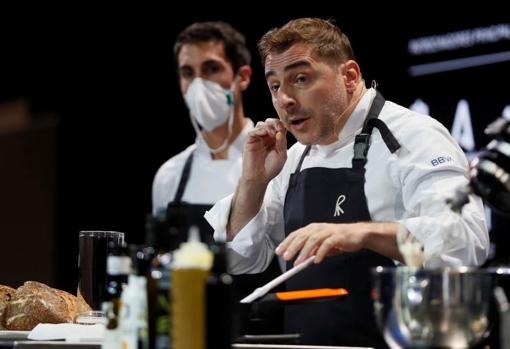 The spirit of cocoa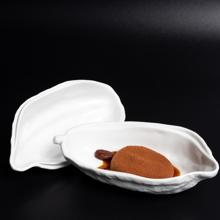 For its part, Jordi Roca, has proposed to take advantage of something that is usually always left in homes: bread. They mix equal parts of bread and water, corrected for its acidity until reaching a pH of 5.5. This mixture is still working with two enzymes. Twelve hours in a water bath until the gluten is completely degraded and remains in a liquid, decanted and filtered. Reduced, it becomes a candy that is "you shit." The dessert is a discourse of bread, chocolate and oil. The simplicity raised to the category of excellence and zero waste that already marks the horizon of world gastronomy. Chocolate has become the great passion of the sweet part of El Celler de Can Roca, which they have even distilled to obtain a witty cacao with which to accompany your desserts in the form of a surprising and fickle foam that flies thanks to the use of helium. "It is the spirit of cocoa", defined Joan Roca. They do so thanks to a technology developed by the Vom company.
See them
comments

www.abc.es