Madrid
Updated:
Keep

Around the summer of 1966, Marichari Gonzalez-Vegas she became the first woman to join the ABC Newsroom, where all her colleagues were men. Other women had written in the pages of this centennial diary, but always as collaborators. Marichari was made a contract with the same salary that the editors received (12,000 pesetas a month) and that marked a before and after in the Spanish press: as soon as the word spread, the few journalists who in those years worked in other newspapers, such as 'Ya', demanded the same treatment. More than 50 years later, Marichari affirms that the problem of the pay gap has not been resolved yet on many sites and says that if he were active he would now campaign in favor of domestic employees being able to collect unemployment benefits.
-How did you get into journalism?
-It was because of the Ifni war. My husband was in the military and we were stationed there, and I told him: "If they kill you, I have nothing to support the children." Because his pension would not be enough and, therefore, he encouraged me to study a short career. However, my mother said to her: "How do you let her study journalism now?" And he answered her: "Don't worry, they are going to suspend you at admission." And that my mother had studied the career of Commerce in the Free Institution of Education, but thought that if I worked I would neglect the attention to children.
– Did your military husband encourage you?
– It is that my husband was very modern. He was the first to tell me: "We are going by boat to the peninsula. Buy yourself some pants to go up and down the stairs. And I bought some really cute pirate pants, which attracted attention.
-Already married and with children, did you start studying journalism?
-Yes. Anson ran an academy where we were prepared for the entrance exam to the School of Journalism. There I had Alfredo Amestoy and actor Jaime Blanch as companions. Later, I entered the School of Journalism and submitted my thesis: "A Century in Communications," which began with the invention of the telegraph.
-How did it end up on ABC?
-In the summer, the School of Journalism offered to do an internship. They asked us for three options, and I put ABC in the first option, ABC in the second and ABC in the third. They admitted me, and the first thing they told me was that there were no women in the newsroom, but I didn't care.
-If there were no women, there would not be a women's bathroom either. Do not?
-No, there were no women's bathrooms. At first, I went to one that was in the Library, but as it was far from the newsroom, they told me that I could use the one in the office of Juan Ignacio Luca de Tena (the founder), which had a wonderful bathroom and a great mirror .
-How did you go from intern to editor?
-When the three months of summer internships were over, an editor (Ángel Padín) left and they offered me to stay one more month. Later, another editor (Ángel García Pintado) got some malignant angina and I stayed another month. Later, when he returned to the newspaper, he got into a fight with another editor, who took out a knife and threw him out. Total, they left me another month. I could only spend six months on an internship, but I turned one year old and they told me I was entitled to a month's vacation. I left and thought that around summer they were going to fire me.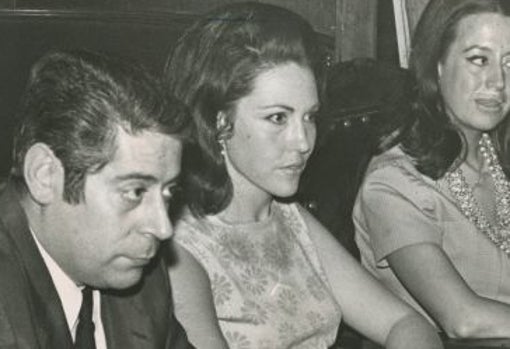 -But they didn't fire her.
-On the return, the orderly told me that the director was calling me, who was Pedro de Lorenzo. And I thought: "That's it, he's going to say goodbye." But he said, 'Congratulations, you're already with us. Go down to Personal to give your details and have them make a contract for you ». I was the first staff writer for ABC. Other women had collaborated or had contracts as editorial assistants, but mine was a copywriter. So I opened the door to women, which is very nice.
-And did you charge the same as a man?
-Yes, because I entered an internship, charging 4,500 pesetas, and then when the director called me at his office he told me that he was going to collect the payroll like any editor. It was 12,000 or 12,500 pesetas (about 75 euros), I no longer remember. They didn't make me ugly.
-How did your teammates react?
-Divinely. They were all very nice. I never noticed that they did me of less. I entered my house like Pedro. I never had a problem being a woman.
-And the other way around, did you notice a special protection?
-Totally. I started working on the edition of Provinces, which nobody wanted, with José Calvillo as editor-in-chief, and my hours were from eleven in the morning to five in the afternoon. Some time later, I went to the afternoon shift. And when the closing got complicated and it got late they would send me home with a taxi or a car from the newspaper. The truth is that they had me in small arms. They all behaved divinely. They did not say a bad word or a taco in front of me, until Federico Villagrán arrived, he was spouting tacos and then Calvillo told him to shut up: "That Marichari is here," he said, and replied: "Oh, sorry, sorry …" . They were all very majestic. I never noticed that I was in a hostile environment.
– Did you do the same as them?
-I went where they sent me. First they sent me to Sucesos, then Miguel Pérez Ferrero offered me to go to Culture and there I listened to all the conferences in the world and reviewed them. Afterwards, Miner Otamendi (José Manuel) took me as assistant to the editor-in-chief, then I went to the Madrid section, where I stayed for fifteen years and for ten I had a column called Patio de Cristales. Then I went to Photogravure and the Religion Section.
-Your firm at ABC is closely linked to the Cathedral of La Almudena.
– It is that they were on the verge of demolishing it to make a civic center, which was what Umbral asked for, who had a lot of strength. It made me very sad. Anson believed that it should be finished and we called from ABC a colloquium, which was attended by representatives of the City Council, the Community, the Savings Banks, from all over the world … A board of trustees and a foundation were established, ABC called a subscription for that the readers donate funds and, thanks to that, the works could be finished and Madrid has a cathedral.
-Have you ever felt harassed?
-No, no one ever, ever harassed me. On the contrary, everyone was very caring with me and I made very good friends.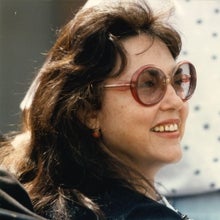 -How was the atmosphere in the newsroom?
-Great. Sometimes there was a fight, funny things … but I always felt very comfortable.
-How did colleagues from other media react?
-I hadn't realized that he had put some kind of pike in Flanders. But one day, Blanca Álvarez, from TVE, told me "Congratulations, you've been admitted to the squad." And that's when I realized that I had accomplished one thing.
– Were there women in the other newspapers?
-Yes, but they were like collaborators. And when they put me on the staff, the "Ya" protested and put them on the staff.
-What is feminism for you?
-Feminism, above all, is equal work, equal pay. You cannot allow a woman working the same as a man and paying the same to charge less for being a woman and having long hair. The first work they commissioned me to do on working women was in 1970 and it dealt with the 129 women who burned alive in the New York cotton factory in 1911. And what did they ask for? Salary equalization. That has not been resolved yet in many places.
-If you were still active, why would you campaign?
-I would campaign for domestic workers to have the right to unemployment. They work the same as a construction laborer, because cleaning a house has a lot of merit and danger, they have to climb the heights and they work a lot of hours. There is no right not to collect unemployment.
– Do you think that the situation of women has changed a lot?
-Well, I see it getting worse and worse, because now there are many murders. It would be necessary to study the causes, for example the influence of alcohol and drugs in these crimes, and take action. But nothing is done, they just come out with banners and applaud the coffins, what feminism is that? I think that when they talk about a sexist murder they soften reality. Let's remove the last name of macho, because it takes away gravity. It's a crime and that's it.
See them
comments

www.abc.es