Updated:
Keep

In the 'Deluxe', about Isabel Pantoja, Parada started talking about money to end up focusing on sentimental issues. He confessed that on TVE, when they released 'Amigos en la noche' in 2001, the tonadillera charged 10 million pesetas (60,000 euros) for singing two songs in 'playback'. But in the end, delighted with the project, La Pantoja sang three songs, live and acted as presenter (2004).
The friendship between the presenter and the artist has given a lot of play. On the one hand, we discovered that Dona Ana always said: "Paradita has to be my daughter's husband." The presenter, who has denied having had relations with the tonadillera, has had to deal with the polygraph, which has said otherwise. Parada confessed to Isabel Pantoja his feelings, even proposed be the father of your children. But the proposal came to nothing.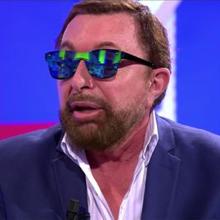 The questions of the night have reviewed the history of Isabel with the women of her life. Thus, we discovered that Encarna Sánchez was very angry when she learned that Isabel had met María del Monte. When her friendship with Isabel began, Encarna was very affectionate and happy, but when she discovered that she was not the only friend, she was furious: "What vice does!" with María del Monte. Parada has confessed that she discovered the romance between Isabel and Julián Muñoz when the tonadillera dedicated a song to her on Valentine's Day. After that, the presenter discovered that Julian was using him to meet her and hide the romance. Wanting to confirm if it was true, she asked Isabel, who denied up to three times that there was anything between her and the mayor of Marbella.
«But how can you understand the tastes of someone who has had relationships with people as different as Barbara Rey or José Manuel Parada? ", Lydia Lozano jumps when the polygraph confirms that Chelo García Cortés never felt desire for Isabel Pantoja:" I know very well the tastes of Chelo. "
During the interview, Kiko Rivera was mentioned: «I never dared to tell Isabel about the rumors about Kiko and her abuse of illegal substances. She always commented that her son was a bit rebellious, that he did not want to study, but he never raised this topic or had doubts about it.
He has also talked about Agustin Pantoja: "I'm not gay, nor have I been nor will I be," Isabel's brother told Parada at a party.
Among other things, they have insisted on how Isabel has changed in recent years: "I thought that her time in jail was going to humanize her, that she would come out wanting to take advantage of every moment of life." And Lydia Lozano echoes the ABC news about Isabel's decision to block her friends. Parada confesses that there was a time when it was Julián who answered the calls and selected those who could speak with her.
Again, Isabel Pantoja reluctantly becomes the protagonist of 'prime time' on Tele 5. From Cantora, sitting on her sofa, the singer will have enjoyed the image that has been given live of her: «More than a liar, she is seductive. When she wants something, to know how to be charming ».
See them
comments

www.abc.es