Madrid
Updated:
save

At 87 years old, Jean-Louis Trintignant He announced that he was leaving acting, that he could no longer physically endure the struggles of a shoot, that he felt the shadow of death too close to give life to a new character. At 87 years old, the interpreter of «Love», «And God created woman», «Red» … said goodbye to interpretation and the world: «I let myself go. I am not going to have chemotherapy, even if I am physically ready, "he confessed, referring to the fact that he will not continue to fight against prostate cancer that until now had been treated in Marseille. Three years have passed since then. Now, this Thursday, December 10, the French myth turns 90, far from any focus.
Actually, Jean-Louis Trintignant says he has been dead since 2003, when her daughter Marie was murdered by her partner, the rock singer Bertrand Cantet, who beat her up and caused her brain swelling. In 2007, the musician was released from prison after a conviction for voluntary manslaughter, while Jean-Louis Trintignant did not regain the strength to film anything until 2012, the year in which Michael Haneke directed him in the unsettling "Love."
Active since 1956, Jean-Louis Trintignant has worked in more than 110 films together with such illustrious names as Brigitte Bardot, Jeanne Moreau, Dino Risi, Costa-Gavras, Éric Rohmer … More than 110 times his name appeared in the credits after "The End" and, now, life and its coincidences, he will close his extensive filmography "Happy End", his latest work with Haneke, which chance has brought to Spain this Friday after presented at the Cannes Film Festival a year and a half ago.
Required by the greats
Despite their seniority, the European filmmakers wanted to continue working with Trintignant, who revealed in 2018 to the French newspaper Nice Matin that he had just rejected a proposal from French director Bruno Dumont to start a new project. «The cinema is over for me", said. «I was afraid of not measuring up physically. I can no longer move alone, I always need someone by my side.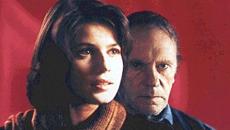 For history leaves a handful of key works of European cinematography. A career in which he was always favored by critics. Since 1969, at Cannes, where he won the best actor award for "Z" by Costa Gavras; and a year earlier, in Berlin, where he did the same for his performance in Alain Robbe-Grillet's "The Man Who Lies", until 2012, where he raised the César – the French Oscar – for "Love."
"Why are they giving us awards?" He asked himself in the interview in which he announced his goodbye. «We actors are well paid enough. It would be better to give the Oscar to those who have to do little fun jobs, "he answers loaded with irony, as when he explains his run-ins with fame. "Was very shy. Notoriety never interested me. It's fun the first time they meet you, then it gets tired.
Perhaps the Trintignant who began to study law at the age of 18 did not want fame, but when at the age of 20 he discovered that he wanted to be an actor and a director and he moved to Paris. Everything changed. Soon, at the age of 26, he already shot together with Brigitte Bardot «And God created woman»(1956), by Roger Vadim, where he played the role of the shy husband of the French muse.
Already released, directors like Eric Rohmer, René Clement o Philippe Coudroyer the sumergieron in the "New Wave". Then came commercial works that made him travel around the world: "A man and a woman" (1966), by Claude Lelouch; "The conformist" (1970), by Bernardo Bertolucci, and "The escapade" (1974), by Michel Soutter. Later he starred in "The terrace" (1980), "The night of Varennes" (1982) and "Between love and death" (1981), all three by Ettore Scola; "Mata Hari" (1964) and "Dangerous Relationships" (1959), both together with Jeanne Moureau … Hundreds of characters to whom he gave skin, voice and soul. Anyway, when asked on "Nice Matin" if he would like to reincarnate, Trintignant left an indelible answer: "Nerd [me reencarnaría] in an animal, rather in an insect, I am very small».
See them
comments

www.abc.es