Updated:
save

She is about to turn 67 years old – it will be next December 8 – but that does not stop the fireproof Kim Basinger. The actress, who started in the world of fashion and advertising, has returned to her origins. The American is the new face of the "Holiday 2020" campaign by Miuccia Prada's firm, Miu Miu. Although it is not the first time that she has worked for the Italian brand, she is grateful that they have counted on her again so that with this campaign they value "the ability and willingness of women to transform the external perception of them, and their character through the fashion they choose to wear ».
At just 18 years old, she became Miss Georgia, which opened all the doors of the industry and earned her a position as a model in the prestigious Ford agency, founded in 1946. Over time she studied acting to become an actress despite the shyness that always characterized her.
It began in the series "Charlie's Angels" and shortly after, in 1973, had his first role in a movie: "Katie: Portrait of a Centerfold." It was during the filming of the same that she met her first husband, Ron Snyder, from whom he divorced in 1989. The last few years were difficult for the actress as she was diagnosed with agoraphobia and discovered her husband's infidelity, which precipitated the divorce.
«At the age of 27 I began to have panic attacks, they would suddenly grab me when I went shopping. And that's why I couldn't leave my house. Everyone thinks that because of the magazine covers or because of a certain sensuality that I project, that's what defines me, but no, I always pretend to be ", he said in one of the few interviews that Basinger has granted. Despite her fame and her many jobs, both in the world of fashion and in the cinema, she has always been a very reserved woman with her private life and has stayed away from social life.
Stormy marriage
Four years after their divorce, Kim Basinger was walking down the aisle again with Alec Baldwin. "He entered the place, kissed me, and asked if I wanted to have children," says the actress of the day she met the one who would become her second husband. Far from being scared by what she experienced that day at Morton's restaurant in Los Angeles, as could happen to many, she fell madly in love.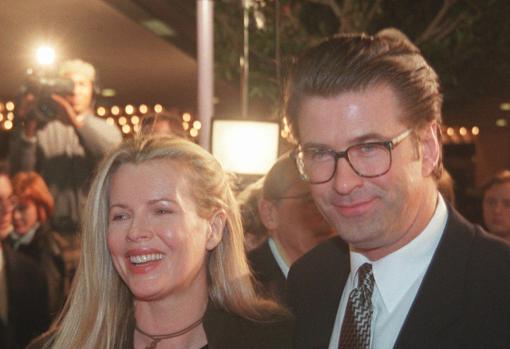 After meeting they began a passionate romance and a series of sexual encounters that alternated with episodes of heated arguments. It didn't take long for them to become Hollywood's fashionable couple. By then, Kim Basinger was already a myth and a star thanks in part to "Nine and a Half Weeks." The hollywood goddess. The differences between the couple increased over the years. In 2002, Kim Basinger and Alec Baldwin separated and began a court war for custody of their only daughter, Ireland.
See them
comments

www.abc.es