MADRID
Updated:
Keep

The night of this Saturday and the early morning of today ended with altercations in the bottle led by several thousand young people in the Parque del Oeste and the surroundings of the Temple of Debod, in the heart of Madrid.
Police sources have indicated to ABC that already in the afternoon people began to arrive in the area. They were intercepted and kicked out, but then many more suddenly appeared. The deterrent device deployed in the park of Berlin and University City, which have been the scenarios of macro-bottles for the last two weeks, caused young people to move to the aforementioned area.
They were drinking all night, and the police were forced to disband them between 2 and 4:45 in the morning. The actual eviction of these kids, most of them university students, took place in a more or less orderly manner.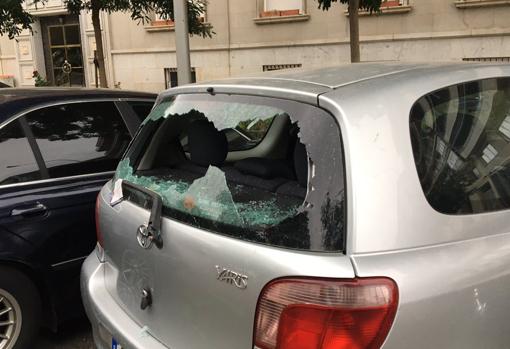 But a more violent group tried to strengthen itself in the nearby Ferraz street and in the Paseo del Pintor Rosales, where they came to place some containers and work beacons as barricades. Some armed with bars, they threw rocks and bottles at the officers. The riot police of the Municipal Police (the Central Security Units, UCS) and the National Police (the Police Intervention Units, UIP, and also the Prevention and Reaction Units, UPR) had to move to the place.
DELEZNABLE !!!!
Terrible images of today Saturday, October 2 in Parque del Oeste, Moncloa, brutal beating of a woman victim of a very dangerous gang, the victim claims that everything happened is due to not responding to a "esk that gyal has to be my gambina ". pic.twitter.com/bgtD0Ew9y3

— diquethiaagorlees (@thiaagotcn) October 2, 2021
Organized groups with machetes
Sources of all solvency indicate to this newspaper that the violent are the groups that have been detected in recent weeks that, in an organized way, go to these crowds of people to steal young people's wallets and mobile phones and even burst shop windows and take things from shops . They would be responsible for the stabbing this morning, but also for those registered last weekend in the Berlin park and at the Villaviciosa de Odón parties, for example. In Las Rozas, a young man carrying a large machete was detected on Friday night and was arrested.
On this occasion, there has been damage to vehicles parked in the area. In addition, three people have been injured by a knife (two light and one of moderate character, who was admitted to the San Carlos Clinic hospital); ten had alcohol poisoning, and twenty had traumatic injuries (blows and falls).
The Security Area of ​​the
City of Madrid Since spring, it has been reinforcing 200 additional agents to work on this type of incident from Thursday to Sunday, plus those who provide ordinary service on those nights, which are around another 400. In addition, they have the support, when required and in case of altercations of the public order, of the National Police.
See them
comments



www.abc.es