Madrid
Updated:
save

Ferrari presents the new 488 GT Modificata, a limited edition model that incorporates the features and technologies developed for the 488 GT3 and 488 GTE, and exceeds the limits imposed by technical and sporting regulations with the aim of develop their full potential. Although the use of the 488 GT Modificata is limited to Track Days and Ferrari Competizioni GT Club events.
The car's name includes the word 'Modificata', which in Ferrari jargon refers to designs that have been modified to improve their performance. In this case, the already remarkable features of the 488 GT3 and 488 GTE have been maximized by combining their most effective and innovative solutions, and developing new technologies mainly linked to the engine, which is no longer limited by the BOP system (balance of performance – performance balance) imposed by the FIA.
The legendary V8 biturbo engine underwent a comprehensive study which resulted in the special design of certain components and the use of racing engine materials. Maximum engine power now around 700 hp thanks to the use of highly innovative solutions and more extreme maps that substantially increase performance. And all this without losing the proverbial Ferrari reliability. The gearbox, available with different gear ratios, and the carbon fiber clutch help manage the increased power and torque provided by the engine.
Except for roof and aluminum pillars, the bodywork is made fully carbon fiber, as in the 488 GTE. This contributes to providing downforce of more than 1000 kg at 230 km / h. When defining the dynamics of the 488 GT Modificata, the engineers chose to use the suspension of the 488 GTE. The braking system was developed in collaboration with Brembo. In addition, the extensive factory-installed equipment on the 488 GT Modificata includes a V-Box data acquisition system that is combined with Bosch's telemetry data acquisition system. It is an expandable system that allows you to download data directly to a USB memory. The high resolution rear view camera, the second seat and the TPMS system for measuring tire temperature and pressure also come standard.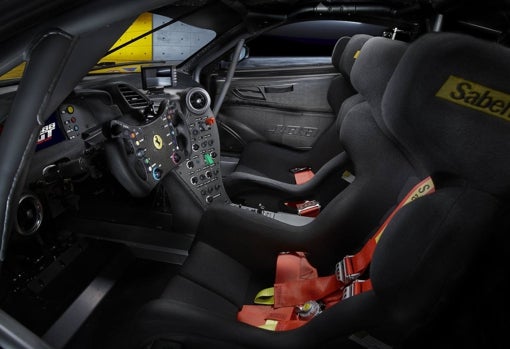 Like all Ferraris, the 488 GT Modificata offers customers a wide range of customization options both for its exterior and interior. The car, of which a minimum number of units will be produced, is initially aimed at drivers who, in recent years, have participated in Competizioni GT races with Ferrari or Club Competizioni GT events.
See them
comments

www.abc.es