Toledo
Updated:
Keep

Within the framework of the Ceres plan, created in the Toledo Command with the aim of providing an adequate police response to crime in this province, the Civil Guard has carried out the 'Manube' operation with the participation of more than 200 agents who have made up to 21 entries and searches in homes and industrial buildings during the same day in different locations in the provinces of Toledo and Madrid, and 26 people arrested as alleged perpetrators of crimes against public health and belonging to a criminal group, among others.
The Ceres Group of the Organic Unit of the Judicial Police of the Civil Guard of Toledo has been in charge of developing this operation against a criminal organization settled in the region of La Sagra.
This group was coordinated, with a strong and increasingly broad structure, made up of people with different functions such as those in charge of setting up the electrical infrastructure in each house, others of cultivating and maintaining the plantations, those in charge of masonry, and those assigned to dismantle the facilities once they were completed. At a higher level were the people in charge of locating the empty houses to occupy, and even rent, to establish new plantations, taking advantage of people without resources and in need to be used as guardians of the plantations. The last and highest echelon was occupied by people whose role was reduced to controlling money.
After several months of investigation, on September 7, a great operation coordinated with more than 200 agents of the Civil Guard in order to carry out 21 entries and domiciliary searches, authorized by the Court of First Instance and Instruction No. 1 of Illescas, in the Toledo towns of Illescas, Pantoja, Olías del Rey, Yeles, Yuncler and Argés, in addition to the Madrilenian Cubas de la Sagra, Alcobendas and Madrid capital.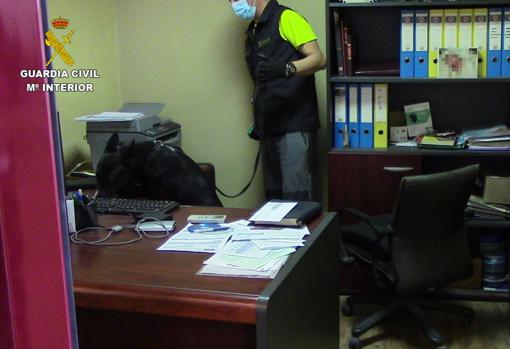 In the different registries, various firearms that the members of the group used to defend themselves from possible "overturns" of other gangs dedicated to drug trafficking. In total, among all these interventions, it was possible to seize 7,457 marijuana plants, 17,000 euros in cash, six firearms including a submachine gun, two tasers, numerous bladed weapons such as machetes, butterfly-style knives or personal defenses, three high-end passenger cars, a van and three motorcycles, 1.3 kilos of marijuana buds prepared for sale or 31 grams of cocaine.
In addition, it was possible to completely dismantle seven plantations 'indoor' of marijuana, one of them in a hidden room inside a vehicle buying and selling warehouse, and a cocaine adulteration laboratory.
In total, in the 'Manube' operation, 26 people, twenty men and six women aged between 21 and 61 years old and of various nationalities, have been arrested as alleged perpetrators of crimes of belonging to a criminal group, a crime against public health for drug trafficking, fraud of electricity, illegal possession of weapons and usurpation of real estate.
Units of various specialties of the Civil Guard such as Judicial Police agents, Air Service with a helicopter, Cynological Service with drug, weapons and money detection dogs, Citizen Security Unit of the Toledo Command, Madrid have participated in the execution of the device. , Ciudad Real, Cuenca and Guadalajara, the Madrid Reserve and Security Group No. 1 and a Tedax explosives deactivation team.
See them
comments

www.abc.es