Updated:
save

Fans of Wizard of Oz They already wanted another one of those funny and language records as only they know how to do in the Spanish rock scene. And his wishes have come true with the first preview of what will be his next album («Black Flag» which will be released on April 9), a song entitled «El beer (the beer tree)» which is a real tribute to beer and the desire to party in good company.
As its leader Txus di Fellatio tells ABC, "The beer (the beer tree)" is the song that has had the most visits on YouTube in less time, in the entire history of the group. "We haven't composed such a lighthearted song in many years," says the drummer. «The next album is going to be very direct, bouncing like crazy. It's not about showing how good musicians or composers we are, but about having fun. We got very bored in confinement and said, "Shall we make a record?" "come on!". We began to compose via zoom ».
This first preview began to take shape when I gave Fellatio saw a photo on social media in which the user "created" a "beer" by hanging several bottles from a tree. He began to compose with Diego Palacio from the Celtian band, who played with Mägo for a season, and they all made the arrangements. "I don't know who the boy in the photo is, but we should find him," laughs di Fellatio, who sees this song playing "at the meetings that can be held this Christmas, and next year at festivals, in a big way. People now need fun, not those apocalypse songs we used to do so often. "
The group makes it clear that the message of the song "is not directed at minors", but otherwise it has no fear of those who might be offended by this comic apology for beer. "Which it is, and in full rule", reaffirms di Fellatio. "What are we going to do, we are drunks (laughs)".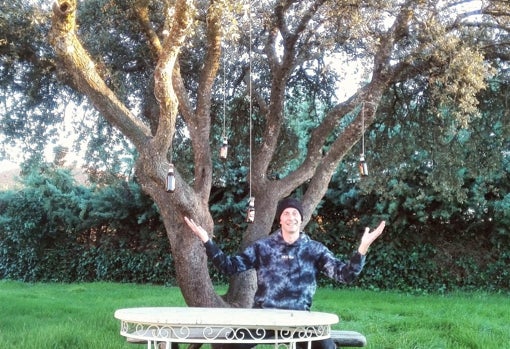 To spice up the launch, the group has posted a photo of one of its members with his own beer, and has asked his millions of followers to do the same and upload it to social media. "And the thing is that 'The Birra tree' is anywhere !!", they say on their official website. «You only have to see it with the eyes of the thirsty, who despises any carbonated soft drink … Suggestion: If you can't find any beer (or the police urge you to leave the park's trees alone), we can also use a Christmas tree (after removing the tacky balls) or why not … that long dress of your mother can make a tree if you put it on and hang beers from it. In short, find your beer, upload it to the networks, tag us and put the hashtag #elcerverzo. We are looking forward to seeing you !! And an important warning: Whoever uses zero beer will be severely punished. (Only in the case of those under 18 will we turn a blind eye) ».
See them
comments

www.abc.es