Axel Mazella continues as leader in the Tarifa Foil Boards FKSS 2020 Tarifa after three rounds were played today in the Open category. The Frenchman is seconded on the podium by the Croatian Martin Dolenc and the Italian Mario Calbucci. In women the leader is Julia Damasiewicz followed by Ellie Aldridge, while Gisela Pulido climbs to fourth place in the overall female.
The current world number one maintains his control over the rest of the fleet in the Formula Kite Spain Series after signing a first and two seconds today. The Frenchman is approaching his third win of the season in the competition as he has already won the Castellón and Mallorca events. His income in Tarifa on the second is already 13 points and he has the possibility of using the discard since his current worst result is a second place. The other two races of the day in the Open category were won by the American Markus Edegran and the Russian based in Tarifa, Denis Taradin.
Taradin, despite that first, did not come out of the water happy because he added a tenth and a sixteenth to his locker. From second place overall, he fell to fourth behind Croatian Martin Dolenc and Italian Mario Calbucci. Dolenc has recovered perfectly from his first round of the competition in which he could not reach the starting line and since then he has achieved great results. The Croatian explains: "I am happy with my results taking off my first heat. I am being consistent and that is very important in a fleet like this. I have been training in Tarifa for more than a week and the truth is that it is one of the best places in Europe to kitefoil in winter. Mazella is sailing very well, but that is something that we already knew would happen because he is one of the best in the world ".
In the women's category, Julia Damasiewicz climbed to first place in the general classification after showing solid results and without committing errors, as was the case with Ellie Aldridge, who in the second heat of the day could not finish after being involved in an incident. Gisela Pulido had a good day in results and climbed to fourth position in the women's category behind the first three in the world ranking.
In the F-One Formula Kite Amateur class, the great dominator was Regy Dils, a Belgian based in Alfas del Pi (Alicante). In the first heat the current leader of the circuit had a bad start and that prevented him from fighting with Diego Barona from Alicante for the victory. But from that moment on he dominated the three regattas and left Playa de los Lances with a point advantage over Barona, which leaves everything open for tomorrow's day in which the two will play victory.
Today five heats of the Wingfoil class have also been contested. The class makes its premiere like this in the waters of Tarifa. And it was a great debut because a total of eight sailors participated in the test. The participants were able to complete the program of the day with what they have already been able to reach a discard. That 'ace up his sleeve' is the one that has allowed Basri Halim Bin Abdul to lead the competition by being able to subtract a 9 from an OCS in the fourth sleeve. In second position is the Sevillian Alejandro Gutiérrez with one point more than the leader. Third is the Valencian Rafael Gómez.
Tomorrow we expect to be able to give outings to the three classes that participate in the Foil Boards FKSS 2020 Tarifa. The trophy ceremony is scheduled for four in the afternoon at the Chiringuito 'Carbones 13' which has been the epicenter of the competition these four days.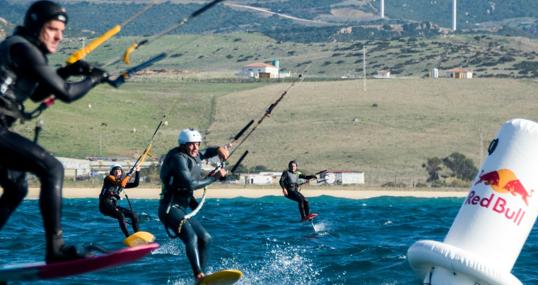 Classifications
1. Axel Mazella (FRA) (1,1,1,1,1,1, (2), 2) 10 points.
2. Martin Dolenc (CRO) (39),2,3,3,5,3,3,4) 23 p.
3. Mario Calbuci (ITA) ((5),5,4,4,3,2,5,3) 26 p.
4. Denis Taradin (RUS) (9,3,2,2,2,3,3,4,10, (16), 1) 29 p.
5. Dor Zarka (ISR) (6,4,8,5,4, (20), 6,8) 41 p.
6. Max Zakowski (POL) (4,8,(12),9,7,7,4,5), 44 p.
7. Jakub Jurkowski (POL) (8,6,6,(DNC52),6,6,9,7) 48 p.
8. Théo Lhostis (TAH) (2,7,7,8,8, (21), 11.11) 54 p.
10. Alejandro Climent (ESP) (7, (14), 13,10,14,8,8,12) 72 p.
16. Julia Damasiewiscz (POL) ((31),15,14,16,15,15,22,17) 114 p.
18. Ellie Aldridge (GBR) (14,11,11,24,26,16,(DNF50),18) 120 p.
25. Gisela Pulido (ESP) (16,20,20, (DNC52), DNC52,22,20,19) 167 p.
Classification of the F-One Formula Kite Amateur
1. Regy Dils (BEL) (3,1,1,1) 6 points.
2. Diego Barona (ESP) (1,2,2,2) 7 p.
3. Jean Yves Raimond (FRA) (2,8,3,3) 16 p.
4. Paco Peiró (ESP) (4,3,6,7) 20 p.
5. Carlos Espí (ESP) (DNC14, 4,4,4) 26 p.
Wingfoil FKSS class classification
1. Basri Halim Bin Abdul (ESP) (3,2,1, (OCS9), 2) 8 points.
2. Alejandro Gutiérrez (ESP) (2,1,2, (OCS9), 4), 9 p.
3. Rafael Gómez (ESP) ((7), 5,5,1,1) 12 p.
4. Daniel Olivieri (ESP) ((5), 3,4,5,3) 15 p.
5. José Miguel López (ESP) ((1,7,6,2, (OCS9)), 16 p.

www.abc.es