Updated:
save

The vaccination campaign against Covid-19 in Russia It started this Saturday in Moscow, which has thus become the pioneer city in the use of the Russian preparation Spútnik V, which until now had been administered only to the military and volunteers, within the framework of clinical trials.
The beginning of vaccinations in the capital coincides with a new record of daily infections both in the city and the country as a whole, with 7,993 and 28,789 new cases of coronavirus, respectively.
For this, they have been enabled vaccination centers in seventy Moscow polyclinics, which in the first stage of the campaign can be attended by people between 18 and 60 years old belonging to risk groups, such as teachers, health workers or social workers.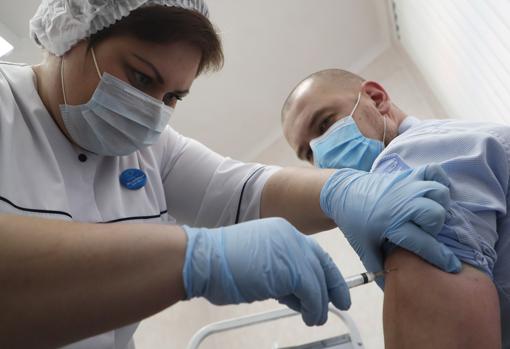 By appointment
Vaccination, voluntary, is made by appointment, which is requested through the internet on the City Council service portal. The entire procedure takes about an hour, as it includes a medical examination, vaccine preparation (it must be defrosted on the spot) and an observation period of half an hour after being supplied.
The vaccine is administered in two doses, so people who have received it this Saturday will have to return in three weeks to have the second injected.
In one hour, four people have been vaccinated at the vaccination center of branch 8 of the consultation and diagnosis polyclinic No. 121, according to Efe.
Center staff have strictly refused to provide information on the number of people vaccinated today and also those who have made an appointment for the next two weeks.
Seven million
According to the mayor of Moscow, Sergei Sobianin, thousands of people have already requested an appointment to be vaccinated and the City Council's plans foresee that the campaign will reach up to seven of the almost thirteen million inhabitants of the city.
«As with any vaccine, this one can cause weakness and a slight increase in body temperature in the first 24 hours after his administration ", warned the director of the Moscow polyclinic No. 2, Natalia Shindriayev, in statements to the RIA Nóvosti agency. The doctor stressed that this is an "absolutely normal reaction."
See them
comments

www.abc.es