Updated:
Keep

Summer arrived yesterday with concerts hand in hand, in a Music's day which will be held throughout this week with a pre-pandemic agenda. The Madrid City Council offers a wide range of actions for all types of audiences, in cultural centers and in emblematic spaces of the city such as El Retiro. There will be classical music, electronic pop, punk-rock, cinema, artistic interventions and a scenic creation project with teenagers that combines music, theater and dance, among other #CulturaSegura proposals.
The Condeduque Center for Contemporary Culture will close the 2020-21 season on June 26 offering an outdoor concert in its Central Patio with the punk-rock group Lagartija Nick, which can be considered the 'headliners' of Madrid's European Music Day programming. During their visit to the Central Patio of Condeduque, the Granada band will premiere a show based on their rock and poetic perspective on flamenco, coinciding with the 30th anniversary of their first album, 'Hipnosis', and the 25th anniversary of Enrique's unforgettable 'Omega' Morente; although in his performance there will also be reminders for other albums such as 'Space', 'Lagartija Nick' or the most recent, 'Los cielos cabizbajos'. In addition, the North Patio of Conde Duque will also become a stage for live music during the remainder of June, thanks to the programming designed by the Víctor Espinós Musical Library, which will offer, every Friday, at 7:00 p.m., performances in I live for all tastes.
With over a hundred years of history, the Municipal Symphonic Band, directed by Jan Cober, will offer various performances on the occasion of the European Music Day. After the first, last Sunday at the Templete de El Retiro, he will perform tomorrow the 23rd in a concert shared with the Municipal Police Band on Paseo de la Chopera, 2 (at 9:00 p.m.), next Friday 25 in a show of brass and percussion in the Berlin park auditorium (at 8:30 p.m.), and on Sunday 27, again with this last format.
The multidisciplinary cultural project of the Department of Culture, 21DISTRITOS, also participates in the municipal programming around Music Day with various free musical activities in the city's districts, such as the concert of Mohama Saz on June 26 at the open-air Auditorium of Parque del Calero (10 p.m.) or the opera show for family audiences co-produced by the Reina Sofía School of Music, which can be seen on the 26th and 27th at the Antonio Machado Cultural Center (12 h). To complement the celebration, several theater and dance activities are added where music is also the protagonist, such as Enrique Viana's new zarzuela in which fragments of Moreno Torroba, Sorozábal, Alonso, Serrano, Moraleja or Bretón sound, and the sample of two stage projects of collective creation. The first is 'Todos las Santas', by the La Phármaco dance company, whose sessions will be divided into a first technical part, body warming and learning some essential dance tools, and another creative part, in which it will be developed the artistic piece through the biographical experience of the participants and attending to their physical and expressive particulars. The second is 'Lives', from the project with over 60 years 'Memoria Conectiva', a dance-theater laboratory for people over 60 where a collective creation is proposed that tells the journey of their lives, inviting dialogue, reflection and coexistence.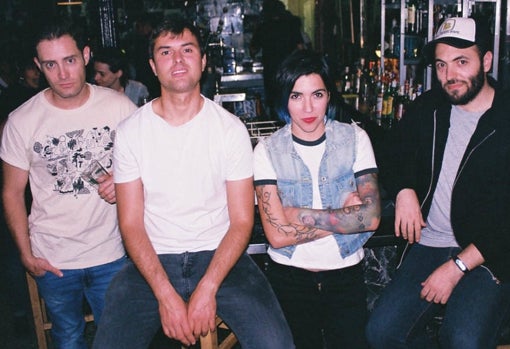 The concert halls, which this week revive a little more thanks to the change in closing times, will also be at full throttle. La La Love You They will perform on Saturday 26 (9pm) at La Riviera, where they will play 'Huki Huki's Day' is the second advance single of what will be their next album scheduled for February next year. On Friday 25, the Independance Club will host 'Arrivederci Lola', a tribute to Joaquín Sabina (6pm and 9pm) performed by a band formed in 2002, which at the beginning of 2005 decided to dedicate itself body and soul to honoring one of the most popular repertoires. vibrant music from the Spanish-speaking music scene.
For jazz lovers, the recommendation is to go to Sala Moe on Thursday 24 (8:30 p.m.) to see Antonio Ximénez, a trumpeter with a long career, heir to the bebo that has been formed by teachers such as Vice Benedetti and Barry Harris. The repertoire has a set of standards arranged by himself, and is presented with components with a solid training and a long jazz career, who can immerse themselves in other languages ​​within a varied and unique concert that includes some vocal themes by their own. Ximénez, who counts among his specialties the music of the mythical Chet Baker.
See them
comments

www.abc.es