Toledo
Updated:
Keep

State of alarm, confinement, bookstores and libraries are closed, and in April the acts of the Day of the Book are not celebrated. LThe culture is in quarantine but at home people read more, perhaps as a way to endure the days of confinement or travel far with the imagination. «Time, said Ovid, is the destroyer of things; with reading we make fun of him and cherish eternity », says the writer Juan José Morcillo in 'Diary of an inmate and other prints'.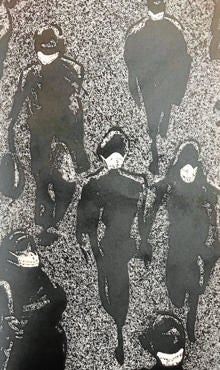 This book, along with four more – 'The light of the lost', by Javier Lostalé, 'The impossible language of the night', by Joaquín Fabrellas, 'I write the night', by Pilar Blanco Díaz, and 'De lo terrible ', by Ana Martínez Castillo-have been published by the editorial Shaman Editions since the coronavirus pandemic began. Five books that should have been fifteen, but that the social and commercial blockade derived from the state of alarm prevented us from seeing the light. The director of the Albacete publishing house, Anaís Toboso, tells ABC how her company has experienced this last very difficult year.
-How did you face the following months?
-We were quite affected because they are the strongest months of the book campaign. As the situation grew longer, we saw that it was a blow and the news that arrived was not at all hopeful. For a book, the beginning, when the author presents it, is the most important thing, it is when it really has movement. When everything goes so fast, when the novelties last only a few weeks on the shelves of the bookstores, that is when the book has to move.
-In spite of this, they have released several works to the market.
-We had to postpone book publications and, in fact, we are still kicking off those months. The books that we have been publishing since then have no longer been able to be presented, and those that have been able to have been limited to the public. For example, if we publish an Albacete author like Ana Martínez, it is rare that at least 20 people do not attend the presentation. But having an audience limit limits your sales a lot. What should have come out in spring we had to postpone, and then summer came, which is not a good time, forcing us to publish spring in autumn. We are considerably behind schedule in our postings; we can keep up but we don't know where the times will drift.
-Are there new projects?
-Now we are going to release another three titles: 'Otoñal y barojiana', by Miguel Sánchez Ostiz, 'Antología de la Beatnik Generation', by Marcos-Ricardo Barnatán, and 'Revolucionario', by Clementina Black, but of course, always with great fear , with caution, not being able to present them, not being able to move them. There are online presentations but the reader's pleasure is to talk with the writer, to be able to meet him, to dedicate the book to him, to have a talk …
-Your business has been reduced to a third. Have they had official aid?
-The Board of Communities offered some aid for the self-employed (when this happened my legal form was self-employed), but it was quite insignificant aid; then they caused the self-employed quota not to be paid in the toughest months of the pandemic, and later they were putting a series of percentages. And I have seen it very well because if there is no economic movement, the self-employed cannot pay their quota, in any sector. Then we had to change the legal form of the company and there is some help, but between some things and others you do not access them because they are already very specific sectors such as hospitality or tourism, the major victims of this pandemic.
-At least the book has remained afloat, people have read more.
-The book is kept because people have continued reading in these months in which we have had more free time, but our great highlight is the presentations and it has not been possible. And that shows.
-What prospects are there with the current 'anticovid' restrictions?
-Few perspectives, what may arise at the local level; the author from Alicante who can do some little thing in his city, the one from Madrid who can move it there, but of course, without thinking about travel. We always liked to go to all the presentations to show our support for the author, to be there physically with them, but with the mobility restrictions and the perimeter closures it is impossible
-Chamán was born five years ago and already has a quality seal in the edition.
-Thanks a lot. Since the end of 2015 we have been fighting to maintain the project and we do not want a global pandemic to come and destroy our dreams and illusions. We are looking for that, to have a hallmark and that the reader wants to have the book, which in addition to reading it is a precious object to keep at home.
-And speaking of pandemics, 'Diario de un confinado', by Juan José Morcillo, reflects it well in the first person.
-Yes, he lives here in Albacete, and it is a book that collects the articles that he has published in the local press during this time. It is accompanied by illustrations by José María Nieto, from the newspaper ABC. From the beginning we have wanted to embrace current issues, and what more current than the pandemic.
-Do you take into account that the authors are from Castilla-La Mancha?
-It's something we like, yes. We have international authors, from South America to Denmark, and we want to include authors from the region in our catalog as this is an Albacete publisher. We like to give out to our most local authors since we have national distribution.
The damage of networks
-What is your dream now, what situation would be ideal for Shaman?
– Let the book presentations return, which I hope is not only a dream but a reality. Although what I would be most excited about would be to find a piece of news that said that the percentage of readers in the world, in Spain, in Castilla-La Mancha has grown by 90%, not only for me as a publisher to have more sales, but because I would like people to read more, to have a critical attitude, that we not stay only in the current book, fashionable, but that there really was a need on the part of the population to read. I dedicate myself to teaching and it surprises me that young people read less and less, they have no restlessness about reading.
-How can you fight the damage done by social networks?
-Young people dedicate all their free and non-free time to social networks. Any psychologist, counselor, teacher, father or mother would tell you that with education, but it is very complicated because the networks are there, and they go to bed with their mobile phone. But it is that the same thing happens to us, it is always there, around us, even if it is to see the time. Education would be the base, but the education of adults and children.
«… Protected from the clutches of this violent, cruel and deceptive world, children who discover, for example, the beauty of some words caught in the deep paper waters of a good book». (José Juan Morcillo).
See them
comments

www.abc.es