Updated:
Keep

Environmental groups Agent Green Y VGT Austria They have denounced the death of the largest bear in Romania and probably Europe, which resided in a protected area in the Carpathian Mountains in Transylvania. There is the largest population of bears, about 6,000 specimens in the wild, which have been protected since 2016, the year in which hunting in the form of trophy or sport hunting was prohibited. Perhaps the sad story would not have had so much importance if it had not been for the well-known 17-year-old brown bear Arthur, and because the person accused of his death is the Principle Emanuel of Liechtenstein, belonging to one of the richest Royal Families.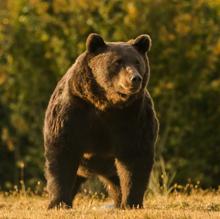 Number 16 in the line of succession for this Central European principality is being investigated by the authorities the country after these environmental organizations have identified him as the culprit of ending the life of this well-known animal in the area just a few weeks ago.
Arthur's death coincides in time with the prince's trip to Romania in March from his residence at Riegersburg Castle, a city in the Austrian region of Styria. With the permission of the Ministry of the Environment of the country, he was part of the hunting party organized by the Hunters Association that was intended to end the life of a bear that threatened the population and other animals in the area. This is one of the exceptions that are contemplated to be able to hunt this species despite the prohibition. The result was the death of Arthur and not that of the female.
A payment of 7,000 euros
As evidence, the aforementioned environmental organizations have presented several testimonies from neighbors and forestry agents from the Ojdula area, located in the Covasna protected natural area where the bear's lifeless body was found. There are also some documents that could prove that the nephew of Hans Adam, the current sovereign of the small principality, would have paid 7,000 euros for the hunting authorization.
"It is clear that the prince did not come to solve the problem of the locals for the alleged attack of a bear on cattle, but to kill Arthur and take home the biggest trophy to hang it on the wall. This is a fraudulent poaching action, as the wrong bear was shot, "says Gabriel Paun, President of Agent Green. He emphasizes that it was an act committed on purpose and denounces that making exceptions to the hunting prohibition is a trick usually used as a pretext to carry out a hunt.
At the moment the prince has not wanted to make statements on the subject, as does the Family Real de Liechtenstein, who has avoided commenting on this "private and personal matter, whose context he does not know. He did express his "respect for nature."
The matter is already being investigated by the authorities.
See them
comments

www.abc.es