Correspondent in Paris
Updated:
save

The demonstrations against social precariousness and the draft Law on global security, in Paris and 90 cities across France, quickly led to violent clashes, in the early afternoon of Saturday.
In the first of the Parisian demonstrations, a string of protests of a very diverse nature were mixed up.
The CGT, FSU and FO unions led the parades to basically protest against social precariousness, demanding more aid and better wages.
For their part, several student organizations, starting with the historic UNEF, participated to protest against the behavior of the forces of order in previous demonstrations.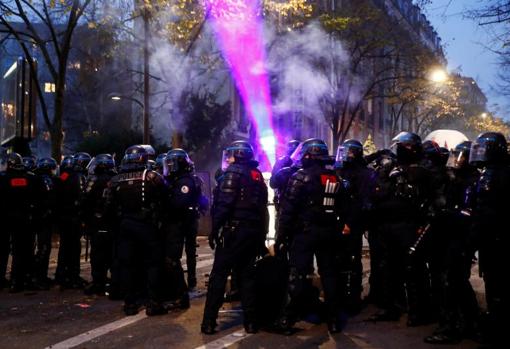 Before and after the traditional union representations, in the Parisian demonstration, militants from very different origins were confused: «yellow vests» from the extreme left, small groups of «black block» (ultra-radicals, supporters of direct confrontation, with stones and stakes), and representatives of small organizations hostile to the forces of order.
At the beginning of the journey of the Parisian demonstration, on the avenue Gambetta, in the direction of the Place de la République, there were clashes that were difficult to gauge: attempts to mount and "set fire" barricades, "exchange" of "projectiles" (stones, sticks ), contained charges of riot control.
In the rest of the 90 demonstrations, in many of the big cities of France, the tension was very similar, according to the most diverse sources.
Withdrawal of the most controversial article
The government of Emmanuel Macron decided to review and partially "scrap" the draft Global Security Law, days ago, withdrawing its most controversial article, after the demonstrations on Saturday, November 28, when 500,000 protesters (according to the organizers) or 133,000 (according to the Ministry of the Interior) They protested in a very spectacular way against the behavior of the forces of order, weeks before, after the outbreak of very lively tensions.
The timid "scrapping" and the announced revision of the Global Security Act have apparently been "insufficient". The demonstrations on Saturday, December 5, confirm a deep and flammable tension, when France remains partially confined and the effects of the pandemic continue to be dramatic, awaiting vaccines that will not begin to arrive until the beginning of the year.
See them
comments

www.abc.es