Bilbao
Updated:
save

The Olentzero, a Santa Claus with roots in the Basque Country, does not understand Spanish. At least in Lejona (Vizcaya), where he has reprimanded the children for not writing their Christmas letters in Basque. "I must give you a slap on the wrist"This mythological character warns in a letter that has been "echoed" by the Municipality, supported by the PNV and PSE coalition.
The letter is published on the Consistory website and is part of a campaign for children to send their petitions and drawings electronically this Christmas marked by the coronavirus. The Olentzero, as well as his partner «Mari Domingui», undertake in exchange to make a video call to all those who wish to do so. They have bought a computer for something: "We have used the whole year to learn how to use it," Olentzero says in the note. It has really been hard, but after making a lot of effort, we are very happy to tell you that we are ready to spend a little while together.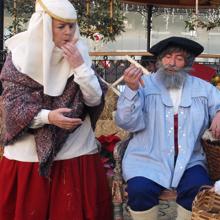 From the message it can be deduced that what they have not spent so much time on is learning the Spanish language. "We hardly know Spanish", admit Olentzero and Mari Domingui, who they warn the little ones of the "terrible effort" they have to make to understand their letters for Christmas. In fact, they even get to give them «a slap on the wrist»: «We know that most of you know Basque but even so, we receive many letters in Spanish».
There is an intrinsic warning in the letter from Olentzero, a charcoal maker by profession, who points out that possibly neither he nor Mari Domingui can decipher some letters from the children because they are written in Spanish. "We are left without being able to read them and without finding out about your wishes and adventures …", sentence.
The initiative comes from the Lejona City Council, whose mayor, the nationalist Iban Rodríguez, highlights the need to make Christmas "special" for the little ones. His campaign, however, has generated controversy in the municipality, which is part of the Bilbao metropolitan area: «En la carta (del Olentzero) there is a clear and precise manipulation to eliminate Castilian as a language that my son has the right to speak and write, "denounces a neighbor in the area, who encourages the rest of the parents not to be silent in the face of" these discriminatory situations. "
The letter was also criticized by the PP, which will demand "explanations" from the City Council. Raquel González, president of this formation in Vizcaya, advanced that they will ask "how much has it cost" a campaign that "even puts the illusion of children at stake." "They have to assimilate that if they don't speak Basque, they don't listen to them," he denounced. The nationalists have become obsessive. '
To all children:

You can send your letters in Castilian or Spanish. It is false that if they are not in Basque they will not read them and you will run out of gifts.

The Three Wise Men, Olentzero and Santa Claus understand all languages ​​and those who lie to you with that are going to be given coal. https://t.co/riqwb4xeDF

– Carlos García (@carlosdavidgf) December 10, 2020
See them
comments



www.abc.es