VALENCIA
Updated:
save

The company Safadifarma, belonging to the Safadi Group corporation, will distribute from its warehouses in Quart de Poblet (Valencia) a new rapid antigen test from saliva samples with a rapid system (offers results in less than 15 minutes), effective (more than 97% clinical sensitivity), and much cheaper than PCR (the price does not exceed five euros per unit).
The company has highlighted the contribution that for the course of the disease caused by coronavirus has this test as it is presented with a precision of 98.1%, specificity of 99% and sensitivity of 97.3%, and it can minimize contagion between health workers and patients by replacing the naseopharyngeal extraction with a less invasive and simpler system .
The new saliva test already has EU CE certification and it will be sold at 4.95 euros per unit through its website sfpharmaplus.com, in boxes of twenty-five units / kits that include 1 container for the saliva sample, a rod to obtain the sample, 1 tube with the reagents necessary to introduce the rod with the adhered sample, and a device in the form of a cassette that analyzes in a matter of minutes the possible presence of Covid-19 proteins.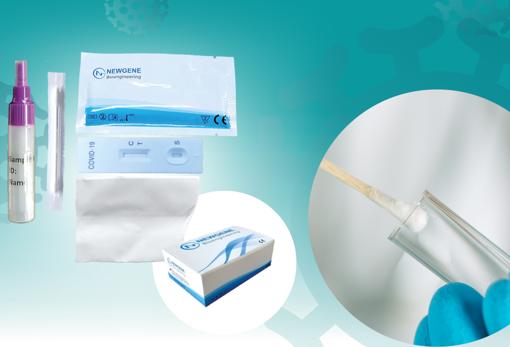 This new test allows the rapid analysis of the proteins of the Covid-19 from a saliva sample, avoiding contact between healthcare personnel and the patient and the discomfort of nasopharyngeal extraction. Although Safadifarma is only going to distribute it as a Category 1 In vitro Product (for health professionals, hospitals, residences and public and private health care centers), the test could be widely used as a self-test or be dispensed in pharmacies if the legislation allow it.
In any case, the distribution company is convinced of the effectiveness of its new saliva test as a preliminary diagnosis for trips and meetings of individuals, families or professional groups on the eve of Christmas.
Safadifarma is a company accredited by the Spanish Agency for Medicines and Health Products and registered in the Registry of Healthcare Establishments and Services of the Valencian Community that since the outbreak of the pandemic of Covid-19 distributes about a million Protection Products per month to institutions, companies and individuals around the world through its online sales channel, where it also offers specialized material for different specialties.
See them
comments

www.abc.es