Vigo (Pontevedra)
Updated:
save

The latest information on the departure of the "Sodebo Ultime 3" occurred at 2:55 p.m. today, Friday (December 11, 2020). His speed was significantly reduced and as a result he was 236 miles behind the "IDEC Sport" record of 40 days and 23:30 hours set in 2017.
In southern waters of the Indian Ocean, at parallel 51 ° South, sailing at more than 30 knots between the Kerguelen Islands and the meridian of Cape Leeuwin (Australia) Thomas Coville and his crew noticed strange behavior at the starboard rudder. When they saw what was happening they went to work for hours, always in contact with the ground crew, but in the end they could not solve the seriousness of the damage.
Thomas Coville, together with François Duguet, Sam Goodchild, Corentin Horeau, Martin Keruzoré, François Morvan, Thomas Rouxel and Matthieu Vandame, have shown that "Sodebo Ultime 3" has the potential to break the "IDEC Sport" record (40 days, 23 hours and 30 minutes).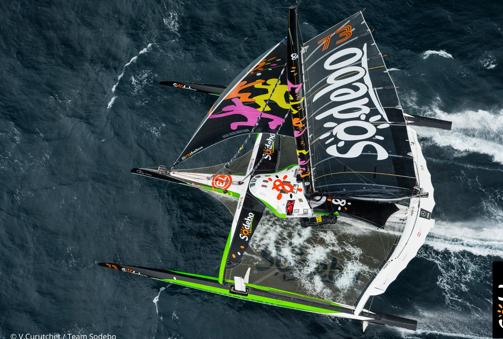 The return of the ship to Lorient will be directed to the island of Reunion, 2,300 miles from its position, where they will organize all operations and logistical issues.
To Sodebo Sponsor Company Co-Chair, Patricia Brochard: "Getting involved in the Jules Verne Trophy requires a very high level of human and technical preparation. Thomas, François, Sam, Corentin, Martin, François, Thomas and Matthieu accepted this challenge and demonstrated total mental and physical commitment. On the ground, the routing cell and the entire Lorient team were also admirable during this attempt. I want to thank you for all the work done. We have managed to make our audience dream through this extraordinary adventure. This abandonment is, of course, a disappointment for everyone. But it will also be a trainer and an apprenticeship to face our next challenges ".
The actual size of the damage to the starboard rudder of the «Sodebo Ultime 3» is unknown, although it should be remembered that in the Brest Atlantique regatta this rudder also damaged after being hit by a floating object. That would cause the abandonment of the regatta entering Cape Town, where they made an emergency repair to be able to return to Lorient sailing. Whether there is a cause-and-effect relationship in a bad repair prior to the Jules Verne record attempt is subjective, but they have not said that the rudder suffered any impact.
And the psychological warfare that the teams of the Ultime 32/23 Class multihulls are maintaining remains in the air. Both "Sodebo Ultime 3" and "Gitana 17" have been playing cat and mouse before crossing the starting line in Ouessant on 25 November. And regarding the current meteorological conditions in the Indian Ocean and the following days in the Pacific, the numbers to break the record could be negative when they had sailed 40% of the route so it was better to go back …
See them
comments

www.abc.es