Madrid
Updated:
save

The second wave of Covid-19 remains stabilized. With 8,257 new cases -of them 3,841 diagnosed in the last 24 hours-, the number of infections is well below the 12,228 registered on the same day of the previous week. Despite this, the number of deaths remains very high. In the last 24 hours, 442 people have lost their lives against 401 on Monday and 537 on Tuesday.
The cumulative incidence of the virus is also progressively decreasing and now stands at 265 cases per 100,000 inhabitants. The communities with the worst records are La Rioja (408), Castilla y León (403), Melilla (401), Basque Country (394) and Asturias (392). The Valencia Community, the Canary Islands, Catalonia, Extremadura, Galicia, Madrid, Murcia and Navarra, on the other hand, register fewer cases than the average for the entire country.
According to the data notified to Health by the autonomous communities, the hospital pressure throughout Spain by Covid-19 stands at 11.52 percent, and 26.30 percent of ICU beds are occupied by coronavirus patients. In La Rioja, for example, half of the patients admitted to intensive care are already as a consequence of Sars-Cov-2, followed by Aragón (40.77%) and Castilla y Léon (40.38%).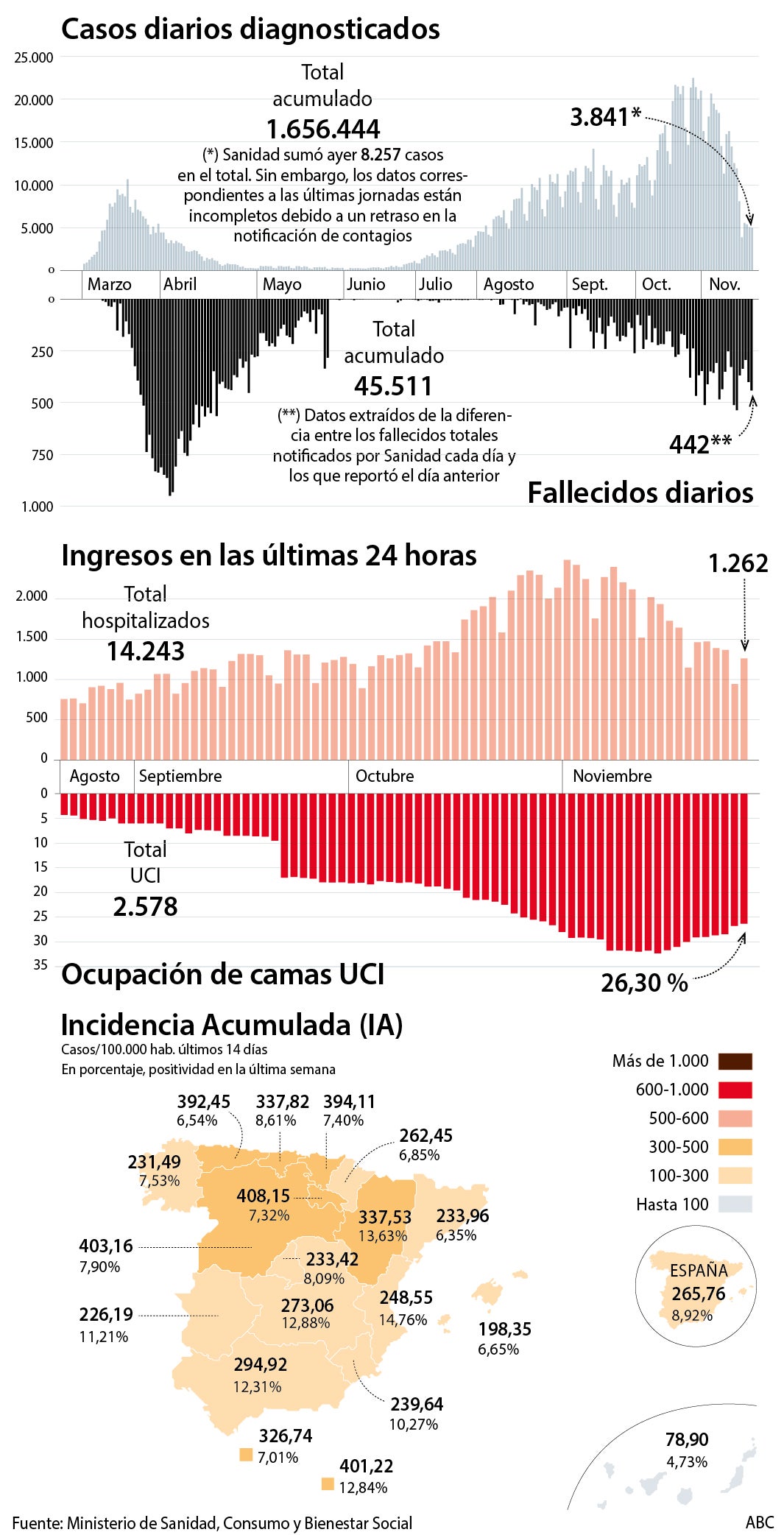 The PCR test positivity rate also continues to decline with an average of 8.16 percent. However, eight communities are still above ten percent. Among them are Andalusia (11.63 percent), Aragon (13.70%), Cantabria (11.99%), Castilla La Mancha (11.25%), Castilla y León (10.25%), Comunidad Valenciana (12.61%), Melilla (14.41%) and La Rioja (12.36%).
Catalonia has been one of the communities that reported the most positive this Tuesday, along with Madrid, Catalonia and the Basque Country, specifically it registered 1,505 positive for coronavirus in the last 24 hours, a figure that is 944 more than those reported on Monday. In addition, he added another 62 more deaths as a result of the disease, 26 more than this Monday.
The risk of regrowth, the potential growth rate of the coronavirus pandemic, which was declining in Catalonia since October 23, has rebounded this Tuesday and has once again exceeded 200 points, with 201, five more than on Monday, while the speed of spread of the virus (Rt) has also grown six hundredths, to 0.84.
See them
comments

www.abc.es