Madrid
Updated:
Keep

The periods of tempest between Algeria and Morocco – with their respective diplomatic confrontations, verbal escalations and reciprocal accusations of bad faith – never augur well for Spain. The two main Maghreb countries are neighbors and very important partners. For this reason, Algiers breaking relations with Rabat a month ago was not good news for Spain.
"Spain's relationship with Algeria and Morocco has always been one of difficult balances", explains to ABC Haizam Amirah Fernández, principal investigator of the Mediterranean and Arab World at the Elcano Royal Institute. Eduardo Soler, a CIDOB researcher specializing in the Middle East and North Africa, agrees with him, explaining that "the intensity of relations with Morocco and Algeria are very different than with the rest of the countries in their region." "Even with these two – Soler says – there is a certain hierarchy. For very different reasons, Morocco occupies a higher intensity level position than Algeria. '
The main difference between the two countries with respect to Spain is that there is a physical border with Morocco –by Ceuta and Melilla–, which would lead us to have more intense relations than with Algeria, which since the 1970s has been united by an extremely important for issues as relevant as energy, security, trade, some investments, immigration … "In this triangle, the added difficulty for Spain is the competition for regional hegemony between Morocco and Algeria", says Amirah Fernández.
The bad relations between the two countries have come at a time when Spain's position is not the best for two reasons: the renewal of the gas agreement and the severance of diplomatic relations between Madrid and Rabat after the reception of Brahim Gali.
The admission to a hospital in Logroño of the leader of the Polisario Front led to the migration crisis in Ceuta, although the principal investigator for the Mediterranean and Arab World at the Elcano Royal Institute recalls that the tensions between Madrid and Rabat began much earlier, when Spain did not joined the declaration of Donald Trump of December 2020, when he recognized Moroccan sovereignty over Western Sahara.
In a context in which Spain, Morocco and Algeria are observed in the distance and any false step can lead to a diplomatic crisis, the Minister of Foreign Affairs, EU and Cooperation, Jose Manuel Albares, visited Algeria on Thursday to ensure that there will be no gas supply problems for the winter.
From there, in a press conference without questions because in Algeria they are not allowed and together with his counterpart, Ramtane Lamamra, Albares assured that the meetings had been "very productive and cordial": "They have highlighted the excellent neighborhood that Spain and Algeria have and the climate of understanding and coincidence in our strategic relationship". He also explained that they would address two other issues that were almost more important than gas: immigration, which has skyrocketed in the last year, and regional issues, where they will most likely talk about Morocco. On these two issues, no details have emerged about what they spoke or agreed.
Immigration
"We are witnessing an increasing arrival of irregular immigrants to Spanish Mediterranean coasts from Algeria, with significant numbers", explains Eduard Soler.
So far this year, more than 8,000 Algerian immigrants have reached the shores of eastern Spain. Precisely because they share a physical border, immigration is a recurring theme in dealing with Morocco. «It goes to moments, but Morocco has marked a bit the wake. It has shown by the facts that when it has wanted to control the borders, it has controlled them. And when he has wanted to relax, he has relaxed them », says Soler. And he adds: "There have been ups and downs of irregular immigration flows with a clear political intention on the part of Morocco, either positive – to send a message of good neighborliness and coordination – or negative, as happened in May."
On Algeria, Soler states that "it is anything but transparent": "It cannot be concluded that there is an attempt by Algeria to put pressure on Spain with the migration issue, but it should not be ruled out either." He recommends prudence, since there is no sign of "reaction action" and in Algeria there is an "important frustration" at the economic and political level that could also explain immigration, "because there is a certain desperation on the part of the population."
Gas
Algeria is the main gas supplier to Spain. This raw material leaves the deposit Hassi R'Mel and reaches Spain through two gas pipelines:the Medgaz (Algeria-Almería) and the Maghreb (Algeria-Tarifa, via Morocco). With the breakdown of relations, Algeria wants to close the Maghreb – through which almost 25% of gas reaches Spain – so that Morocco stops receiving the substantial income it receives from the toll on this gas pipeline. Thus, in addition, Algeria would increase the gas that arrives through the Medgaz, but it would not be enough, which would lead Spain to increase imports of LNG (liquefied natural gas), which arrives through ships, which could cause shortages. In short, due to the conflict between neighbors, Spain will receive less and more expensive gas.
Most likely, on October 31, the day on which the concession of the Maghreb gas pipeline to Naturgy, Algeria will close this pipeline. Albares announced Thursday that Algeria's gas supply is guaranteed, but did not specify that it would be through one of the two gas pipelines. What happens at the end of the month remains to be seen.
Armament
In the report "Morocco, the Strait of Gibraltar and the Military Threat against Spain" –Published in May by the Doctor in International Security, Guillem Colom, from the Institute of Security and Culture–, it is pointed out that the process of rearmament in Morocco and its military improvements are the product of its rivalry with Algeria for dominating the Maghreb. "Both have increased their spending on defense and on arms acquisitions. It is not a neighborhood that Spain and the EU are interested in having next door, "says Haizam Amirah Fernández.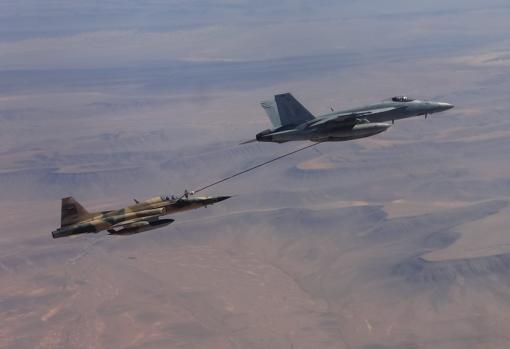 For Spain in particular, it is not convenient for Morocco to rearm itself because it could once again direct its attention to Ceuta and Melilla. If it surpasses Spain in military capacity, the asymmetry would be broken, which would endanger its security and the risk of a new conflict would increase. "Spain can do little here because we are not in a mature situation at the domestic political level either, where it is going to be argued that Spain also has to join an arms race," says Eduard Soler. According to him, Spain tries "to enter into the logic of preventive diplomacy" so that the escalation of tension does not go further.
Calm the waters
«Spain must ask its two southern neighbors how they imagine that neighborhood in the not too distant future. What would they like the neighborhood to which the three of them belong to be and what are the challenges they face ", explains Haizam Amirah Fernández.
The consequences of the pandemic, riots, social unrest, discontent with authoritarian regimes, lack of transparency, corruption, young people frustrated by the lack of opportunities … are issues that will affect the region and have repercussions in Spain. For this reason, "it must confront a stark reality with its southern neighbors. To ask if the way to solve these big problems, which affect the entire region, is for everyone to go for free, "explains Haizam Amirah Fernández.
The best of the situations would be that the triangle formed by Spain, Morocco and Algeria were ready to understand each other. In the line of preventive diplomacy, according to Eduard Soler, the role of Spain consists of a balance of gestures towards the two countries: «This need to speak with Algiers occurs at a time when Spain is having all kinds of gestures of goodwill towards Morocco, responding to Mohamed VI's announcement that this unprecedented stage in relations between Spain and Morocco was going to begin. Spain now has to roll up its sleeves to try to soften relations with Morocco, but at the same time that does not have to be misunderstood in Algeria as a gesture of hostility or enmity ".
See them
comments

www.abc.es