Updated:
Keep

A quarter of the Spanish society have low or no digital skills, half admit that they manage regularly with computer science, and young people do not perceive training in new technologies as a requirement of great weight to find employment. These are some of the realities that a recent report from the Autonomous University of Barcelona reveals, which analyzes the connection between digital skills and employability in Spain.
The director of this work is the sociology professor Rafael Merino, from the Autonomous University of Barcelona and coordinator of the Education and Work Research Group. Statistical and research sources accumulated in recent years have been taken as reference for this report.
One of the realities that is verified is the persistence of the digital divide between the mature population and the new generations. "The challenge of digital qualification in Spain is especially in those over 55 and young people who leave the educational system prematurely or with little training," explains Merino. And warns that Eliminating this gap is a social challenge, not just economic or labor. Nowadays – this sociologist emphasizes – having adequate digital skills it is necessary for the daily exercise of citizenship. A deficit in digital skills can not only compromise the employment horizon but also manage "with certain solvency in the social environment" and in access to essential services.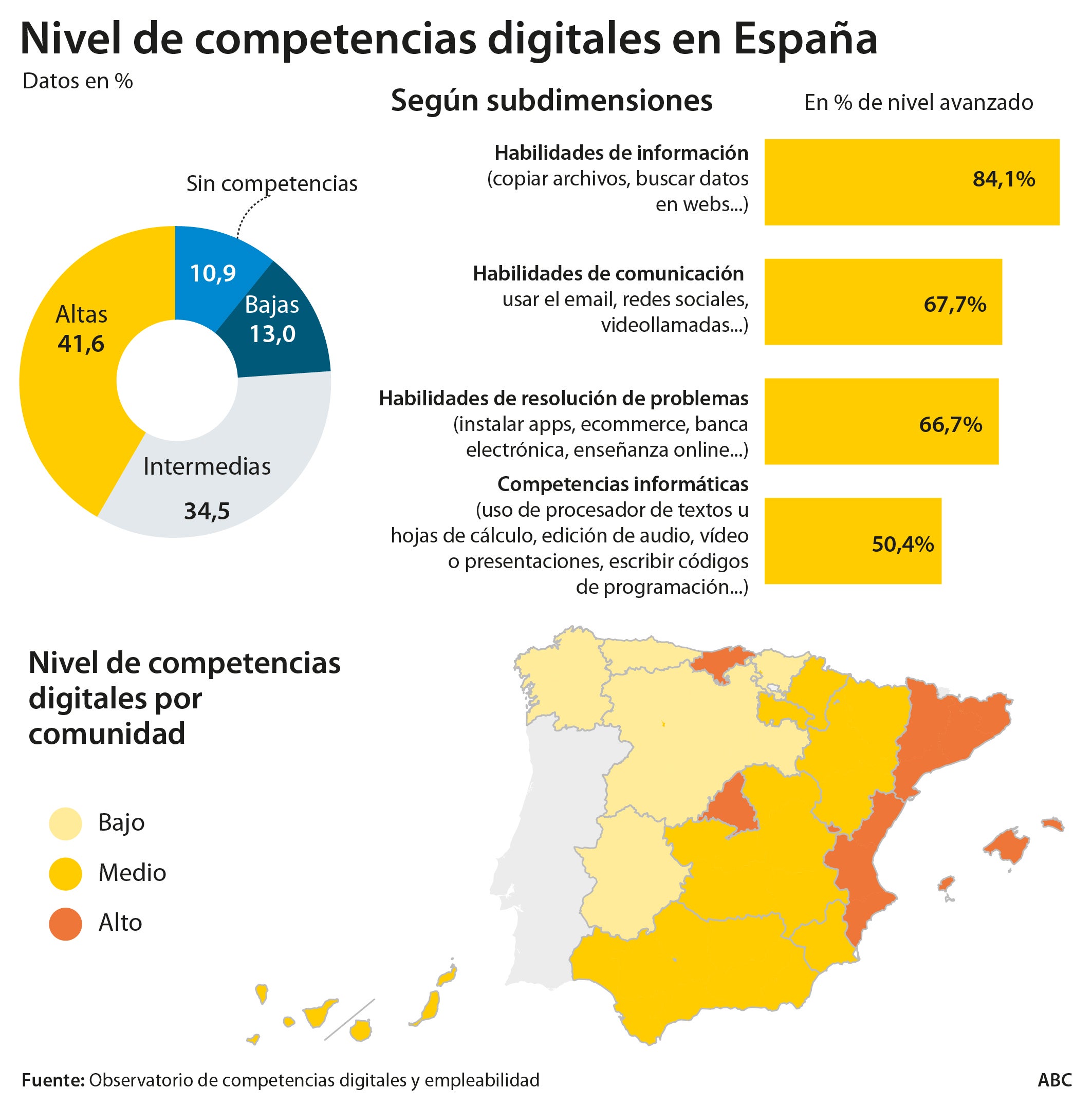 Globally, a quarter of the population has low or no digital skills. And another third part just in between. If one descends further in the analysis, there is a fact that is particularly striking: half of the population is lacking in computer skills. When they are surveyed about how they handle basic tools such as a word processor, a spreadsheet, programs for presentations or to handle photos, videos or audios, 50.4% say that they defend themselves more or less loosely, They are in an advanced or solvent. But the other half of the population is anchored in the «basic level»: in the best of cases, they do not go beyond the informatics medium.
"Age, educational level and occupation are the three decisive factors in digital training", explains sociologist Rafael Merino. And remarks: "the digital divide is not so much between workers and unemployed as between active and inactive", because work forces to become familiar in one way or another with digital tools.
The vision of the young
Another of the realities that this recent report has revealed is the perception that young people have about the importance of digital training for their job prospects. "It is one of the results that most surprised us," says Rafael Merino, because digital training "is not the factor that is most important to them."
A survey conducted among young non-university graduates showed that they consider that, to find a job, their personal and social skills, practical skills or management, organization and entrepreneurship skills weigh more. They consider that training in computer science and information and communication technologies weighs little for them to find employment.
Rafael Merino believes that, in part, this is a consequence of how young people perceive the Spanish labor market, a highly tertiary economy in which branches of activity with low added value have a high weight.
Investment effort
It is an appreciation in which it agrees Pilar Garrido, head of business development at Modis, Adecco's technology consultancy. «In Spain we have a productive structure with a strong presence of activities with low added value and, in addition, business investment in technology has not been given the importance it deserves, how important it is for a company to incorporate systems and professionals with these profiles. Often companies meet these needs through consulting firms specialized in providing technology services. These companies have become a development pillar for the companies that use them, because "by themselves they do not have the capacity to incorporate these professionals into their permanent workforce, or their needs are limited to specific projects, limited in time."
Companies like Modis are nourished by highly qualified technology professionals in multiple segments, technical profiles in which Spain is not enough either. Hence, their salary prices are rising, according to Pilar Garrido.
Regarding the digital training of Spanish workers, in general, Garrido believes that "We are paying for the training deficit that existed in this regard in the Spanish educational system until about 15 years ago", deficit in which the "brutal generation gap" that exists has its origin.
See them
comments

www.abc.es