2020 has been a year of changes in which we have had to forcibly learn to spend more time at home With all of that implies. And there is no doubt that "petit committee" meetings in homes have become one of the most recurrent plans in these times of coronavirus.
If to that we add that we are in winter and with Christmas getting closer and closer, it is not surprising that many are already thinking about how add a touch of joy in the evenings at home. If you want to experiment, brighten up your palate and have fun in the kitchen, below we show you ten recipes with which you will conquer your guests. Rum, champagne, gin or even non-alcoholic. There is one for every taste.
FOR RUM LOVERS
If what you are looking for is a rum that awakens your palate, we will choose it Barceló Imperial, a high-end variety whose quality resides in several keys: control of sugar cane production, the use of the purest water, aging in first-use American oak barrels in bourbon in the optimal conditions offered by the climate from Dominican Republic. Some of the cocktails you won't go wrong with are the following.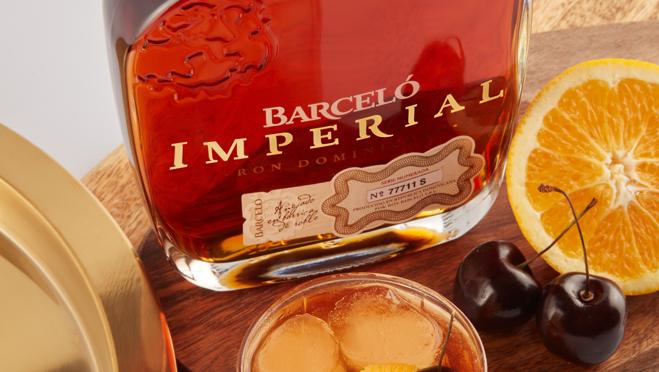 Mulata daiquiri
The classic daiquiri with a touch of cocoa, which gives it softness and aroma in contrast to its citrus and refreshing flavor. A perfect mix for an aperitif with an exotic touch.
Preparation
You will need 50 ml Barceló Imperial rum, 15 ml cocoa liquor, 20 ml lime juice and 10 ml sugar syrup. Shake all the ingredients with lots of ice, serve in a cocktail glass and garnish with a lime wedge.
Old fashioned
Originally this cocktail is made with whiskey, but rum lovers love this twist, ideal for those longer after-dinner meals, where few and simple ingredients enhance the flavor of a good quality rum.
Preparation
You will need 60 ml Barceló Imperial rum, 1 sugar cube, 3 drops bitter angostura and a pinch of orange peel. Place the orange peel together with the sugar cube and 3 drops of angostura. Help yourself with a mortar to mix them by gently pressing the orange to obtain its aroma. Add a little rum and integrate it with a teaspoon, now just add ice and the rest of the rum while you mix them little by little, letting the ice water join the mixture.
GIN LOVERS
Antonio Aranda, Brand Ambassador of Larios, has created three delicious recipes with the most traditional ingredients of the Mediterranean autumn fused with Larios 12. Ready?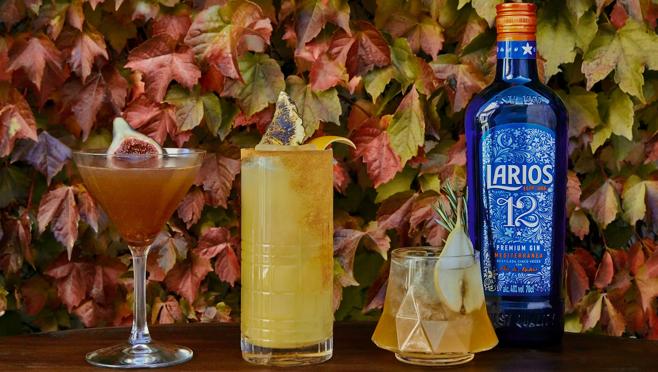 Cinnamon yellow
Mediterranean almond milk with a warm and enveloping flavor, joins with natural toasted pineapple to create the delicious flavor of this cocktail. Larios 12 and the orange and lemon peels provide the soft and refreshing effect.
Preparation
Fill your pantry with 6 cl Larios 12, 5 cl of almond milk, 15 cl of homemade natural pineapple juice, the skin of an orange, a lemon and cinnamon powder. Macerate the citrus skins with sugar and almond milk, add the natural pineapple juice and Larios 12 in a tumbler type glass with cubed and crushed ice. Decorate with a toasted pineapple wedge, an orange twist and rim the glass with powdered cinnamon … And you have it!
Field breeze
The vegetal aromas of rosemary and quince with pear show the perfect balance between fruit and vegetation, creating a field memory, mixed with mandarin juice, which is one of the most characteristic fruits of autumn in the Mediterranean, with an intense aroma critical.
Preparation
You will need 5cl Larios 12, a portion of cream of quince, half a lemon, half a small pear, a sprig of rosemary, 7 cl mandarin juice and 4 cl soda. Mix all the ingredients in a shaker with plenty of ice and complete with mandarin juice and the soda. Serve in a glass with lots of ice and garnish with a pear carpaccio and a sprig of rosemary.
Mediterranean jam
The fresh Mediterranean fig has a very different flavor from the usual citrus fruits, very refreshing and sweet at the same time. With this cocktail of Larios 12, figs and Pedro Ximénez, so simple to make, you can surprise any guest at table after dinner.
Preparation
You will use 5cl Larios 12, a dessert spoon full of fig jam, 3 cl. Pedro Ximénez, the juice of half a lemon and fig carpaccio. Add Larios 12, the fig jam, Pedro Ximénez and the lemon juice in a shaker with plenty of ice and shake. Serve in a cocktail glass and garnish with the fig carpaccio.
ULTRA SOPHISTICATED IDEAS
Champagne cocktail
For these holidays, Moët & Chandon presents the legendary Moët Impérial bottle in an exclusive, festive gold case, reinterpreting the House's distinctive classic codes with a contemporary and creative twist. If you want to give it an innovative twist, try the champagne cocktail, perfect to accompany food or drink it after dinner.
Preparation
You will need 2 pinches of angostura bitters, 20 ml of sugar syrup and 75 ml of Moët Impérial. Pour all the ingredients into the glass, fill it halfway with crushed ice and stir quickly, fill the rest of the glass with crushed ice. Then decorate with lemon zest, et voilà!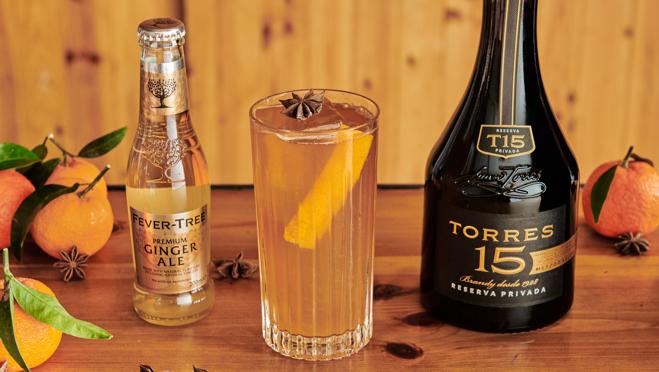 Christmas Cooler
This cocktail takes us directly to the Christmas holidays since it is very warm thanks to its preparation with ginger and mandarin, both very winter fruits.
Preparation
You will need 20 cl of Fever-Tree Ginger Ale, 5 cl Brandy, 3 cl of mandarin juice, star anise and a pinch of orange peel. Fill the glass with ice and cool the glass, add all the ingredients except for the mixer, gently include Fever-Tree Ginger Ale and finally mix with a bar spoon, and decorate with an orange peel and star anise.
Seedlip Garden 108 & Tónica
If alcohol is not your thing but you like to enjoy cocktails that are not simple sugar concoctions Seedlip, the world's first non-alcoholic spirit drink, is your star alternative. Blended and bottled in England, Seedlip has been created based on a coveted unique maceration. The distillation process is carried out in a copper alembic, and the filtration process of the botanicals used lasts 6 weeks. The result? You will have to try it!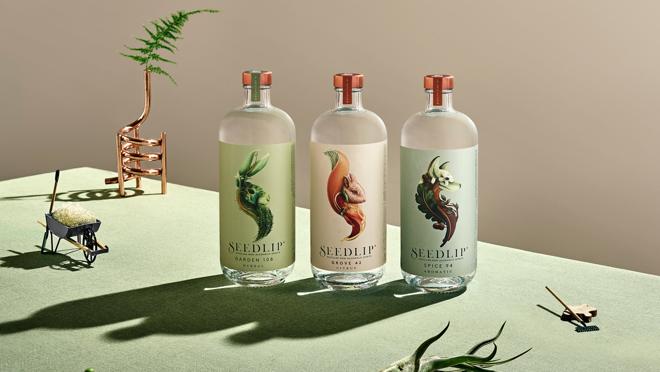 Preparation
You need a good quantity of ice, 50ml Seedlip Garden, a cut pea pod and Fever Tree "Tonic Water". Mix both drinks in a glass with lots of ice and accompany it with the pod. We promise that it will surprise you …
AND IF YOU ARE LAZY …
Doble Roble by Angelita
Whiskey DYC has created together with Angelita, a benchmark in Madrid's cocktail bar, the cocktail 'Doble Roble by Angelita' made with a base of DYC Double Oak flavored with liquorice and gentian, tempranillo wine from Segovia, lime juice, organic homemade honey infused with roasted chestnuts and boletus from Castilla y León and a crunchy dehydrated boletus flavored with chestnuts. Serve with lots of ice and enjoy!
Gin Mare & Perdita
After a decade transmitting the lifestyle and the values ​​that define Mediterranean culture both inside and outside our borders, Gin Mare has proposed to bring this essence to all homes by joining forces with Perdita, a cocktail bar and restaurant in Barcelona that is has become one of the pioneers in Spain in offering cocktails at home.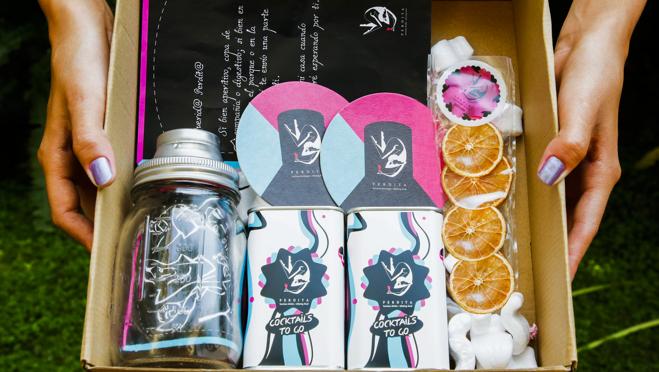 The pack that both brands have created, baptized as Gin Mare Experience Pack, gives all gin lovers the opportunity to enjoy three of its most special cocktails from the tranquility of home. These three creations, House Negroni, Bloody Mare and the classic Gin & Tonic, are presented in a unique 250ml custom tin format complete with coasters, a professional metal spoon, dehydrated fruit and a unique shaker. Open and serve!
Vermouth Of The Gods
Dos Déus, a vermouth made with love in Bellmunt del Priorat (Tarragona), is launching its line of hot vermouths inspired by the traditional spicy mulled wine from northern Europe. This season they have released two new versions with a flavor full of nuances. On the one hand, Two Hot Mediterranean Gods, with 100% aromas of the Mediterranean winter, with aromas of orange peel, coffee, vanilla, rhubarb, absinthe and nutmeg; and on the other, Two Hot Nordic Gods which has a profile reminiscent of the Christmas aromas of the traditional spiced clove and cinnamon cookies, with hints of orange peel, rhubarb, coffee, absinthe, vanilla, cloves and cinnamon.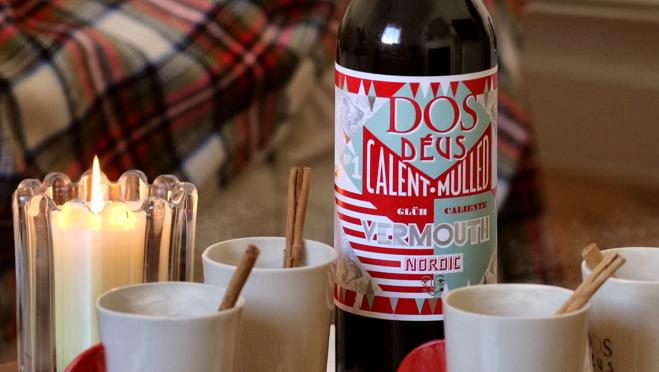 The former is served hot with two coffee beans while the latter is served with a cinnamon stick. If you like them, hurry up as only 600 bottles of each have been made.
See them
comments

www.abc.es