Sanxenxo (Pontevedra)
Updated:
Keep

The most anticipated event of the season begins in Sanxenxo. After having been postponed for a year due to the pandemic, the Xacobeo 6mR Europeans 2021 officially started on Monday with some thirty teams preparing to hear the first exit horn tomorrow. During this past weekend the fleet could already see each other in the Rey Juan Carlos I El Corte Inglés Master Regatta, and the truth is that everything indicates that it will be a highly competitive European in both the Classics and Open divisions. .
Spain, Italy, France, Portugal, Finland, Switzerland, Sweden, Germany, Great Britain, the Netherlands and Canada are the eleven countries that will be represented in the regatta field of the Pontevedra estuary during the five days of competition that will decide the new continental champions. The defenders of the title, the "Bribon 500" by Pedro Campos (Real Club Náutico de Sanxenxo) and the Swiss "Nivola" by Reinard Suhner (SV Bottighofen), start as favorites and aware that they will not have anything easy, as It has been seen in the three races played during the weekend for the Spanish Class Championship.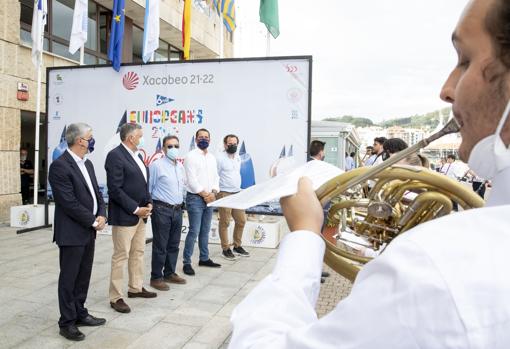 Opening ceremony
Today, Monday the 13th, Sanxenxo and the Real Club Náutico held the opening ceremony at 7:00 p.m., which was attended by Ildefonso de la Campa, Xacobeo's director of administration; Telmo Martín, mayor of Sanxenxo; Daniel Arosa, councilor for Social Services, Sports and Youth of the Sanxenxo City Council; Jesús Quintáns, manager of Nauta Sanxenxo; and Pedro Campos, president of the organizing club.
The act began with the performance of the Sanxenxo Music Band touring the marina facilities from the dry dock to RCNS, where they were received by the authorities. Then, in the village, the welcoming ceremony for each and every one of the participating teams in the Xacobeo 6mR Europeans 2021 took place.
"We are delighted to have you among us and to host the Xacobeo 6mR Europeans. Sanxenxo is a municipality with a long seafaring tradition: we have been living off the sea for three thousand years and we also have an important track record as organizers of nautical competitions ", Telmo Martín began by explaining in his welcome speech and added: "I invite you to enjoy our municipality this week, to get to know its beaches, its landscape, its gastronomy, its wealth of heritage and above all its people. Sanxenxo will always be your home. Welcome everyone and good luck ".
Tomorrow Tuesday, the first tests of the Xacobeo 6mR Europeans 2021 from 12:00 hours.
See them
comments

www.abc.es