Madrid
Updated:
Keep

The Director General of Traffic, Pere Navarro, argues that "much literature has been written" on the autonomous vehicle because it "sells a lot." «But this is a type of vehicle that we do see from the
General Directorate of Traffic (DGT), but for closed circuits ", he stated.
Navarro has expressed himself this way during his participation in the V Conference on Technology and Road Safety, organized by the Spanish Foundation for Road Safety
(FESVIAL).
Neil Rogers (Director General de
Carglass Spain) made the introduction to the event, while Maria Jose Rallo (Secretary General of Transport and Mobility in the Ministry of Transport, Mobility and Urban Agenda) and Luis Montoro (Honorary President of FESVIAL), starred in the closing. Bryan Reimer (Research Scientist at the Massachusetts Institute of Technology MIT and member of the Advanced Vehicle Technology Consortium), Juan Luis De Miguel (Research Director at Zaragoza Vehicle Research Center), Manuel Orovio (Director of Autastec) and Eduardo Vicent Clemente (Sociologist), participated as speakers.
During the event, Pere Navarro affirmed with regard to autonomous driving that "at the moment it is already a reality, since in the Autonomous University of Madrid there is an autonomous bus that runs from the railway station to all the faculties «and» in the Autonomous University of Barcelona a system is already being tested that will also link the railway with all the universities «.
In this sense, the Director General of Traffic has indicated that there are "authorized some sections of road where manufacturers are testing the autonomous vehicle. "But our firm commitment, from the technological and road safety point of view, is the connected vehicle because it is already here and because we can see the results," he insisted.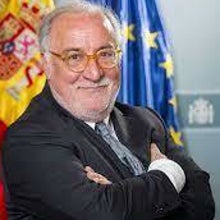 For Pere Navarro, a «great leap forward» in technology that will directly affect road safety is the connected vehicle. "Infrastructure technology has never been discussed with vehicle technology. The new scenario that the connected vehicle takes us to, and this is thanks to 5G, is that the infrastructure is discussed with the vehicle, and the vehicle with the other vehicles ", he commented.
In this way, the Director General of Traffic has recalled that, as of July 1, can substitute the triangles, optionally, by the V-16 signal, «which is a light signal, yes, but with geolocation».
«As soon as a vehicle is stopped or parked on the road, will send the geolocation to the cloud, to DGT 3.0, and that will be passed on to all the vehicles that are in the connected vehicle system «, he stressed, and later added that the roadside rescue cranes will also be geolocated and that, in the event of works, they will be marked with cones with geolocation.
In this way, it has valued that, "well in advance", it will be possible to know that "there is a vehicle stopped due to an incident or that there are works, because everything this will be given by the connected vehicle«. »We are also with road sports events. At the beginning and at the end, they will carry their beacon with the geolocation, "he remarked.
Why are ADAS less effective in the real world?
Bryan Reimer For years he has been collecting and analyzing data on the behavior of drivers and ADAS systems in real conditions of use; to understand how people adapt to, use or stop using these systems. He started with the basics: "When humans release our hands and minds, we have the ability to do other things and distract ourselves from driving."
And explained why ADAS systems tend to be less effective in reality that when they are planned: «it is because drivers may not have the knowledge and skills necessary to take advantage of their full potential, because many systems require the management and supervision of a human, subject to error; because engineers often assume ideal behavior of man and machine together; and because the infrastructures are below ideal ".
For Bryan Reimer "drivers will play an important role in the success of driving automation. Automation improves security, but requires new driver roles– Monitor, collaborate, and be ready to take control. The systems have to support the driver in the fulfillment of his functions. New approaches are needed to motivate drivers to manage and control these systems, and to take people as an integral part of the automation system as a whole. '
"The industry is working to replace the driver, but there are decades to do so in a process that will be a slow evolution, not a revolution. When will the first autonomous car be launched? The question is not when, but rather if this model is going to modify how we live, if it will offer advantages to society. A level 5 car, which is autonomous in all circumstances, will need to develop an AI (Artificial Intelligence) system that can do anything without human intervention. How many decades or centuries will it take for AI to replace us, with the goal of improving our lives? In aviation or nuclear power plant control, for example, total guidance by a machine was found not to be the goal. Automation was created around the pilot, to clothe you and help you. Machines make decisions in black and white; and driving needs the grays that humans provide; and this could be the case with cars, "says Reimer.
Neil Rogers, Director General de Carglass, made the opening of the event. From his point of view, "advances in security have saved millions of lives. With automated driving we can achieve the ultimate goal: a society in which traffic accidents and their tragic consequences are part of the past. Along the way, man and machine are learning to interact with ADAS systems together. And automotive glass and Carglass have a lot to say in this exciting story, because it is vitally important that these systems continue to function accurately throughout the life of the vehicle, because the driver trusts them and awaits your response.
On the other hand, Rogers assures that automobile windows will also play a leading role in the future. automated driving, driver and occupant attention of a car will not have to be focused on the road and will be available for other things. The car will become an ecosystem of attention, where the windshield will be the big screen on which we will see our favorite shows, series, movies or events.
Juan Luis de Miguel He spoke of the increase in the cost of repairs due to the cost of sensors in current vehicles; also of the reduction of the accident rate. «In the United States, promising results are detected with real data. 50% fewer collisions per range due to the emergency braking system doubles the effectiveness of the alert-only system; and 14% of side collisions when changing lanes through the blind spot detector ".
Liability in an accident
He also stressed that "there could be a recalculation of insurance premiums, due to this reduction in claims and increased repair costs." And how automation will affect liability determination. «The user will continue to be covered by insurance, but the relationship of the insured with the insurer will change. In order to determine liability in an accident, vehicle data will be collected to determine what level of automation the car had at that time, what tasks the driver and the car had, if there were alerts or warnings … ».
Manuel Orovio took a tour of ADAS systems, while Eduardo Vicent Clemente addressed the social perspectives of autonomous driving, technology gap, data privacy and benefited and affected sectors.
Regarding the moral dilemma of what an autonomous car should do if it had to choose between, for example, running over one person or another in the event of an accident, Bryan Reimer said that "we have not reached the point of who has to make the decisions, we are a long way from having reached this point. And these should not be taken by companies, but by everyone in a collaborative way. But at the end of it all and even if automated vehicles have risks, we will have created them to be safer that if they were led by humans. For Manuel Orovio, "an autonomous car has to act objectively. If you cannot avoid a loss, you have to make it as less damaging as possible, taking into account many parameters that are not emotional. For example, thousands of people are being consulted about what they would do in certain situations, to build a bank of opinions ".
Spain. testing ground
Maria Jose Rallo He commented that "we are convinced of the possibilities offered by autonomous and connected driving, and that Spain will develop its full potential in this field. We need the participation of the entire administration, the private sector and academia. We want Spain to be a testing ground for autonomous driving and creating a productive ecosystem that creates synergies ". And he stressed that "Spain was the country in Europe with a specific regulation for open road tests of autonomous cars, we have a high quality road network, favorable weather, an open attitude of administrations and a high level of social acceptance".
See them
comments

www.abc.es