VALENCIA
Updated:
Keep

The six regional presidents of the PP They defended this Saturday the leadership of Pablo Casado at the head of the training and the policies that they have carried out in their respective regions.
The main popular leaders have participated in a colloquium under the title "The Governments of Freedom", moderated by their spokesman in the European Parliament, Dolors Montserrat, during the sixth day of the National Convention of the match that is held at the Palau de les Arts in Valencia and that will have its climax this Sunday in the Plaza de Toros in the capital of Turia.
The president of the Community of Madrid, Isabel Diaz Ayuso has detailed the "recipes" with which it has managed to "garner more seats than the three left together", with its defense of a government that "trusts its criteria", "shows its face" and rejects the "dictatorship of political correctness ».
"I am perfectly clear where my place is, and I know that my place is Madrid and that I will do my best for Madrid, because Madrid is Spain and because we need you to become the President of the Government", has launched Casado, settling the controversy generated in the last days. «My project has always been yours»She added after being applauded by the audience.
[Ayuso pone en pie la convención del PP al dar su respaldo total a Casado: «Tengo claro dónde está mi sitio»]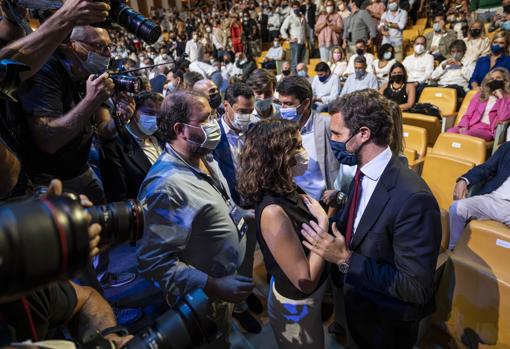 The Galician President, Alberto Núñez Feijóo, has focused on the importance of education to guarantee "equal opportunities", since a "formed" society will be "free". In the same way, he has defended that lowering taxes frees the citizen to choose where to invest his money. Likewise, Feijóo has opted to change the current financing system, a point on which he believes that everyone is "in agreement."
Also in educational matters, the president of the Junta de Castilla y León, Alfonso Fernandez Manueco, has charged against "indoctrination" and strategies to "marginalize" Castilian. Mañueco has also asked Casado to make the university "a matter of State."
For his part, the president of the Junta de Andalucía, Juanma Moreno Bonilla placeholder image, has indicated that his region has "banished the years of socialist shame" and "corruption", while highlighting the "reformist" and "dialogue" model of the popular that has led to the growth of employment and the economy. Andalusian.
"We are the orchard of the world," said the Murcian president, Fernando Lopez Miras, which has focused its intervention on the problem of water. "We do not need solidarity from anyone, we need justice to be done" with the Tajo-Segura transfer, "essential" for Spain, he assured.
Finally, the president of Ceuta, Juan Vivas, has stressed that, despite the "coup" after the massive arrival of people from Morocco, the autonomous city "is going to move forward" and will continue to defend "coexistence" and its "Spanishness."
See them
comments

www.abc.es