Toledo
Updated:
Keep

Ecologists in Action of Toledo has denounced to the Sustainable Development Council of Castilla-La Mancha the damage caused in the preparations for the filming of the series broadcast on RTVE "Tell me how it happened" in the protected area of ​​the natural monument of Las Barrancas, next to the Castrejón reservoir.
People belonging to the association were alarmed last Friday, February 19, by the presence of numerous vehicles and a backhoe machine on the ecological path of the natural monument and observed how clearings and earthworks were carried out next to the Cambrón viewpoint, right on the cliffs that face the Tagus. The works damaged the vegetation of the protected area, as well as reforestation, partly carried out by volunteers, and put the reproduction of protected species at risk.
Those who made them reported who they worked for, the producer, and for what purpose, the filming of the popular series, reports Ecologistas en Acción de Toledo.
Given the seriousness and urgency of the situation, the association notified the body of environmental agents in Toledo, which caused the escape of the backhoe machine. However, there was time for two agents to appear and draw up the corresponding report of complaint and proceed to evict the area.
Ecologists in Action in Toledo has already sent a more formal complaint in writing to the Ministry of Sustainable Development, so that the corresponding complaint files are initiated, filming stops definitively and the precise steps are taken to recover the damages produced in the area .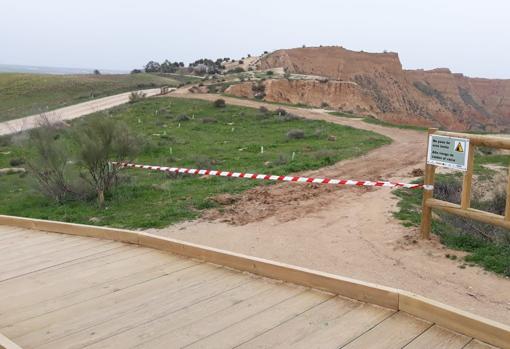 Ecologistas en Acción blames not only the producer and RTVE but also the City Council of Burujon that apparently, allowed the filming without having the relevant permitsenvironmentalists say. Also remember that the filming of series, movies and advertisements are very frequent here, and other times they have been authorized by the environment, causing more and more damage and pressure on the protected space.
"Thus, although on this occasion everything indicates that the Provincial Delegation for Sustainable Development of Toledo has not authorized and acted diligently in the face of our complaint, the truth is that it has facilitated situations such as the one reported now with its permissive attitude," explains Ecologists in action.
Ecologistas en Acción demands that RTVE definitively cancel the filming of "Tell me how it happened" in the natural monument of Las Barrancas and that it stop using a place that should be dedicated to environmental protection and enjoyment as a set for the series or other television spaces .
He also claims that until the last consequences in the investigation for these acts, including through criminal proceedings, and sharp measures are taken so that they do not happen again. «It is not the first time that the filming of series or commercials has damaged the natural monument. The Burujón City Council encourages them without any respect for the protection norms and the Provincial Directorate for Sustainable Development consents them too many times, "the ecologists conclude.
See them
comments

www.abc.es