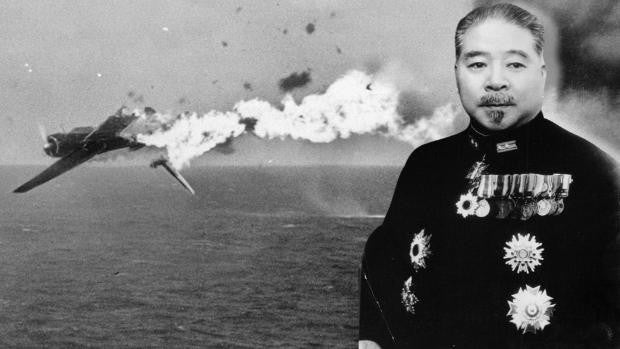 MadridUpdated:
"It is no longer the time to wait to destroy enemy aircraft carriers, which are far outnumbered, by ordinary means. I ask, therefore, that a special air corps be quickly formed whose pilots will be assigned to throw themselves directly against enemy ships and that their direction be entrusted to me, "wrote the captain to his headquarters in 1944 Eiichiro Jo, who was in command of the aircraft carrier Chiyoda. With this letter, what he was trying to do was explain to his superiors that the only way to restore the balance of forces between Japan and the superior American navy was to resort to these sacrificial missions.
By the end of World War II, the kamikazes had sunk 34 Allied ships and damaged another 368, causing 9,700 casualties. On the Japanese side, more than 4,000 suicide pilots died, but their sacrifice was unsuccessful, as was demonstrated in the ceremony of their surrender held above the Missouri on September 2, 1945.
This battleship was anchored in Tokyo Bay after it had been hit precisely by a Japanese kamikaze, exposing one of the last wounds caused by these fighters who did not mind taking their lives in order to cause the maximum possible damage to the enemy. Such was his dedication that when Emperor Hirohito surrendered in August of that year, Admiral Onishi followed the same path as the ill-fated kamikazes and committed suicide.
The deadliest of these attacks occurred on March 19, 1945 at 7 a.m., when a kamikaze crashed into the
aircraft carrier Franklin near the Okinawa base. The plane crossed the bridge and exploded in the hangar where the US aircraft were full of bombs. Then a series of chain explosions began and, in just five minutes, 800 American crew members were killed, in addition to the Japanese pilot. Such was the massacre he caused that he terrorized the allies.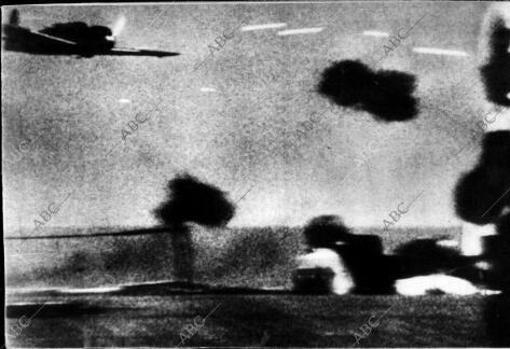 250 kg bombs
His amazing story was told firsthand on ABC, twenty years later, by Admiral Kimpei Teraoka, one of the commanders responsible for creating, training and directing one of these kamikaze units in 1944 and 1945. The name commissioned to send to his men to their death, through suicide attacks, to stop the advance of the allies in the Pacific Ocean and prevent them from reaching the Japanese shores. A desperate measure that they carried out with planes loaded with 250 kilogram bombs that they piloted until they collided with enemy aircraft carriers.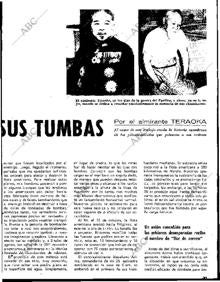 According to Teraoka told ABC, the idea of ​​sacrificing himself by launching his plane against enemy ships was hatched during the Allied bombardments against the Japanese in Rabaul, at the end of 1943. There they became aware of the numerical inferiority of their "poor aviation", according to the qualified the admiral. "It can be said that the very notion of suicide as compulsory service was born out of the patriotic exaltation of all the soldiers at the front, who suddenly realized that the war had reached a critical phase for Japan," he explained next.
That that 'honor' became a reality corresponded to the vice admiral
Takijiro Onishi. In the autumn of 1944 he held the post of director of aeronautical manufactures in the Ministry of Industrial Production and focused his efforts on increasing the construction of bombers and fighters. His position allowed him to know better than anyone else the dire situation in which his aviation was found and he soon realized that there was no longer the possibility of facing the Americans on equal terms.
It was at that moment that he received a letter from Captain Eiichiro Jo with his proposal to start carrying out suicide attacks. "It is easy to imagine how impressed he was by the idea," Admiral Teraoka recounted on ABC, adding later how the plan was studied by the General Staff until it was accepted: "Everything was ready so that the epic of the kamikazes could begin ».
The first kamikaze
In the first public and official note in which Onishi reported the launching of the sacrificial missions, he said: "To fight in a classical way would be uselessly throwing my young men into the voracity of an enemy superior in numbers and weapons. What matters to a commander is finding a useful and honorable death for his soldiers. I am convinced that the sacrificial operations are nothing but an act of great love ».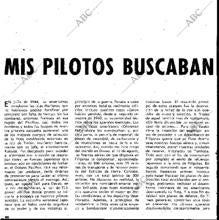 The
first attack of a kamikaze It occurred on October 25, 1944 at noon. Six Japanese planes, after managing to avoid the attacks of the North American fighters of a fleet located 380 kilometers from Manila, rushed towards a ship to launch their torpedoes. "However, at 10.45 am there was that extraordinary event that excited all my pilots: Admiral's plane Masafumi Arima he deliberately launched himself against the aircraft carrier, which was sunk by that heroic charge, "Teraoka recalled to this newspaper. And he added: "Before deciding to sacrifice himself, Arima had thought it over for a long time. He had understood that, in the situation in which Japan was, it no longer had more effective means of combat than the superiority of its moral strength.
The dreaded kamikazes had just made their appearance in World War II. After that attack, in which more than 140 US soldiers died and another 500 were wounded on the water, all the ships began to look at the sky with concern. In the next three days, nine destroyers, four cruisers, three transport ships, two battleships and another aircraft carrier were sunk or seriously damaged by suicide attacks. The almighty US Navy wondered how to fight against the will of that enemy capable of sacrificing his own life to cause them the maximum possible damage.
Sacrificed heroes
The
Teraoka's account in this newspaper about those first young volunteers was overwhelming.. He described them as "sacrificial heroes, delicate beings of extraordinary courage and a fiery soul." He then remembered one of them:
«Yukio Seki was a 23-year-old young officer fresh out of naval school. Until August 1944, he had been an instructor. He had recently married and left his wife to come to the front. Once the first effects of the climate change were over, he was burning with the desire to participate in the combat and, with full knowledge of the facts, he was among the first who requested to take part in the suicide operations. A few days later, that October 25, at 7.25 am, he boarded his aircraft as head of the Shikishima command after giving the captain a small package. From Clark's base, the pilots headed for the Philippines. At 10:40 a.m. they discovered a group of enemy ships, which they rushed into five minutes later. That was the first feat of the kamikaze. The package that Lieutenant Seki had left contained a lock of hair to be given to his young wife».
Then he added another of these tragic war stories: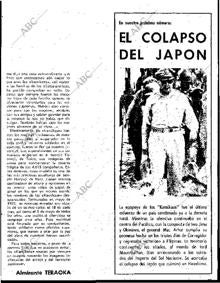 Captain of his high school soccer team, this ensign was studying political economy at Rikkyo University when he enlisted in aviation […]. When communicating his decision to his parents, they could not do anything other than congratulate him, as his resolution was very firm. He had been married two years earlier and had a four-month-old daughter named Motoko whom he had hardly had time to see before marching to the front. Before he died, he wrote a moving letter to his daughter: 'When you grow up, you will ask your mother and your aunts to tell you about me. I was the one who chose your name, so that you are a good and sweet girl. When you feel like seeing Dad, you will go to the Yasukuni Temple in Kudan. Then you will see me in the bottom of your heart. You will be the only hope of your grandparents and you will not have to suffer for my absence, I am sure. The doll that I bought you when you were born, I carry it with me on my plane. In this way, you will be by my side until the end. ' Ensign Uemura's mother told me that her son had called her on the phone immediately before leaving for his last mission. 'He told us that he wanted to hear Motoko's voice. My daughter-in-law tried to make him scream. Impossible, I was just smiling. ' On October 26, 1944, at 10.15 a.m., Uemura left with his companions. At 10.50 am they located some American ships and threw themselves on an aircraft carrier. This is how Uemura perished with his apparatus, dragging an enemy ship to its death.
According to Teraoka, from that moment on she always saw Onishi alongside her young volunteers. At all hours, without separating, to the point that he was baptized as the "Father of the kamikazes." Another of the first was the ensign Mitsuo Ohta, who, however, ended up writing his page in history as the man who later invented the "Ohka" (cherry blossom), a special apparatus entirely conceived for sacrificial missions.
When Onishi formed the first kamikaze units in October 1944, hundreds of volunteers from the universities began arriving at the recruitment centers. The future pilots had an average age of 19 years, 17 being the youngest of those recorded in the records. Regardless of their age, it was completely natural for all pilots to have to sacrifice themselves to try to right the war situation.
See them
comments



www.abc.es