Madrid
Updated:
Keep

The chords of 'Alive', the mythical theme of Pearl Jam and his chorus – «Oh, I, oh I'm still alive. Hey, I, oh I'm still alive »(« I, I'm still alive. Hey, I'm still alive ») – they resonate like a mantra in Pepe Solla's head (Poio, Pontevedra, 1966). It is the soundtrack that his confessed love of music, beyond the kitchen, brings him to this 2021. A special year for Casa Solla, after the harshness of an atrocious 2020 for restaurants in Spain, in which in addition to its return marks 60 years since the opening of this temple. The dean of Galician cuisine awarded by Michelin – the first to obtain a star from those that have been open to this day – reopened its doors last Easter week after five eternal months of closure. The chef attends ABC on the other end of the phone, still landing in this new routine for the restaurant, which opens a menu without losing that incorruptible link with its surroundings and with the gastronomic memory of Galicia.
How has this return of Casa Solla been after five months of closure and with a new menu?
Indeed, we carried five months closed And it's not that I was scared but I wanted to know how the team was doing. The truth is that they have returned super well, very plugged and focused. The new menu was very popular, which is very important to us. It was a very happy reopening because we did it with everything complete. With the limitations still, because we cannot provide dinner service since we are only authorized to open until 9 at night. A fantastic return.
People really want to go back to everything that has limited this pandemic …
You can see that people want to. We are opening pending the restrictions, because here in Galicia every Tuesday we are changing rules. We are opening reservations week by week. For now we only open the weekends. This one –for the past– is already complete and the one that comes is already being completed.
When you saw your first customers arrive at the restaurant, what did you feel?
I think the clientele felt the same emotions that we had when we were able to return. We are very happy to be here and they to return to Casa Solla. I talk to you in general about all restaurants, because that is what my colleagues also tell me. And there is something that is super beautiful: there is much more young people than before.
Has the profile of the customer who is interested in gastronomy changed?
It is something that we noticed already last summer. More young people are coming. Really, as there is no nightlife and the rest of the activities are so limited I think the new leisure is gastronomy. There is a profile of people who did not come to restaurants before and who, suddenly, have discovered that they enjoy it a lot. And this is very nice.
Your father, Pepe Solla, always defended that 'you had to know how to read customers' … Have you inherited that concern from him?
It is fundamental. We cannot live with our backs to the client. The reason for being of a restaurant is the customer who sits at your table. Not the cook. Now it seems that everything revolves around the cook but, no. Everything has to revolve around who visits you. I have that learning from my father very, very present.
After his death, at the beginning of last year, I suppose that he will be very present in your memory at this reopening. Has 2020 been a horrible year for Casa Solla?
It was a very difficult year. I don't like to use the word horrible. We started the year with the death of my father and two months later all this came, which hit us all. No one could foresee what was coming our way. When the first confinement arrived, we thought it would be for 15 days … Reality was overwhelming us. And for me, the worst was when we reopened. We believed then that this was over and, suddenly, we realized that this was more serious than we thought.
And how do you see 2021?
We soon saw that 2021 was also going to be very bad. That in the year that we have been open for 60 years … A whole life story, of a restaurant that has not stopped claiming the attention of the public and the media. It is so difficult … But there are few companies that live so strongly six decades after being founded as Casa Solla. I do not want to hang a medal, or boast of any achievement. But if you can enjoy this as much as you can despite the complicated situation.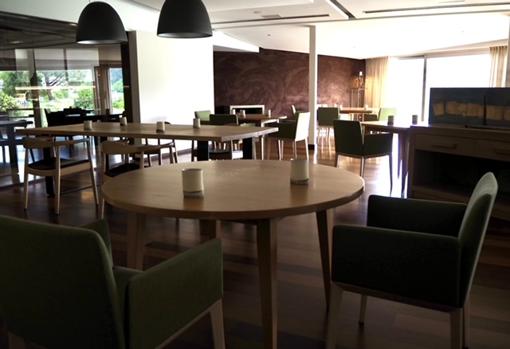 There is scope for celebration, despite everything …
I wish this anniversary had started differently. But there is no regret. The circumstances are what they are. The saddest thing about a restaurant is noticing the loneliness within its walls. I live just below the restaurant. Although we did 'delivery', going up every day and seeing it empty was very hard. I remembered my father a lot, because this was his life too. My father lived this with an illusion, a passion, with a dedication … And unfortunately he could not get to be with us on this 60th anniversary.
What tribute do you plan to do now that you are open again?
The first thing we have done is reopen. From there, we'll see. Before we thought more in the long term. Now I only consider going step by step. There is no point in raising anything. I have nothing programmed, really. This what he has taught us is to learn to change the pace quickly and to adapt. I have some idea, but it will be changing, like the scenario we are in. This has been a total reality bath.
And the tributes on the table? The new menu, has it been the result of a deep reflection during the closing months?
I'm going to take away the romanticism and the part of mystery that can be associated with those closed months and the new menu – laughs. You always do tests and rehearse things, but those five months I haven't been able to think anything. Because my kitchen depends a lot on the product and I did not know in what season I would be able to open. I had no idea. About ten days before reopening, when I knew the date, I began to propose dishes. There is a part that is romantic and that is that I need to touch the product and until I had it in my hands I did not get to work.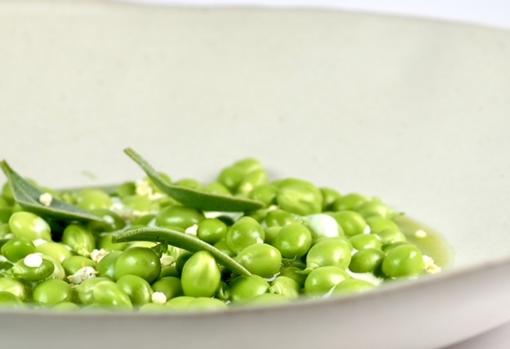 Has any product made you crazy?
I am very happy with the overall menu, but I thought we were not going to have tear pea and it was a surprise. In Galicia he arrives later, a friend from a nearby farm told me that they were almost there. I went, saw them and they arrived just for the reopening. What a joy to reopen with this 'great product'. But he's not the only one. The white asparagus, that last year I could not work it, or the turbot. There is happiness in the little things.
How about the 'delivery' experience?
Went well. But the 'delivery' is not the reason for being of Casa Solla or a formula to alleviate the stoppage of activity that we have suffered. It is not a panacea. We are in Poio and we only have the capacity to serve 6 kilometers in a straight line. For now we have suspended it because we do not have people to attack everything. It will be a complement to our activity, yes. That and the special boxes we have prepared for special dates such as Valentine's Day or Father's Day.
See them
comments

www.abc.es