The pandemic has changed the world, in many ways. Also in tourism. The trend, after a long period of confinement and domestic savings, is consume more. And Madrid wants to keep a piece of that cake
first division tourism that brings more wealth because it stays longer and spends more on gastronomy, shopping and visits.
For this, and according to the experts, it has all the ingredients: cultural and artistic heritage, security, magnificent transport infrastructures, World Heritage cities half an hour away, splendid hotels and a gastronomic and commercial offer worthy of the Champions League. That is where Madrid wants to be, next to large squares such as Paris, London or Rome.
They are hopeful, although the sector is still a long way from recovering from the blow caused by Covid-19 and its string of restrictions. The number of tourists arrived in Madrid in July, the month with the last known data, was 547.829: 6.4 percent more than the national figure. Of them, 219,035 were international tourists, according to Frontur. An important figure, although almost three times less than that of 2019 –626,031 visitors–; a clear indication that the recovery has not yet arrived. But the average expenditure is almost 100 million euros per month, about 231 euros on average per visitor per day.
Hotel expansion
Recovering tourism is essential, due to its weight in regional GDP –More than 7 percent-. But what kind of tourism does Madrid want? Experts and policy makers agree: quality better than quantity. According to data from the Community of Madrid, before the pandemic hit the world, Madrid had just over a million tourists a year who stayed in five-star hotels, which is around 8 percent of the total of those who arrived.
The luxury hotel offer is now in full expansion, which makes it possible to foresee that the demand for this type of stay will also do so. In fact, to Madrid «hotel chains specializing in great luxury are coming, such as
Four Seasons, Mandarin Oriental o los Marriott, that have very loyal customers who move around the world depending on where there is a hotel of this brand ", explains to ABC Fabián González, CEO of Forward_MAD, the meeting that will bring together the world's leading experts in premium tourism between October 13 and 15 in Madrid.
In the absence of taking off
Madrid, experts say, has everything to compete with the best: three of the most important art galleries in the world (E
l Prado, Thyssen and Reina Sofía), high-speed connections with almost twenty cities, four of which are World Heritage Sites; dozens of restaurants with Michelin stars and high 'standing' commerce. Despite this, it has not yet managed to take off among the luxury tourist destinations.
This region "is ready to compete in that market; of course I do ", is the diagnosis of Luis Martín, general director of Tourism of the Community of Madrid. In addition to all the attractions already mentioned, he adds another: «Our unbeatable competitiveness in price of high quality services compared to other major European tourist destinations ».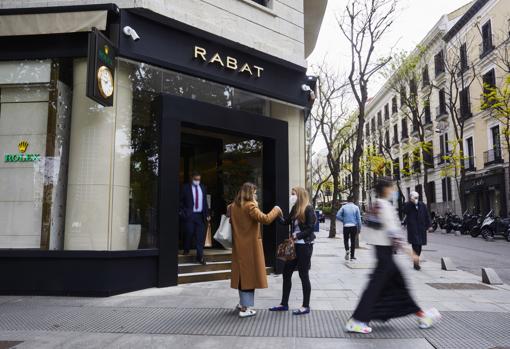 In the Community there are 35 five-star hotel establishments, that add up to around 11,000 places, to which can be added those of four stars also oriented to the 'premium' segment. «Or, what is the same, three quarters of the beds in the hotel plant of the Community of Madrid correspond to four and five star establishments. And there are also numerous luxury hotel projects underway that will significantly increase capacity in the coming months. In no time, Madrid will be ready to absorb more than five million overnight stays Annual potentials only in five-star hotels »highlights.
Fabián González is of the same opinion: "Madrid is absolutely ready to compete in this market." Although, he warns, «you have to change our perception, so Spanish, that everything from abroad is better ». Furthermore, in the Spanish case, there is another handicap to overcome: «There is a problem with the name; in English, 'luxury' is a concept that everyone understands, but here it has a connotation that some see negative.
The councilor delegate for Tourism of the Madrid City Council focuses the shot: «We want to attract that turismo 'premium' that leaves more money and is more days; that generates wealth for the city.
Reconfiguration
All these experts, together with tour operators and agencies from around the world, will share their ideas at the Forward_MAD event, sponsored by the City Council of the capital. Its CEO explains the objective: «After the Covid, there will be a reconfiguration of tourism around the world». Where to go and how to get there is what they will discuss. And for that, explains Fabián Gozález, especially China is looked, "which is six months ahead in the pandemic and where the trend is very clear and the recovery of tourism, amazing."
There is a desire to travel and to do it, in addition, with level, because "we are at record high domestic savings: people, with the pandemic, have stayed at home and have not spent. As soon as international restrictions are lifted, there will be many travelers who will want to consume a lot high-end product». And Madrid wants to put a red carpet for them.
In Forward, a 'think tank' of tourism professionals will be created to develop the roadmap that outlines how to increase the offer. Professionals of hotels, agencies, transport, museums, entertainment, shopping centers, health tourism and "anyone who has a service focused on that tourism" will be summoned. And Turespaña will help to sell the product: "It has been in charge of bringing in high-end travel agencies from the United States, the Middle East, Europe and Asia."
Aim well and do not miss the shot, that is the way. As you remember Almudena Maíllo, head of the Tourism Delegated Area of ​​the Madrid City Council, "much emphasis must be placed on strategies at source, especially with regard to North American tourists, who spend four times more than Europeans; and the Latin American and Asian markets. The idea is how to get to the tourist you want; not so much big campaigns, as other very tactical ones.
Also, the general director of Tourism of the Community of Madrid will touch the key to reactivate "in those source markets with the greatest potential, seeking the recovery of position in the short term." Before the end of the year, the region will take part in fairs such as the World Travel Market de Londres y la International Luxury Travel Market de Cannes.

www.abc.es