VALENCIA
Updated:
Keep

June 29 each Valencian positive for coronavirus infected almost two people on average (1.74). Something that, despite the fact that similar peaks had been registered during the summer after home confinement, had not happened since March 2020.
The Delta variant, much more transmissible, has played a fundamental role in it. In fact, it was behind 96.4% of the cases detected during the third week of July in the region, according to the latest report from the Ministry of Health published this Monday.
[Nueve de cada diez hospitalizados por coronavirus en la UCI no tenían la vacunación completa]
However, restrictions that the Generalitat decreed at the beginning of that same month, and that were extended until August 16 with the extension of the curfew to 77 municipalities, have left a much more encouraging outlook regarding the spread of the virus.
The reproduction index (Rt) of covid-19, the indicator that allows knowing how many people a positive infects on average in a period of time, has managed to lower the threshold of 1 and stood at the 0,97, also below the national average (1.01), according to data provided by the National Epidemiological Surveillance Network (Renave), updated until July 21.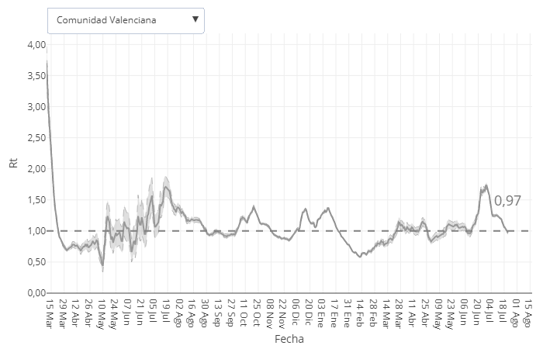 www.abc.es