Madrid
Updated:
Keep

During the spring and summer of 2002, two all-time British art titans had many encounters in the studio of one of them. Lucian Freud (Berlin, 1922-London, 2011) portrayed David Hockney (Bradford, Inglaterra, 1937). After more than a hundred hours of sessions, the result was one of the best contemporary portraits. Painted at the height of Lucian Freud's career, this portrait of Hockney offers a fascinating window into a long friendship that had begun forty years earlier. Created in the months leading up to the critically acclaimed Freud retrospective at Tate Britain, the painting speaks of a shared friendship and mutual respect and admiration between the two artists. The last time the painting appeared in public was in 2012, at a Freud exhibition at the National Portrait Gallery in London. Has gone out today up for auction at Sotheby's in London. Its estimated price: 8-12 million pounds. It has been sold for 14.9 million pounds (17.3 million euros).
"It is difficult to think of two major British artists who are as critically acclaimed and desired by the market as Lucian Freud and David Hockney. In this magnificent portrait witness not only of the enduring friendship between these two eminent teachers but, in addition, it is a tour-de-force of the portrait. A masterpiece, a sublime testament to Freud's scrutiny and ability to capture the mood and inner essence of his models, "says Tom Eddison, Director of the Department of Contemporary Art at Sotheby's London.
They met in 1962 through the Guinness family. When Freud set out to paint his friend in 2002 he was almost 80 years old; Hockney, 65. Freud was considered the greatest living painter in Britain, while Hockney was already among the most influential British artists of the 20th century. Every day for those four months in 2002, Hockney walked through Holland Park to Freud's study: 'He would arrive around 8.30 every morning, sessions began with a cup of tea prepared by Freud on a grease-covered stove. I liked the bohemian that was in that place. Dishes with leftover food from the night before, or even last week. It was like reliving the student days, I found it very attractive, after seeing all those clean lofts in York. I told him that you can't have a smoke-free bohemian by definition. He let me smoke: 'Don't tell Kate Moss', was his request». David Hockney is a convinced and militant smoker. In an interview with ABC in 212, on the occasion of an exhibition at the Guggenheim in Bilbao, he confessed that he had traveled from England to Bilbao by car to be able to smoke on the way.
Two wonderful minds
Those sessions in Lucian Freud's studio provided a vibrant encounter between two wonderful minds. For Hockney it was an enlightening experience. He found Freud's technique fascinating. The conversations between the two artists flowed freely in those sessions: "Lucian's talk was always fascinating. Sometimes it was just gossip about people we both knew, very funny, that made me laugh. We also talked about Rembrandt, Picasso, Ingres, Tiepolo… We talk a lot about Rembrandt's drawings and how all he did in his career was a portrait. It was a very pleasant, memorable experience. The portrait seemed very good to me. All the hours that I was sitting in front of him, he was putting layer upon layer, rarely taking anything off, "Hockney warns.
Bella, daughter of Lucian Freud (had 14 children with six wives)recalls: "When David Hockney sat posing for this portrait, it was exciting to see them together, like two great kids at school. They were engrossed in conversation with each other. I liked hearing Hockney say that he enjoyed the slow progress of my father's painting so that he and Lucian could chat. We all loved chatting with Dad, he was very interesting in everything. " Hockney's portrait was the last in a series of illustrious models painted the previous year, from Queen Elizabeth II to top model Kate Moss. The latter was a great friend. It shows where the back loses its name a tattoo of two swallows, designed by Freud himself, who portrayed her naked and pregnant.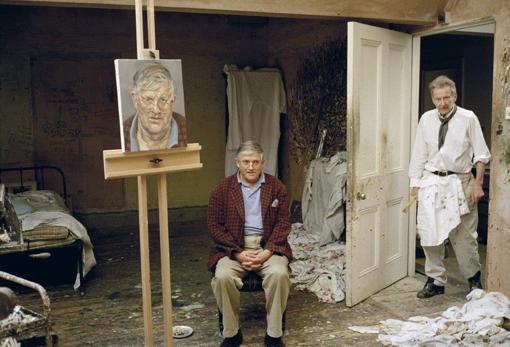 Relentless with his models
But going back to the portrait that comes up for auction, it shows the face of Hockney in the foreground, pensive. Reveal her warmth and curiosity as she looks over her round glasses. He wears a mauve polo shirt and a checked jacket. Freud's fascination with the portrait was mainly restricted to those closest to him. Whether self-portraits or portraits of friends, lovers, criminals, members of the aristocracy and, in particular, other artists, Freud only painted the protagonists of his daily life. An artist of great honesty, he was so relentless with his models as with himself. The marathon posing sessions to which he subjected them are famous. Freud liked to converse with them. Some, like Harold Pinter, ended up on the run. Being a model for Lucian Freud took a lot of time and energy. It was too intense an experience.
One of those sessions was captured by the camera David Dawson, exasistente de Freud. Hockney has an almost identical expression to that of Freud's painting, as Freud enters the studio, brush in hand. Dawson immortalizes Freud's apparent surprise upon reentering the study to find a camera pointed at him, while Hockney was waiting, an ashtray full of cigarette butts at his feet. Dawson recalls, "I never kept a journal. He was so fascinated with what was happening in the studio that he had a little camera and took pictures.
Freud limited himself day after day to painting within the four walls of his studio, while Hockney constantly changed and challenged his methods and mediums, from the more traditional practices of drawing and painting to photography, video and his current digital work with iPads. At the moment they are exhibited in the Royal Academy of London his works made in his retirement in Normandy during the pandemic. But they both coincide in an unshakable fascination with finding ways to paint exactly what they see: observation, perception and the process of creation are the very foundation of their art. "Not many people like him could look at a face for 120 hours and constantly do something with it." Hockney's word.
See them
comments

www.abc.es