The world of navigation opens a wide range of possibilities to all those who they also have money, imagination, That is why in recent times it is not surprising that designs capable of transporting us to the most inhospitable places have been created. Since a cruise through the Amazon a the megayachts of the famous or those who they are inspired by islands or even vintage ships.
But it seems that not everything is invented, and as a proof of this, you just have to look at the study project Yacht Island Design, which dares with the most groundbreaking ideas that, if carried out, would mean a revolution. This company had already surprised with projects inspired by paradisiacal islands or totally independent capsules and now it is the turn of its most ambitious idea: 'The streets of Monaco', a yacht inspired by the glamorous Mediterranean city with great detail.
As they explain on their website, their strong point is to devise the models on floating platforms so that the structure is not endangered by the tides, hence the proposal is in a swath type structure similar to that of cargo ships, which also allows much more freedom when adding all kinds of extras. Its realization is valued at more than 800 million euros and if done it would have capacity for 16 people and another 70 crew. In terms of dimensions, it would be 155 meters long and could reach a speed of 15 knots.
All luxury of details
But without a doubt what is most striking is its peculiar design, which even seeks to recreate the popular Formula 1 circuit as if it were a go kart track capable of hosting up to 3 of them in parallel. Other points as emblematic as the 'Hotel de Paris' or the Casino They are also reflected with replicas that have nothing to envy the originals. It also has multiple leisure areas such as bars, several swimming pools, a tennis court and also a heliport.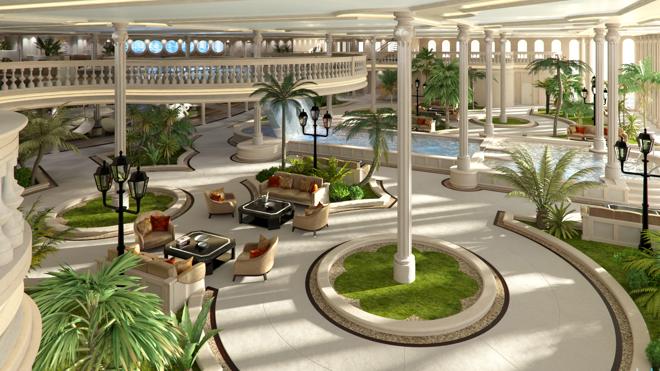 Designers have called the inner zone 'The Oasis', which also acts as the main boarding point for the yacht. As soon as you enter, you can see the large central waterfall with pools on the upper level that also host a jacuzzi and another pool at the bottom that merges with several paths. The stern extends to a height of two stories and there is no lack of vegetation with shrubs and all kinds of plants that give it an exquisite finish. Includes on the lower level a Spa, gym, beauty salon and hairdresser overlooking the outside gardens. It should be noted that there is another bar that communicates directly with the sea, creating an effect of 'false beach' very original.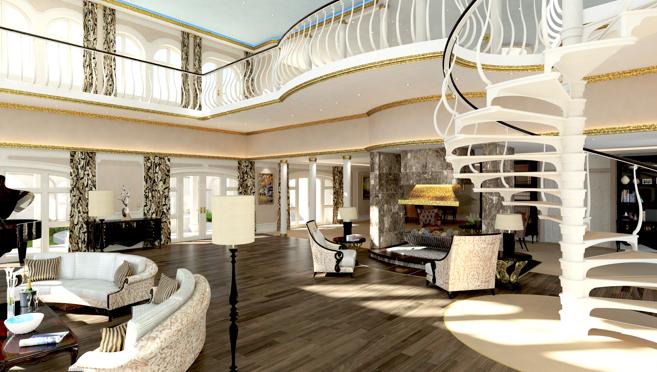 The great atrium, glamor in its purest form
Another area to point out is 'The great atrium' that joins the upper and lower living areas and is designed for guests to relax comfortably. The decoration is reminiscent of the luxurious Hollywood hotels of the 50s, where an elegant spiral staircase draws attention. In this space there is a cafeteria, another restaurant, library, movie theater, solarium, wine cellar and the 7 guest rooms -located on the upper level- which have a size ranging from 135 square meters of the most modest to the majestic 356-square-meter VIP suites. All have both a living room and a balcony, a large dressing room and bathroom (and the VIP also include an office)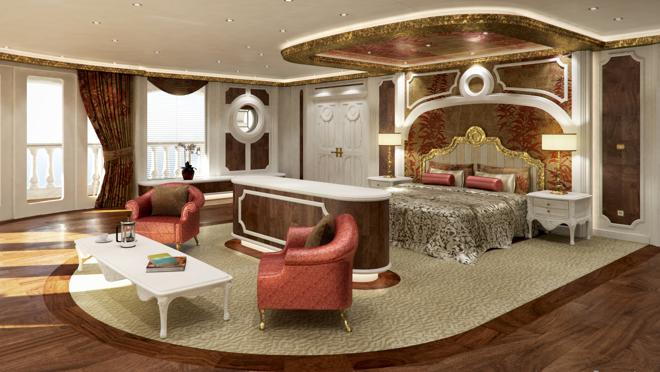 But if there is an area that exudes luxury, it is the owner's apartment, with an area of ​​1460 square meters distributed over 3 floors and connected to all decks through a private elevator. In it, in addition to the majestic suite, there is also a living room, cinema room, private kitchen, balconies with Jacuzzi, solarium and a small gym. There is no doubt that it is a jewel designed to spend long periods enjoying the sea without any worry. The question is, which tycoon will make it his?
See them
comments

www.abc.es