Madrid
Updated:
save

Time is relative, but, as Laura Caballero assures, it has rained a lot since the tune was heard –"No one lives here, not here / not here"– once a week on Spanish television: «It has been 17 years since we premiered "There is no one living here". And no, it doesn't seem like yesterday. It was an egg ago. It brought together millions of people in front of the screen and, for just three years, Alberto Caballero (along with Iñaki Ariztimuño and a few other screenwriters, including his sister Laura) offered the Spanish population a mirror in which to laugh.
"It gave us more of a headache because before it was worked in a different way. We got to deliver the odd chapter just five minutes before the broadcast. Come on, we gave it to a delivery man who quickly took it on a motorcycle and no one saw it before broadcasting or anything. Just like now … "Alberto Caballero recalled to ABC in the presentation of" El Pueblo. "
Technology has advanced and the management of the content that goes on the air, too. The atypical genre, which could well be called "comedy of society based on criticizing the neighbor", is still alive thanks to its creators and "La que se avecina", which remains one of the main claims in prime time; However the spirit of «here there is no one who lives» has survived. It is, as connoisseurs say, a well-aged fiction; In other words, it is a series that continues to be seen years after its premiere and with which one, sometimes unconsciously, laughs.
Some current characters
It's hard to forget some of his characters. If someone carried more emotional weight in that fiction it was Emilio (Fernando Tejero). This janitor seemed to have become the laughing stock of Spain. However, chapter by chapter he became such a complex character that he allowed anyone to identify or empathize with any of his aspects.
Whoever was not frustrated with work, had a somewhat complicated family (or a dependent father, whose name was Mariano and who was played by the charismatic Eduardo Gómez). Or had a bad love. Or did not have friends to match. But what was not happening to Emilio? Luckily he always had his Council of sages from «Here there is no one who lives», composed of a child (José Miguel, played by Eduardo García), a pardillo (Paco, Guillermo Ortega) and a pihippie (Pablo, Elio González). That spirit lived on in "La que se avecina", the unrecognized sequel, thanks to the Montenipar lions, with a poor Javier Maroto who seems to have inherited Emilio's misfortunes.
Another great protagonist of Desengaño, 21 was Belen (Malena Alterio). That girl started out as "the ugly one in the building" due to harsh stereotypes of the time and having as a roommate the beauty of the community: Alicia. I hope I never have to compare myself with Laura Pamplona because I can say without fear of being wrong that her physique caused more than one complex in adolescent girls of the time. But, going back to what is important, with Belén the viewer experienced the crisis of the thirties, doubts about the pre-established lifestyle and the need for external approval because "that is what women were born for."
Love beyond the landing
Not all couples were as crazy as that of Emilio and Belén. The pija, Lucía (María Adánez), and Roberto (Daniel Guzmán) showed another type of relationship, a in which she wears the pants. Something that seems that Lola and Javi, or Paca and Fermín, learned. And thank goodness, because "La que se avecina" needed something to counteract the weight of the Cuquis. Between laughter and salami, both brought out the worst in themselves, they sank each other to later be reborn from their ashes. Of course, in that process there were also many laughs.
For couples who Jose Luis Gil has formed. In «Here there is no one who lives», Paloma (Loles León) had to suffer and then try to redeem herself with «the herbs», Isabel (Isabel Ordaz). The actor from Zaragoza caused some uncomfortable conversation in Spanish homes when Marta (Assumpta Serna), the president of the community of neighbors from the back block, sneaks into his life and tries to seduce him by all means.
Visibility
"There is no one who lives here" showed all kinds of families: conventional, separated fathers, single mothers and fathers, but it also carried out a great visibility exercise for the LGTBI collective. We fell in love with Mauri (Luis Merlo) and Fernando (Adrià Collado), we had our doubts with the character of Mariano Almeida and we learned to flirt with Bea (Eva Isanta). But we cannot finish this review without mentioning Nacho Guerreros, who managed to hide his wit behind José María and provoke more than one laugh from anyone who approached him. Not to forget Radio Patio, another fun and hooligan way to see the grandmothers of Spain.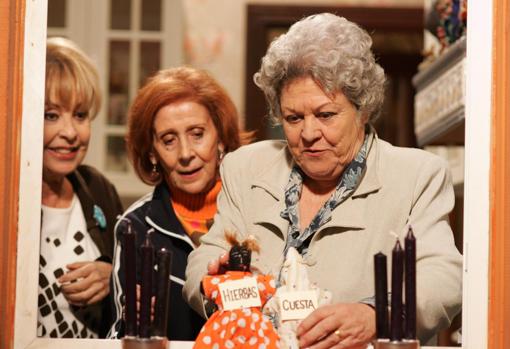 An unrecognized sequel
"The one that looms"In addition to sharing creators and scriptwriters, he shares concerns with "No one lives here." "It is a deformed mirror in which to look at today's society to be critical and to laugh," acknowledged Caballero in the presentation of the last season of "LQSA." Some may think that Telecinco's has been more successful than the current one. It has eleven seasons (compared to the three of "ANHQV") and has, as its creator jokes, a thematic channel: FdF.
Only during the month of October, according to data provided by Alberto Caballero, 181 reruns (almost six a day) were broadcast on the aforementioned channel. These have had 1,488,000 daily viewers; that is, 12,422,000 viewers each week or 46,155,000 if the entire month is counted. However, «ANHQV» has already lived and lives something similar with the secondary channels of Atresplayer, where you can find any of its chapters if you have a little luck when doing záping.
17 years later, it cannot be said if «No one lives here» is the best spanish series. There are other fictions with overwhelming quality and resources; However, it can be affirmed, without fear of being wrong, that this fiction marked an era and almost twenty years later its social and political criticism is just as current, and that is something very difficult to match.
See them
comments

www.abc.es