Madrid
Updated:
save

And suddenly, TikTok. When it seemed there was no life on social media beyond Facebook, and some other competitor who refused to accept the purchase offers of Mark Zuckerberg, the Chinese application of music videos has managed to prosper and gain a place in the mobiles of hundreds of millions of users. Despite threats of prohibition in the United States, and repeated accusations of share data with the Chinese communist government, the platform owned by ByteDance has become the most downloaded of 2020, according to data from the application analytics company App Annie.
Its incessant growth, especially among the youngest, has led several companies to try to emulate it by cloning its functionalities. That is the case, for example, of Instagram. The application owned by Facebook launched last August Reels– A service that allows content creators to share short, dynamic videos accompanied by music. That is, exactly the same as the Chinese application offers. Mark Zuckerberg's company has also tried to facilitate access to the tool by placing it in a privileged place on the Instagram home page.
So you don't get lost with TikTok if you plan to use it, and why If you have teenage children it is quite likely that they have it downloaded on their mobile phones ABC has long compiled a series of tips that can help you get started and better understand how they work. Also to improve privacy of an account and to make sure that your content is only available to who you want.
What am I going to find?
TikTok allows the user to share videos of all kinds. Once the user downloads the application and registers, for which they can also use their accounts from other services or Google, they will find "playback" videos, viral jokes, sports or cooking among many other themes. The creator's imagination is practically the limit. Each video has a duration that can vary between 6 and 15 seconds, and the application incorporates several editing tools and filters that can help improve them.
How do I improve the privacy of my children?
TikTok has become a business opportunity for many content creators. However, if you are a person who has no interest in sharing your videos with more people than strictly necessary, there are ways to achieve it. This happens by entering the user's profile and "clicking" on the icon in the shape of three ellipsis ("…") located in the upper right corner of the screen. There you will find the "Privacy" section, where you can configure the application to be as secure as possible.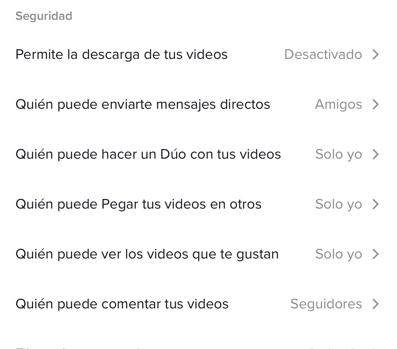 If you decide to make your account private, what you can do from this section, you will guarantee that all your content will only be accessible to your followers, who you will have to approve in advance. In addition, if you select this option, no one will be able to download your videos or use them to do any editing on them or to create a duet, which is how pre-recorded content is known that a user uses to add their own recording and perform a kind of collaboration .
In case you have a minor child, it is recommended to activate this option. And, although the application, theoretically, is for people over 13 years of age and has parental controls, in practice it is used by many children aged 8-10 years.
To mark a "playback"
As we have said, TikTok offers multiple options to personalize and enrich videos, either by creating them directly from the camera application or by importing them from the "smartphone" reel. If what is intended is to upload a «playback» -lip sync- in which we appear interpreting a song, we must go to «Sounds», an option that appears at the top of the content editing screen. There are current themes and great hits. Right now, with Christmas just around the corner, Christmas carols occupy an important place in the library.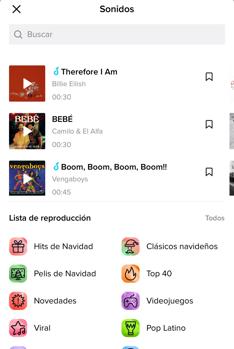 Some tricks to get attention
As with anything else, before uploading a video to TikTok it is important for the user to think about what they want to do and how they can achieve the best possible result. For it, transitions can be addedThat greatly improves the result of the video. It is also possible to edit it with different effects and filters. The more personal the better. Another interesting trick is to go from the "selfie" camera to the rear because it gives it a special touch if you have a knack for that. Similarly, the video can be accelerated (0.3, 0.5, 1, 2 and 2 seconds) thus creating impressive sequences.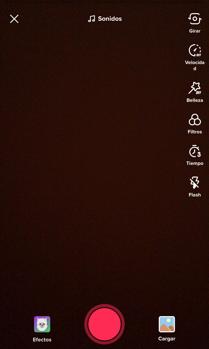 The «app» also leaves the option to upload multiple images at the same time to create fun short videos. To do this, you just have to click the "+" that appears at the bottom and change from video to photo, thus having access to your reel. It is important that before publishing the description field is filled in with something interesting that can be found by other users -if that is the intention- and add "hashtags" to classify it in the style of the Twitter network.
From that same section you can choose whether to limit the viewing of the video created to contacts. By default it appears as public. But it can be changed. And, of course, share your creation on other social networks and applications such as WhatsApp, Instagram, the "Stories" of Instagram or Facebook, although for this you must also give permission.
See them
comments

www.abc.es