Vigo (Pontevedra)
Updated:
Keep

With 106 days of sailing around the world alone, two participants remain to be completed, the French Alexia Barrier with the «TSE – 4myplanet» 1,190 miles from the finish, the Finn Ari Huusela aboard the «Stark» at 2,114 miles ; when it's Monday, February 22, 2021.
Alexia Barrier, who occupies 24th place in the fleet, is located southeast of the Azores islands sailing northeast / east pending the arrival of a strong storm that is sweeping the North Atlantic from coast to coast with winds close to 30 knots of intensity, and rising.
92 miles southwest of Barrier's position rises Ari Huusela, still emerging from the calms of the Tropic of Cancer; As his log shows at 6.5 knots of speed, in the last 24 hours he has only traveled 41.1 miles.
The Vendée Globe Organization estimates that it will arrive from these two IMOCAs, plus those who are out of racing ("MACSF" and "Initiatives-Coeur") will arrive at Le Sables d´Olonne between Wednesday 24 February and Friday 5 of March.
Isabelle Joschke is the most advanced of these four sailors, at 12:00 today she was 265 miles from Cape Finisterre with the "MACSF" sailing at about 20 knots of speed. While Sam Davies is suffering the most from the lack of sails aboard the Initiatives-Coeur, it is sailing at just over 10 knots.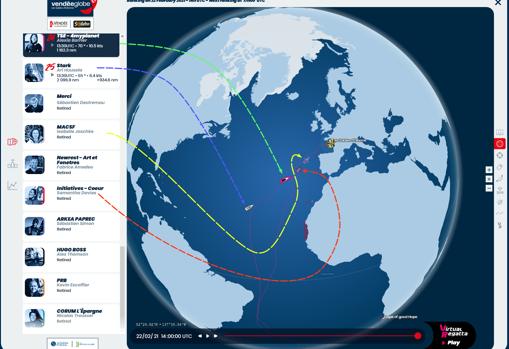 Sam Davies: "Bringing the ship back to Les Sables d'Olonne, that was my mission!"
"At the moment I'm not going very fast because I don't have the right sails for the current conditions. Soon the speed will increase, I will find a stronger wind.
I have managed to repair the candle for a few hours. Yesterday I still had information about the wind, but only intermittently. I think the weather vane must have gotten wet again because it's raining a lot. I'm still out of wind data!
It's not very nice, but I've made a Mini Transat like that. I'm quite old, so when I made the mini we didn't have the information about the wind (laughs). It's about feeling. The problem is that my neck is a bit fragile and I don't want to risk it coming loose. When sailing without information about the wind, it is normal for it to be a little warmer, so you have to be even more careful. I still manage to navigate, no problem. I take advantage of these experiences to learn, to know what not to do. I am more connected to the ship. And since I know it well, it will be fine even in strong winds.
I am happy to continue at sea with my boat and to take it to Les Sables d'Olonne. That was my mission!
I keep communicating with Isabelle Joschke all the time, we share many things. Every day we tell each other our problems. We sail with boats that are not 100%, so we try to find solutions. We talk about the weather, our route options … He's going to manage to get ahead of the warm front that happened to me last night. She's going to get to Les Sables d'Olonne quickly, which is great for her. "
See them
comments

www.abc.es