More and more people are turning to plastic activities to take care of the mind for a while. Keeping a journal, knitting, learning to embroider or make ceramic figures are activities that many indulge in not only for entertainment, but because they relax them. And one of these activities, with more and more followers, is the 'lettering'.
Inés Señas, better known in the virtual world as @the_flower_journal, is dedicated to graphic design and is one of the standard bearers of 'lettering'. He has just published 'A creative year' (MR Ediciones) in which everything one should know about this activity to start with it is concentrated. But first to the most important thing: And what exactly is 'lettering'? "Consists in draw letters, and you can make them as you like the most. Although it is now fashionable, in reality this is done since we are little. Who hasn't drawn letters for a school job, "explains Inés Señas.
It is important not to confuse it with calligraphy. «Calligraphy is stricter and more regal: you have to do it all the same and followed. The 'lettering' has rules, but as we are not writing, but drawing, we have a wide creative freedom ", explains the professional. He says that letters can 'dance', that some can be made bigger than others and many other ways that in calligraphy would be unthinkable. «You can give free rein to your imagination, and invent a typeface. Everything is allowed, and that is why it is more relaxing than in calligraphy, "says Inés Señas.
An activity that relaxes the mind
The idea that it is a relaxing activity is one of the most interesting aspects of it. "The 'lettering' forces us to stop," says the author of the book. He comments that, since we live at a daily rhythm in which we do not stop for a moment, dedicating some time to 'lettering', or to any plastic activity, is a way of spend some time with ourselves and exercise self-care.
Speaking of the benefits of 'lettering' in particular, Inés Señas points out that it is an activity in which at the beginning one must be very aware of lines and technique, so attention is focused on that. It's like it's midfulness; you get to be in the moment, and you get rid of being worried about things at work, what will happen tomorrow … a moment of mental release», He assures. The expert makes the comparison that dedicating time to this activity is like having an appointment with ourselves. "You put on music that you like, you turn off your mobile, it's a time that you dedicate only to yourself," he emphasizes.
Likewise, Inés Señas comments that 'lettering' can be a rewarding activity, as it is a way to redo things with your hands and get back on paper. He says that we live in a highly digitized world, "in which 'apps' and organizational methods are very good", but he highlights the benefits of "getting our hands painted again."
One idea that may seem contradictory is that doing such a creative activity requires so many guidelines. Inés Señas defends that many times it takes a push to later create. "When we start, things often don't occur to us. To break the rules and schemes, we must first go through a phase in which we must know what exists, "he argues. Explain that seeing the styles that are already marked allows us to focus on the technique and that it turns out well. Later, when you have that baggage, your own ideas come out on their own.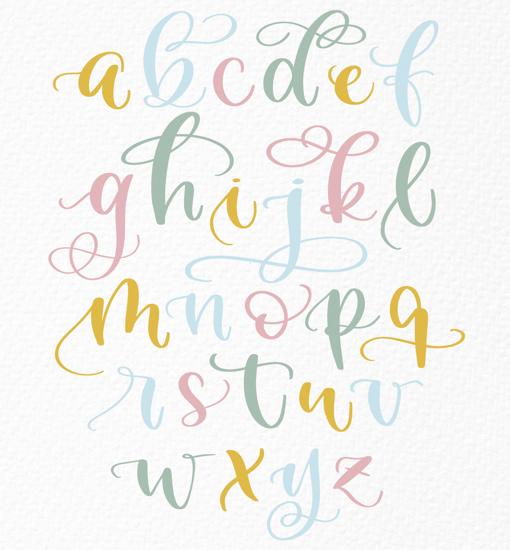 If we want to start doing 'lettering' in the first advice of Inés Señas is the following: not wanting to cover everything. "There are a lot of guides and tips on the Internet to get you started. The style that is most in fashion now is 'brush lettering', which resembles English calligraphy ", explains Inés Señas. Recommend, if you want to go deeper, go to workshops. But his main advice is not to go crazy: identify a style of 'lettering' that we like and start there.
In addition, he recommends that we reserve a few times a week for the activity. «If you spend a little time every day, you will achieve a much greater skill, but nothing happens if it is only done one day a week», Explains the author. He adds that the important thing is that it is an activity that 'fills us', that is fun, and that makes us forget the day to day. «And if you are assiduous, the more you practice, the better it will turn out. For example, you can do one word a day, and thus improve a lot, "he concludes.
See them
comments

www.abc.es