Madrid
Updated:
save

The pterosaurios they were the first flying reptiles. These great animals ruled the skies for 150 million years before going extinct along with the dinosaurs about 66 million years ago. However, their evolutionary origin and how they got their ability to fly have been a mystery to paleontologists for the past 200 years. Where do they come from? Now researchers at the Virginia Polytechnic Institute and State University (Virginia Tech, USA) have shed light on this question by identifying their closest relatives, a group of "dinosaur precursors" called lagerpétidos. Their findings appear published in the journal Nature.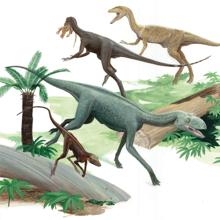 Fossils of Gregory Dromomeron, a species of lagerpetid, were first collected in Texas in the 1930s and 1940s, but were not correctly identified until 2009. Only a well-preserved partial skull and brain box turned up on excavation, which, after investigation Additionally, it revealed that these reptiles had a good sense of balance and were likely agile animals.
After finding more lagerpetid species in South America, paleontologists were able to create a pretty good picture of what these creatures were: tiny wingless reptiles that lived on Pangea for much of the Triassic period, from 237 to 210 million years ago. . In the last fifteen years, the appearance of many skulls, limbs and vertebrae in the US, Brazil, Argentina and Madagascar gave paleontologists clues to link these animals to pterosaurs.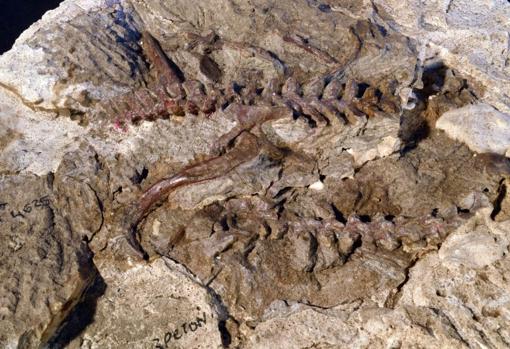 The researchers found that the length and shape of the lagerpetid bones were more similar to those of pterosaurs than those of dinosaurs. And with the help of new technological advances, such as micro-computed tomography (μCT), it was able to determine many similarities in their brains and sensory systems, similarities that are not visible to the naked eye.
'Some of these delicate fossils were collected nearly 80 years ago, and instead of destructively cutting through this first known Dromomeron skull, we were able to use this technology to carefully reconstruct the anatomy of the brain and inner ear of these small fossils to help determine the early relatives of pterosaurs, "explains Stocker, professor of vertebrate paleontology.
Wingless
A bleak and puzzling finding was that flightless lagerpetids had already developed some of the neuroanatomical characteristics that allowed pterosaurs to fly, shedding even more information on the origin of flight.
Ultimately, the study provides a completely new framework for studying the origin of these reptiles and their flight capabilities. With what little information paleontologists had about early pterosaurs, they had often believed that the acquisition of their unique body plan was the fruit of especially rapid evolution. But now that lagerpetids are considered the precursors of pterosaurs, they can say that pterosaurs evolved at the same rate as other large groups of reptiles.
"Flight is a fascinating behavior, and it evolved several times during Earth's history," says Serjoscha W. Evers of the University of Freiburg. "Proposing a new hypothesis of their relationships with other extinct animals is a great step forward in understanding the origins of pterosaur flight."
Some questions still remain in this evolutionary mystery. For example, why do lagerpetids still lack some of the key features of pterosaurs, including the most prominent of them: wings? "We still lack a lot of information about the first pterosaurs, and we still don't know how their skeletons were transformed into an animal that was capable of flight," says Sterling Nesbitt, professor of geosciences.
See them
comments

www.abc.es