Vigo (Pontevedra)
Updated:
save

Much to his regret, how pissed off, how disappointed, Sébastien Simon has made the decision he liked least: having to leave the Vendée Globe due to the breakdowns he has on board the «Arkea Paprec»; The repair of the same would be very difficult to carry out by the same from on board, not only in the hydrofoil, the interior box of the same, to which has been added a break in a stern bulkhead under the cockpit and in the system of the port rudder.
Bitter words from Sébastien Simon: "It is time for me to make a decision. Together with the team, we thought a lot about possible repairs… I had no choice but to divert to Cape Town. These repairs were going to be very complicated. Probably four to five days of work. The weather conditions towards Cape Town are not very favorable when I arrive either… I cannot continue. I did not think that I would end up in this port when I was in fourth position in this Vendée Globe. I had in mind that I would achieve a good result in this race. I gave everything I had. I put a lot of passion and energy into it, I wanted to get to the end. The adventure ends. I feel sorry for everyone. All the sponsors and collaborators who supported me until the end… ".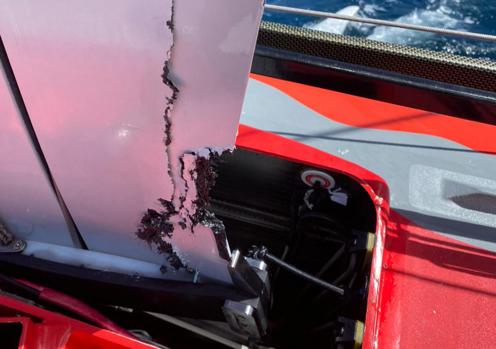 His two major sponsors support the decision to withdraw. For the president of Arkea, Jean-Pierre Denis "… Sébastien made his choice with his soul and conscience and, above all, as a good sailor. It is impossible to play with the skipper's safety in a race as demanding as the Vendée Globe… And I am convinced that Sébastien will recover and emerge even stronger from this event. "Sébastien Petithuguenin, CEO of Paprec Group"… this morning we are divided between two feelings. The disappointment, of course, that Sébastien could not reach the end of this formidable adventure and, at the same time, great pride … ".
At 30 years old Sébastien Simon has already experienced the bitter side of the Vendée Globe in his first participation. As a seasoned sailor on the Figaro circuit, winner of the Solitaire du Figaro in 2019 and 4th in 2017, when he has been competing in sailing regattas since 2012, he is clear that within four he hopes to be at the start of the next Vendée edition Globe.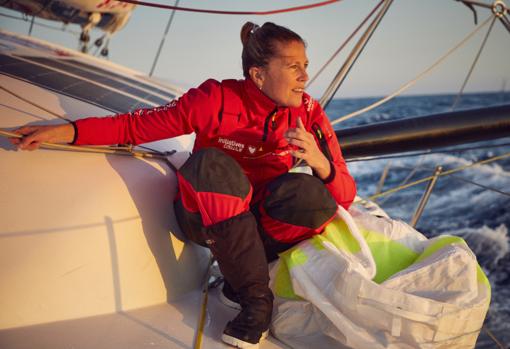 This morning, today December 4, 2020, the sensations on the surface have traveled through the body of Sam Davies: "… The sun has appeared, which helps to relieve aches and pains. I went to sit outside to enjoy the hot sun. And suddenly I started crying. It's a bit strange for me that I never cry to face all these emotions. He didn't even know why he was crying. Is it sadness for my boat and my place in this race, or relief that my boat and I are safe? Is it a mixture of all this? I always thought it was stupid to cry when you're alone on your boat; No one will help you, hug you, or reassure you, so it's more of a waste of time and energy. But at that precise moment, I had no control over those emotions … ".
The British woman is the woman with experience in the Vendée Globe among the six participating in this edition. At 46 he has already competed in two editions of this regatta, his best position was a fourth in the 2008-2009 edition and in the 2012-2014 edition he had to abandon due to a broken mast. In the current edition it has a good team and boat; VPLP design, launched in 2010 as "Foncia 2", then the "Banque Populaire" and "Maître CoQ", and now it is the current "Initiatives-Cœur". But once again Sam Davies has encountered the quirks and harshness of this solo round the world tour; although to her surprise, her bitterness was calmed by an albatross: "… I looked out and there, very close, unusually close, was the most beautiful albatross I had ever seen, gliding silently and slowly. It was so close. Albatross usually keep their distance, but this was different, as if he could feel my emotion and wanted to help me. He stayed close to me and gave me a wonderful show. This distraction was welcome. They say that albatrosses have the soul of sailors from the past and I can believe it. I feel like these amazing creatures are escorting me to safety. I am grateful to him for caring about my boat and me! "
Davies is on his way to Cape Town, at 18:00 today he was 86 miles from the Cape of Good Hope.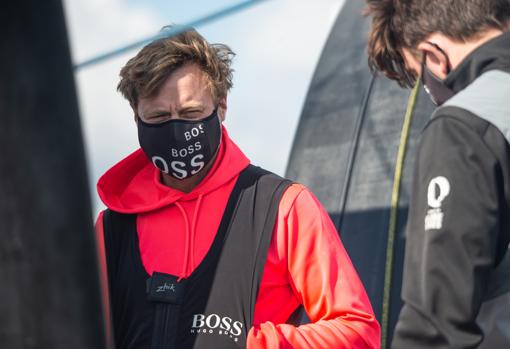 The «Hugo Boss» is already moored in the port of Cape Town, Thomson has definitely given up and withdrawn from the Vendée Globe 2020-2021 after the breakdowns he has had on board his IMOCA. "I am relieved to be back on dry land, but today I have very mixed emotions. I am still in an acceptance phase and obviously devastated that the race has ended like this for us… My arrival in Cape Town marks our abandonment. To everyone who sent messages, thank you very much. I was very impressed with the support we received. It means a lot to us, really. Right now, I can't wait to shower, sleep, and go home to see my wife and kids. "
Another favorite in this Vendée Globe is Armel Tropin with the «L'occitane en Provence», but from the start at Le Sables d´Olonne to Ecuador he has had many problems with the hooks of the sails, going up many times to the top of the mast to repair them, delaying their positions until the tail of the fleet. With the main breakdowns solved, it began its particular comeback when it entered the southern hemisphere, from November 24 to today it has gone from position 25 to 17 when it has a shot at "Time For Oceans" by Stéphane Le Diraison (in position 16) and Alan Roura's "La Fabrique" (in 15th position), both about 50 miles ahead and sailing at about 15 knots of speed that Tripon brings his IMOCA over 20 knots of speed; when it is 427 miles from crossing the length of "Cape of Sorrows" and entering the Indian Ocean.
See them
comments

www.abc.es